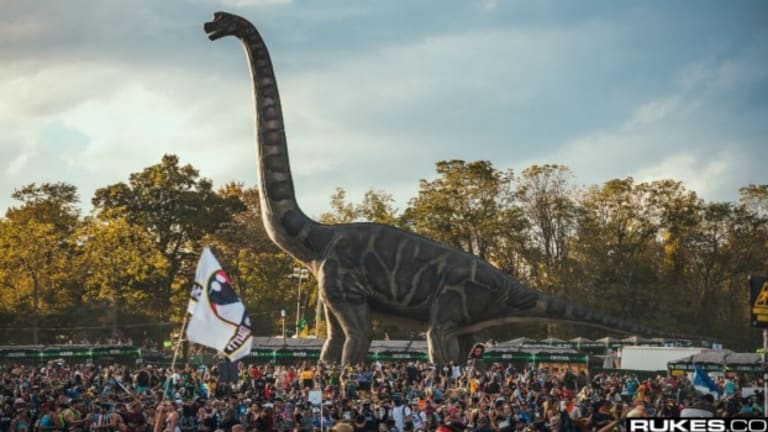 Prepare for this Weekend's Prehistoric Party with a Special Playlist Courtesy of Excision's Lost Lands Festival
We're gonna party like its 200 BC!
The time machine is almost ready. This weekend, bass music fans from all over the world will arrive at Lost Lands Festival for a journey back to a time where dinosaurs roamed the earth. Hosted by none other than the king of bass, Excision, this expedition is the biggest celebration of bass music since the Paleozoic era.
This year's iteration of the festival will include three times as many giant dinosaurs, two full-size main stages, late night sound camp sets, and 1,000,000 watts of bass. (Yes, you read that correctly, ONE MILLION.)
Alongside the king of the dinos is a cast of bass music legends and up-and-comers. Flux Pavilion, Rezz, Snails, NGHTMRE, SLANDER, Rusko, and many, many more, will have us partying like its 200 BC. 
Our friends at Lost Lands cooked up an exclusive Spotify playlist to help ready yourself for your journey back in time. Featuring some of the most exhilarating tracks from this year's cast of bass-masters, this playlist will have you dancing all week long. 
Please note: This playlist can only help you prepare for the headbanging, but it won't prepare you for any dinosaur encounters... be sure to stay on alert. We have confirmed dino sightings in Thornville, Ohio.