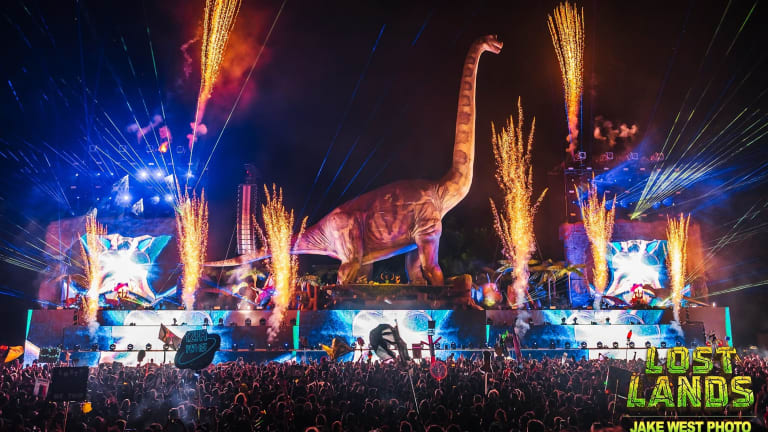 The Second Year of Excision's Lost Lands Festival Showed the World Why Bass Music is here to Stay [EVENT REVIEW]
Excision did it again!
While reading the lineups at many of the world's music festivals, it may seem like dubstep/bass music is a second thought. Excluding a handful of superstar acts, some of the biggest names in the genre would be excluded from the main stages and crammed onto one specific stage dedicated to bass. Despite being a massively popular dance music sub-genre, bass music fans could only really count on seeing a couple of their favorite artists at each fest.
"Dubstep is dead," they say, ignoring the fact that the past couple of years have been some of the most exciting years in the history of the sub-genre. Newer artists like Rezz and Illenium have become household names with their unique styles and exhilarating live performances.
If only there was a festival that gave the artists and fans the respect they deserve and put their music front and center...
Oh wait, there totally is and it absolutely rocks. Welcome to Lost Lands Music Festival, the worlds biggest (and loudest) celebration of bass music presented by none other than the king of bass, Excision. 
The second iteration of Excision's dinosaur themed bass music festival took everything we loved about last year's fest and made it bigger, better, and louder... did I mention this festival is loud?
As expected, the music was absolutely spot on. Some were concerned that due to the lineup being comprised entirely of artists from the same genre, many artists would have similar sets. It is my pleasure to report that this could not be farther from the truth. Many artists took on the challenge of playing 100% original sets while others dove into their library of deep cuts or featured tracks from new or under-the-radar artists. 
One of the biggest changes to this year's festival was the addition of a second main stage to accompany the already-iconic Prehistoric Paradox. The new stage was named Wompy Woods and located in a clearing surrounded by trees. Running vertically from the stage to the back of the crowd with LED pillars with pyrotechnics and lights that helped immerse the crowd in the experience. Front and center was an interesting layout of video screens, plants, and rock formations that helped give the stage a prehistoric vibe. Oh, and the entire stage sat under a life-sized brontosaurus. (seriously) 
Now a stage filled with animatronic dinosaurs, fire, lasers, fireworks, and lights is great and all, but ultimately means nothing if there is no one to perform on it. Luckily, Lost Lands did not have that problem. 
This year's lineup was a celebration of bass music's past, present, and future. Some of the world's most exciting new artists like Svdden Death, Sullivan King, G Jones, and more, played alongside some of today's superstars like Jauz, Snails, and Zomboy. 
Also featured heavily on this year's lineup were some UK dubstep legends, whose work helped shape modern-day bass music. Some of these legends like Rusko, Flux Pavilion, Doctor P, Cookie Monsta, Funtcase, Nero, and Skism showed Lost Lands how we got to where we were today and gave some newer bass music fans a history lesson.
After the music ends at most festivals, everyone goes home or back to their campsites. Lost Lands does not believe in that. This year's festival included several sound camps, which was a mini-music festival inside a music festival. From the moment the main stages closed up shop, the sound camp party began. This multi-genre affair included local talent, rising stars, and secret b2bs from some of the headliners across six themed stages. 
Like last year, Excision featured a secret special guest on the lineup. Speculation was all over the place and up until the moment he stepped foot on stage, absolutely no one knew who would be performing. 
This year Excision chose the biggest DJ in the world...literally. Shaquille O'Neal aka DJ Diesel threw down a massive riddim set halfway through the third day of the festival. Fans and artists alike could not believe their eyes as they witnessed the NBA champion center throw down a nasty set on the Prehistoric Paradox. This just goes to show that anything is possible at Lost Lands. 
Excision has given bass music artists and fans the opportunity to feel like they are the main event and not just a second thought. His contributions to bass music will be remembered forever and without his help, bass music would not be the titan it is today.