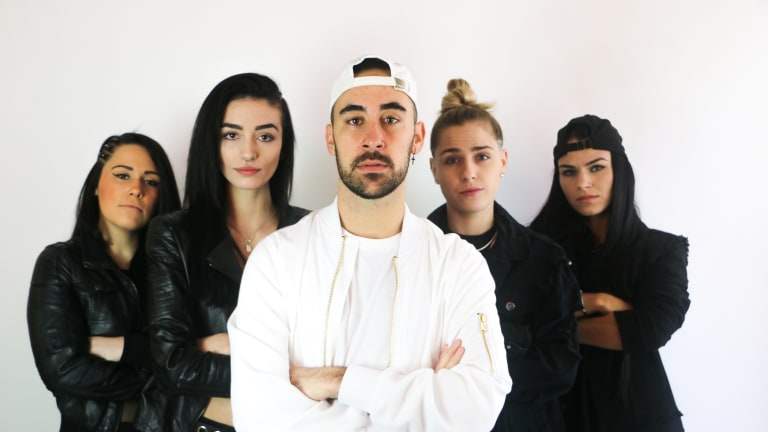 KANDY Joins Forces With YouTube Sensations  KARIN & SKYLER For LOUD AND PROUD LGBTQ+ Tour
LOUD AND PROUD is a first-of-its-kind journey that is gearing up to be the largest touring LGBTQ+ artist/influencer-driven event in history.
Taking place from March through October of 2019, LOUD AND PROUD is a one-of-a-kind LGBTQ+ tour that will stop at key PRIDE events all throughout North America. LOUD AND PROUD will be hosted by international YouTube influencers KARIN & SKYLER (real names Karin DeStilo and Skyler Felts), both of whom have been consistent and highly impactful champions of the LGBTQ+ community. 
Through documenting their own authentic LGBTQ+ stories, KARIN & SKYLER use their position as a lesbian couple to empower others, particularly through videos such as "Let's Get Real: Coming Out" and "Girlfriend Tag!" KARIN & SKYLER were also recently nominated for the British LGBT Awards' 2019 LGBT+ ONLINE IMPACT" category, making them ideal hosts for spreading the "LOUD AND PROUD" vision.
KARIN & SKYLER will be joined by rising star DJ/Producer KANDY (real name Kevin Schuppel), as well as DJ/Influencers Skyler Madison and Cristy Lawrence. They have all used their positions of influence and notoriety to empower the LGBTQ+ community and spread a message of love and acceptance throughout the electronic music industry and beyond. 
As the headliner of LOUD AND PROUD, KANDY has also cultivated an important role for himself in the electronic music LGBTQ+ community, primarily through the creation of a unique sound and brand image that accurately represents his personal worldview. He further established himself as a respected voice within this space by coming out publicly to his friends, family, and fans – a courageous decision that earned him an outpouring of support from major headliners such as Marshmello, Tiësto, Diplo and The Chainsmokers. He's gone on to perform on the main stage at San Diego Pride, as well as the sold-out Vancouver Pride Festival.
"It's extremely important to me to show the LGBTQ+ and dance music communities that it is okay to be who you are and to not let anyone or anything keep you from expressing your true self," KANDY noted when asked about his role in the community.
If you'd like to support LOUD AND PROUD, the biggest party yet is taking place at the Avalon Hollywood in June. You can expect three stages of excellent music featuring a number of LGBTQ+ artists, influencers and allies.

Along with Skyler Madison and Cristy Lawrence, both strong and influential women in the LGBTQ+ movement in their own right, LOUD AND PROUD is set to be a powerful example of acceptance within the greater dance music industry as a whole. 
Support "LOUD AND PROUD" and get your tickets today.
FOLLOW KANDY:
Facebook: facebook.com/pg/thisisKANDY
Twitter: twitter.com/thisisKANDY
Instagram: instagram.com/thisisKANDY
SoundCloud: soundcloud.com/thisiskandy
FOLLOW KARIN & SKYLER:
Twitter: twitter.com/karinandskyler_
Instagram: instagram.com/karinandskylerofficial
Karin IG: instagram.com/kdestilo
Skyler IG: instagram.com/skylerfelts_
YouTube: youtube.com/channel/UCqu6wvCJTEnnw_qBlCdsvYg