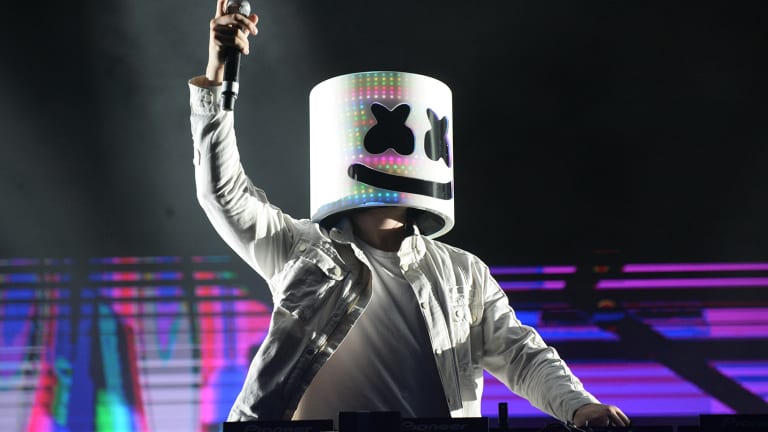 Marshmello to Deliver In-Game Set in Fortnite Battle Royale
First Minecraft, now Fortnite!
If recent months have taught us anything, it's that EDM stars are keen to capitalize on the ever-growing eSports market. Last month saw Twitch star Tyler "Ninja" Blevins deliver a "soundtrack to gaming," and this month Minecraft hosted the biggest virtual music festival to date. Aside from Marshmello's June, 2018 tournament with Ninja may be late to the game (pun intended), but he's locked down a valuable partner: Fortnite.
According to leaks uncovered by Forbes, the anonymous producer/DJ will perform at in-game location Pleasant Park on Saturday, February 2nd at 2:00 PM EST. The spectacle will be its own limited time mode  (an in-game event that's only available for a finite period) called Party at Pleasant Park.
Interestingly, Epic Games also appears to have programmed dance moves for a virtual depiction of Marshmello. The developer recently came under fire for appropriating a dance called the "Milly Rock," which was popularized by rapper 2 Milly.
Given the popularity of both Marshmello and Fortnite in their respective fields, their partnership should prove a worthwhile endeavor. Marshmello is one of the fastest-rising stars in EDM; his manager, Moe Shalizi, even told Forbes that he expects his income to rival that of Calvin Harris this year. Fortnite is a more recent phenomenon having been released in 2017, but the battle royale game has already drawn in over 125 million players.
Neither Epic Games nor Marshmello have officially announced Party at Pleasant Park in Fortnite at the time of writing. 
FOLLOW MARSHMELLO:
Facebook: https://www.facebook.com/marshmellomusic
Twitter: https://twitter.com/marshmellomusic
Instagram: https://www.instagram.com/marshmellomusic
SoundCloud: https://soundcloud.com/marshmellomusic