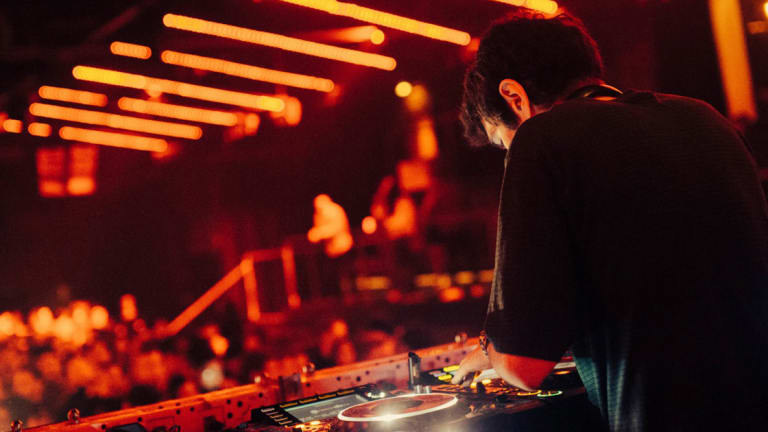 Mat Zo Plays a Killer 5 Hour Extended Set at Output [Event Review]
Making a stop at one of America's top clubs, Mat Zo enthralled New York clubgoers with his sick house set.
Like any Friday night in Williamsburg, everyone's out and about, ready to dance and drink the night away after a long work week. It's no surprise that as early as 10:30 PM, people are already lined up outside of Wythe Ave.'s popular nightlife venues like Kinfolk 94, the Brooklyn Bowl and the place just across the street from there. The plain gray stone walls of this venue on the corner of N 12th St. holds its own air of mystery, but tonight Mat Zo's loud and bass-filled house music is enough to entice anyone to hop in line to get into the Output Nightclub. 
Upon entering the venue, you're already hit with that blasting, yet crystal clear music as you walk past the neon-lit bar on your left and onto the empty red lit and seemingly small dance floor in front of you. Taking my perch at the corner of the room near the raised DJ booth, I watched as people trickled in little by little and start dancing to opening DJ Jergo's bumping house set that set the vibe for the rest of the night. 
I've never heard of Jergo before, but now that I have, he's definitely someone to keep an eye on. He really did a great job warming us all up for Mat Zo and not just with his choice house selection. Bopping his head to the beat and looking like he's having so much fun mixing song after song, Jergo's excitement was contagious. You couldn't help but get as into the music as he did, so much so that when he smoothly switched out with Mat Zo at 11 PM you wouldn't have even noticed if you weren't watching. 
At the turn of the hour, Mat Zo took the stage and the lights turned purple as the song's painstakingly long build-up had us on the edge of our seats (I know we're all standing, but you know what I mean) waiting for the drop. And then finally when it hit the purple lights and strobes went crazy flashing all over the place. I didn't think that the music could get any louder, but it totally did and it was perfect for those bangin' house tracks he was mixing. 
By 11:30 PM the dance floor was packed and the club was in full swing. With the overhead lights, strobes, and light wall behind the DJ booth timed perfectly to the sweet and majestic house beats, it was hard not to dance. There were both old and young fans, some even in AnjunaBeats shirts, dancing with drinks sloshing in their cups and dripping onto the wooden floor. And not only that, towards midnight when I wandered upstairs to the balcony area, I found it just as packed as the dance floor. Some people filled the area near the railings watching Mat Zo mixing down below, others were waiting for their drinks at the crowded bar and quite a few were lounging on the couches. It seemed like everyone was having a fantastic time and enjoying Mat Zo's epic 5-hour set. 
As long as this killer set was, Mat Zo was pretty considerate of his fans. Every once in awhile everyone got a breather when the track transitioned into another one with a drawn out build up. And when the bass-y drop finally hit, the crowd went just as nuts as the drop before. Some girls in the opposite corner occasionally screamed and jumped on top of each other in excitement. 
Overall, everything about the night made the event pretty amazing and enjoyable: the venue and their sound system were excellent, Jergo's opening and closing sets matched Mat Zo's set seamlessly, and Mat Zo himself really mixed one hell of a set that kept everyone captivated and dancing until the early hours of the morning. What more could you ask for?
Thank you Jergo and Mat Zo for a phenomenal night! We hope to see you in New York again! 
Follow Jergo:
Follow Mat Zo: