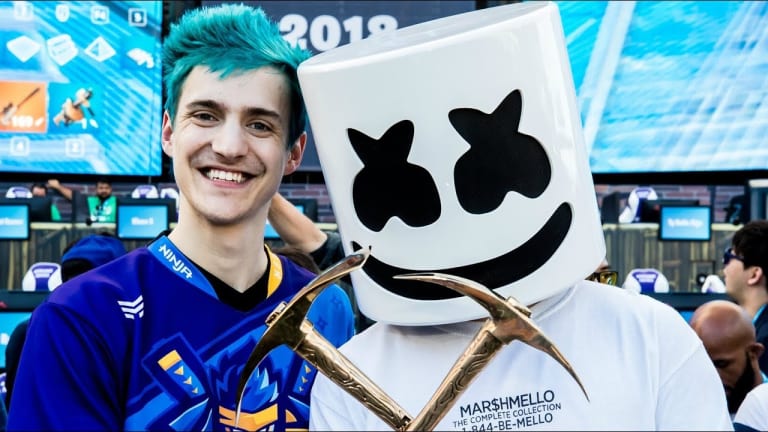 Heroes Collide at the All-New Metarama Gaming + Music Festival
Metarama is the first-ever event to merge professional gaming with a world-class music festival.
On October 19th and 20th, the inaugural Metarama Gaming + Music Festival will take at the Las Vegas Festival Grounds for two days of professional gaming, phenomenal music, and a wide variety of immersive, one-of-a-kind festival experiences. 
Catering to an audience that includes casual gamers, music fans, competitive gamers, and hardcore festivalgoers, Metarama is bringing an array of world-class talent from all walks of life. From contemporary EDM star Marshmello and Twitch gaming legend Ninja (real name Richard Tyler Blevins) to former Los Angeles Lakers All Star Shaquille O'Neal (A.K.A. DJ Diesel) and hip-hop icon Snoop Dogg, Metarama truly has something for everyone.
The Metarama Music Lineup:
Like all great festivals, Metarama has an outstanding lineup of top-tier musical talent that just so happens to cover a wide variety of genres and styles. With electronic dance music acts like Marshmello, Lemaitre, Alan Walker, Lindsey Stirling, DUCKY and JVNA, Metarama is able to tap into the beating heart of the EDM community, a culture that already has a strong overlap with the world of gaming. By bringing acts like Snoop Dogg, Logic and Lil Yachty, Metarama has put forth an incredibly strong offering for fans of hip hop as well, showing that the event organizers are not just repeating tried-and-true marketing tactics - they're creating a new and innovative experience unlike any other.
Gamers and the Metarama Streaming Experience:
In addition to its cutting-edge musical lineup, Metarama also provides fans with a variety of exciting ways to interact and play with their favorite streamers, both live and in person. The centerpiece of the event, the so-called Streamer Zone, is a state-of-the-art, fully air-conditioned, high-tech streaming control room boasting over 100 gaming stations and a fully optimized, custom server. Just like the event's musical talent, the lineup of professional streamers is a veritable who's who of the best and brightest in the industry.
For fans of Fortnite, festivalgoers can dive right into a game with streaming legends such as Ninja, Nick Eh 30, DrLupo, Pokimane, NickMercs, TimTheTatman, CouRage, and more. League of Legends fanatics can participate in the "Pros vs. Joes" tournament, a matchup between two teams of five master streamers and two teams of "average joes" comprised of fans who qualify by entering Super League Gaming's LAN Prix: League of Legends event in September, or by playing in a special League of Legends online competition by registering on Super League's Metarama page.
BoxBox, Trick2G, Yassou, Voyboy, BunnyFuFuu, Radiance Hai, foggedftw2, Alexa, huhi, and xFSN Saber will make up two five-player teams of "Pros," while fans in attendance will be able to compete for spots on the two teams of "Joes." Individuals who want to participate can qualify by entering Super League Gaming's LAN Prix: League of Legends event in September, or by playing in a special League of Legends competition by registering online.
The Metarama Masters - Celebrity Exhibition Matches:
While the Streaming Zone offers fans a top-of-the-line indoor gaming experience, fans can also attend the Metarama Masters, a series of four celebrity Pro Am exhibition matches hosted by actor and comedian Andy Milonakis, and featuring several of the event's most prominent stars and celebrities such as Ninja, Logic, DJ Diesel (Shaquille O'Neal), members of Imagine Dragons, members of Grouplove, Ewok and many more.
The Metarama Masters will take place across three Fortnite events and one League of Legends event, and all of the proceeds will be donated to charity on behalf of the winning teams.
If Overwatch is more to your liking, fans can also watch their favorite teams going head-to-head in two rare off-season Overwatch League exhibition matches between Philadelphia Fusion and Seoul Dynasty, as well as Guangzhou Charge and the San Francisco Shock. Both of these are set to take place at the Metarama outdoor stages.
Information, Tickets, and Attending Metarama:
Metarama Gaming + Music Festival is produced by C3 Presents, the team behind Lollapalooza and Austin City Limits Music Festival, in partnership with Scott London and Seth Schorr of Esports Hospitality Concepts.
Tickets are on sale now at www.metaramafestival.com.
FOLLOW METARAMA FESTIVAL:
Website: metaramafestival.com
Facebook: facebook.com/MetaramaFest
Twitter: twitter.com/metaramafest
Instagram: instagram.com/metaramafest
Discord: discordapp.com/invite/MetaramaFest