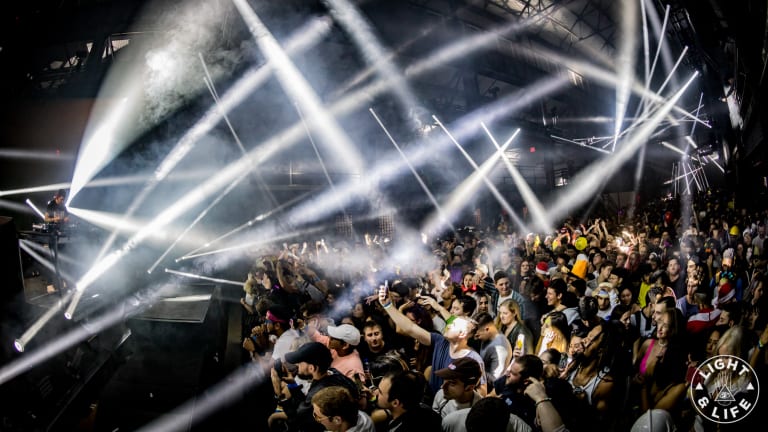 Light & Life Host MK, Camelphat & Will Clarke in Brooklyn Tonight
The Fallback Tour is taking over a Brooklyn warehouse tonight.
House music heavyweights MK and Camelphat will bring their Fallback tour to Brooklyn warehouse 99 Scott tonight. Rising Dirtybird artist Will Clarke will join them as a special guest, and the party's set to roar from 10:00 PM to 5:00 AM.
For house music aficionados, MK (real name Marc Kinchen) needs no introduction. Kinchen is an American DJ/producer who boasts over 500 productions to his name. "Burning," "17," and "Love Changes" stand as some of his best originals. Furthermore, his seminal remix of Nightcrawlers' "Push The Feeling On" was a cornerstone of '90s house music.
Kinchen got his start in the studio with Detroit techno legends Juan Atkins, Derrick May and Kevin Saunderson. Years later, the versatile producer spent over a decade self-exiled from house music, moving to L.A. and working with massive artists like Jay-Z, Snoop Dogg, Quincy Jones and The Fresh Prince of Bel-Air himself, Will Smith.
That is, of course, until he was lured back to the infallible grip of house and techno by Jamie Jones and Lee Foss.
In the thick of classic electronic music is where he now stays. His airy, piano-heavy sound still continues to attract great appeal. Plus, his live sets - deep, groovy explorations of everything from techno to hip-hop - are a treat for fans.
Switching gears, co-headliners of The Fallback Tour with MK, Camelphat put their first record out in 2010. Keeping a cool presence, away from the travesties of excessive social media and PR ploys, the UK house duo has garnered a reputation for staying true to music for music's sake.
They have amassed support from tastemakers like Adam Beyer, Annie Mac, Carl Cox, Eric Prydz, and Pete Tong. "The Act," "Paradigm," "Constellations," and "Trip" are a few of Camelphat's best tracks - and of course, the infectiously popular and Grammy-nominated collaboration with Elderbrook, "Cola."
Joining Camelphat and MK is Bristol's Will Clarke. Critically appealed records like "Big Booty," "The Goog," and "Can You Funk" put him on the map. His radio show "The Barber Shop" - hosting artists like Groove Armada, Kolsch, MK, Yousef, and wAFF - has taken off too. Clarke's live DJ sets are chock full of unreleased music, edits and reworks, making for a fresh experience each time he takes the decks.
As Clarke, Camelphat, and MK flock head to 99 Scott Ave, Brooklyn's going to get an unfiltered dose of house and techno tonight. Tickets and other information can be found here.
FOLLOW MK:
Facebook: https://www.facebook.com/OfficialMK/
Twitter: https://twitter.com/MarcKinchen
Instagram: https://www.instagram.com/marckinchen
SoundCloud: https://soundcloud.com/marckinchen
FOLLOW CAMELPHAT:
Facebook: https://www.facebook.com/CamelPhat/
Twitter: https://twitter.com/CamelPhat
Instagram: https://www.instagram.com/camelphatmusic/
SoundCloud: https://soundcloud.com/camelphat
FOLLOW WILL CLARKE:
Facebook: https://www.facebook.com/willclarkedj/
Twitter: https://twitter.com/djwillclarke
Instagram: https://www.instagram.com/djwillclarke
SoundCloud: https://soundcloud.com/djwillclarke