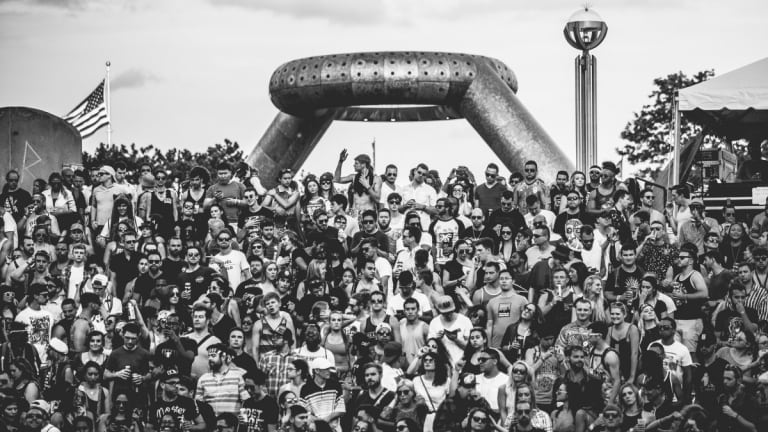 Movement's 2018 Festival Lineup Shares the Stage With a Strong Female Presence
Movement is returning to the birthplace of techno with an eclectic lineup that's gotten its fair share of criticism.
Techno is a very serious business. And when it comes to Detroit, there's no other place that demands more respect for its contributions to electronic music than the Motor City.
Each year, the city becomes a playground for techno fans near and far to get their fix in the city that birthed a movement that has helped build a multi-billion dollar industry. In its 13th year, Movement Electronic Music Festival is making its annual Memorial Day weekend return to Detroit with a lineup that has drawn a lot of scrutiny from techno purists.
Headliners Wu Tang Clan, Claude VonStroke, and Loco Dice b2b The Martinez Brothers are certainly a surprise follow-up to last year's Test Pilot, Richie Hawtin, and Carl Cox. However, looking deeper through the lineup there are some real gems.
As always, Movement comes in with a strong crew of Detroit DJs including Kevin Saunderson, Stacey Pullen, Eddie Fowlkes, Inner City, Kenny Larkin, Mike Huckaby, Stacey "Hotwaxx" Hale and many more. The lineup offering reflects the current rising trend in electro with the likes of DJ Stingray, and BBC's 2017 Essential Mix of the Year winner, Helena Hauff.
Perhaps the greatest strength of Movement's 2018 lineup, however, is the strong presence of female DJs. While many other festivals are struggling to get women on the bill, Movement proves that women are kicking ass and taking names in electronic music and don't have to resort to any sort of tokenism to do it. Charlotte de Witte's Detroit debut draws a lot of buzz with her aggressive and heavy hitting techno sets that will reverberate off the concrete structures of Hart Plaza. Nina Kraviz and Ellen Allien return to Movement after a short hiatus, while Avalon Emerson, Nastia, Hito give the lineup plenty of female force to be reckoned with. More than a dozen female DJs take over the Movement line up which helps detract from some of the heated criticism around the festival's EDM additions.
Despite the genre bending skills of acts like Mija, Rezz, and Dirtybird regulars Justin Martin and J.Phlip, there are many techno purists that are feeling as though Movement somehow fell short of expectations. This is of course, despite the inclusion of crowd favorites like Maceo Plex, Joseph Capriati, Luciano, and Marcel Dettmann.
There is perhaps nothing that has techno fans clutching their pearls more so than that of Diplo. 
Movement takes place May 26-28th, 2018 at Hart Plaza in Detroit, Michigan. You can grab tickets at http://bit.ly/MVMT2018.