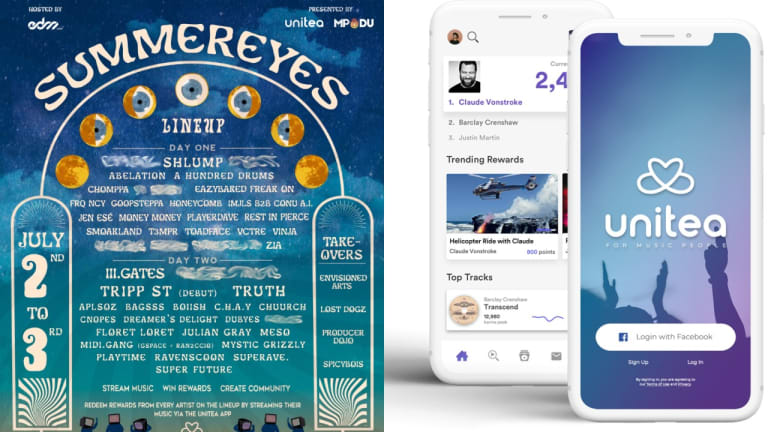 MP3DU Magazine and Unitea Music App to Host SummerEyes Digital Festival
Fans will be able interact with every artist on the lineup through the Unitea app.
With the decline of live music events comes the rise of digital festivals. Next to join in on the booming market is MP3DU Magazine and the Unitea Music app, who are partnering to host the SummerEyes Digital Festival from July 2nd to 3rd on EDM.com's Twitch channel. It will feature an eclectic lineup of over 40 artists, all of which are available to interact with through the app. 
Launched in 2019, Unitea Music is a multi-dimensional, community-building streaming application that has introduced innovative ways for fans and artists to bridge the divide and create a connection through its experiential-based reward system. As fans stream their favorite artists' music through the app and share with their friends, they are rewarded with a social currency the company calls "karma." Users can then trade in their "karma" for real-life rewards, like tickets, free merchandise, or experiences with the artists themselves, such as being flown out to hang with SNAILS at SLUGGTOPIA.
For the SummerEyes Digital Festival, fans who stream and share music from the artists listed on the lineup will be offered prizes, like unreleased music and personal Zoom calls with their favorite performers.
Phase 1 of the lineup has officially dropped and features headliners Shlump and ill.Gates. Taking the virtual stage alongside them will be A Hundred Drums, TRUTH, Jen Esé, T3MPR, CHOMPPA, Boiish, Abelation, VCTRE, PlayTime, Dubyes, and Bagsss, among many others. To add to the already alluring bill, anonymous producer Tripp St. will be making their debut after rocking the bass music world with the "Welcome To Tripp St." mix.
SummerEyes was originally going to be marketed as a fundraising event supporting out-of-work music industry workers and artists affected by COVID-19, but due to the current state of affairs, the focus has shifted to support the Black Lives Matter movement. SummersEyes and MP3DU will be supporting the Black Lives Matter, Campaign Zero, and Until Freedom organizations through coverage and linked promotion. Donations will also be collected throughout.
To stream MP3DU Magazine and Unitea Music's SummerEyes Digital Festival, tune into EDM.com's Twitch channel on July 2nd and 3rd, 2020. 
FOLLOW SUMMEREYES DIGITAL FESTIVAL:
Facebook: facebook.com/summereyesdigitalfestival
Twitter: twitter.com/summereyesf
Instagram: instagram.com/summereyesdigitalfestival
FOLLOW UNITEA:
Facebook: facebook.com/uniteamusic
Twitter: twitter.com/UniteaMusic
Instagram: instagram.com/uniteamusic