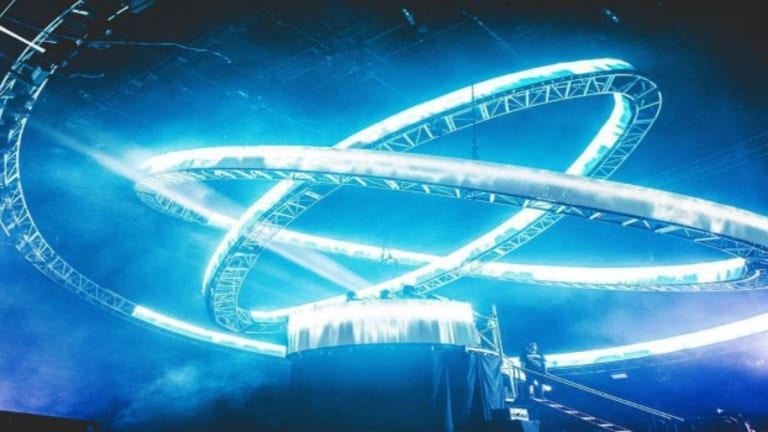 NGHTMRE & SLANDER BROUGHT BACK THE ATOM STAGE TO A CROWD OF 10,000 FANS THIS WEEKEND
Gud Vibes only.
On Saturday, around 10,000 people flocked to the NOS Events Center for "Gud Vibrations", NGHTMRE and Slander's biggest headlining show to date.
In their home ground of Southern California, they teamed up with the renowned Insomniac Events - you know, the company behind massive festivals like EDC and Electric Forest - to bring fans a show they will never forget. For support, they enlisted close friend Habstrakt, experimental bass sensation G Jones, as well as up-and-comers ARMNHMR and Wavedash. While the focus was clearly bass heavy artists, the openers themselves are skilled at different sub-genres of bass music, so for bassheads, it was diverse and thrilling.
With a mysterious curtain covering most of the stage for the openers, the atmosphere was electrifying. Many knew the "atom" stage was making a comeback, but no one was ready for it. As NGHTMRE & Slander took stage for their B2B set, Linkin Park's iconic "In The End" was the first song they played. Then, the curtain dropped.
 The crowd, the energy, the atmosphere, it was all surreal. Everyone was stunned. Although this was not the first time they played with the atom stage - they played a string of shows this time last year in LA with it - it was a bigger better version of the original stage. Fully equipped with a massive array of beaming lights, LED panels, lasers, and best of all, the ability to swivel and oscillate, it was simply spectacular.  
Beyond the oustanding stage production, fans were treated to 2 full hours of Gud Vibrations. NGHTMRE & Slander put on a high energy show, playing many of their own originals and remixes, with a setlist spanning across a diverse number of genres. What's more, they brought Kayzo on stage as a surprise special guest, and played out an unreleased collaboration!
Also, they played this brutal unreleased Slander original:
Gud Vibrations encapsulates more than just a name for a combined NGHTMRE & Slander show. Stemming from the title of one of their most iconic collaborations of the same name, it has grown into a theme, a style and a brand that the artists have continually been developing. With a North American bus tour already under their belt last year, many personally curated one-off shows organized, a radio show on SiriusXM and even their own stylistically designed merch line, Gud Vibrations is making waves.
Just a few days before their massive SoCal show, NGHTMRE & Slander had a pop up store in LA with secret sets, a meet-and-greet and brand new merch. Yeah, it sounds like something many artists can pull off, but there's a stand out moment to it.
With a turn out far bigger than anticipated, the line for the store was massive. And, although the meet-and-greet was supposed to end at 12AM, Derek & Scott (Slander) and Tyler (NGHTMRE) stayed until 3AM to make sure they met everyone who was waiting, which ended up to be a total of over 2000 fans.
It's the genuine desire to work for their fans, to truly connect and give back to their supporters, that is inspiring. And, not to mention, the reason Gud Vibrations came to life was because of pure friendship and a true desire to play shows together. The three have been friends for a long time, dating back to when they attended the renowned Icon Collective music production school together.
They are not throwing massive shows and hosting pop ups to market themselves, as a gimmick, or for any reason other than giving back to the very people that allow them do what they love. In the pursuit of their passion, sometimes artists forget that they are where they are solely because of their fans. It's good to see that there are some that don't, and some that will go out of their way to give their fans the best experience possible whenever they can.