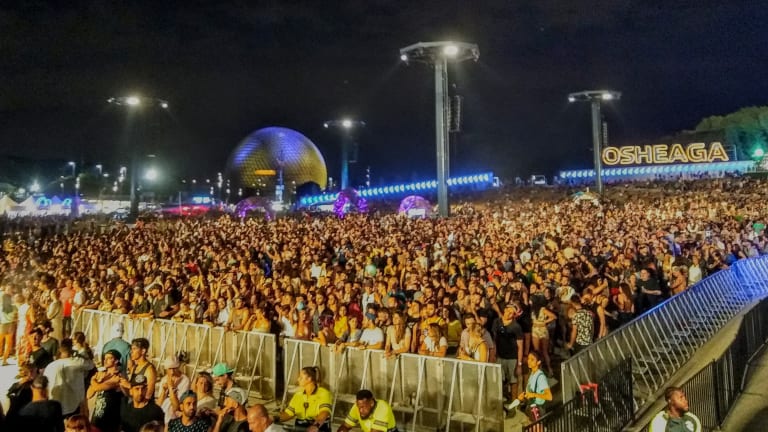 Osheaga 2019: Montréal Honors its History in EDM
In the late '80s and early '90s the rave scene was in its underground infancy, with funky children of the night gathering at bus stops awaiting the evening's secret location. EDM in its modern form was just getting started, and Montréal, with its surplus of character-filled venues and cheap rent, was an ideal breeding ground for this new wave.
Once known as disco's "second city," and a former hotbed of red light cabarets back in the jazz/prohibition era, Montréal has a long history of fostering nascent party scenes. Supported by a vibrant gay community and dynamic cultural vibe, the city's rave culture grew exponentially. By 1992-1993 EDM and after hours began its inevitable move into the mainstream.
Montréal's Gay Village clubs began hosting after hours nights at spots like Cox and Playground, and in 1996 local DJ and pioneer Tiga opened Sona, an epic, three-floor joint with an underground feel in the heart of downtown. The scene had fully arrived. Sona grew to become one of North America's premier after hours clubs, Montréal arenas were regularly filled by top DJs, and in 1998 Brooklyn DJ Angel Moraes opened Stereo, a legendary temple of sound still going strong.
Today, the city's love affair with EDM continues. Osheaga Music & Arts Festival is Canada's biggest music festival, firmly cemented as a major player on North America's summer circuit. Similar to Coachella, Osheaga's lineup is a mix of genres, from pop to rock to rap, big name headliners and smaller indie acts. Yet despite its eclectic array of artists meant to please the widest possible audience, Osheaga gives EDM, in all its forms, a big part to play.
With one of its festival stages devoted entirely to EDM, Osheaga is continuing Montréal's commitment to electronic music. Here are some highlights from Osheaga 2019.
Friday
It was hot. Proper hot. We were in the middle of Montréal's customary few weeks of pounding heat and festival short shorts were in full effect. Osheaga takes place on Ile-St-Helene, an island-park adjacent to downtown (fun fact: the city of Montréal is also itself a big island) making the festival's Island Stage an aptly named EDM hub.
Mid-afternoon saw Malawi's Saronde taking the stage. Founders of the upstart Beating Heart label, these African DJs and producers have released over 60 tracks of afro/house/soul fusion. The music's vibe matched the temperature, creating a celebratory atmosphere of sweat-drenched smiles.
The onset of early-evening gave no shelter from the sun, and so Bob Moses tried to add some chill. The Canadian Grammy-winning duo did their electro-rockin' thing, mixing live guitars and melodic, mildly up-tempo beats. They were followed by FISHER, a raucous tech house DJ who dropped an energetic, if not slightly typical, set. The crowd was pleased.
Next was a shift to Osheaga's main area, recently revamped as part of a $70 million renovation to the park's festival area. Osheaga is an impressively well-run affair, with six total stages offering state-of-the-art audio and visuals from just about any vantage point. Add the city's skyline and flowing Saint Lawrence River as backdrop, ignore the inevitable cliches and corporate-sponsored onslaught, and you got yourself a winning formula.
The great migration from satellite stages for the final headliners had now begun, and the traffic intensified. I was busy phone-negotiating with a friend who insisted on positioning himself front row for the headlining Lumineers an ungodly ninety minutes in advance. He was never to be seen again.
Then flashes of cool crept in around me. I hadn't known much about Flume going in, and still require more research on the subject, but something was definitely going down on the main Mountain Stage. The Aussie performer was bombarding the audience with a parade of atmospheric beats, chart-topping tracks, and old-fashioned avant-garde showmanship. At one point the nice-looking, young gentleman beat a vintage record player to pieces, an extended sequence that was part Andy Warhol, part raging millennial rock star. He won me over.
The day ended with the Lumineers' feel-good rockabilly making tens of thousands smile, while Charlotte de Witte's hard-driving techno closed the Island Stage in style.
Saturday
A late start. Osheaga starts spinning at 13:00 PM but festival after-parties and late-night Quebecois poutines often make arriving before mid-afternoon an unlikely feat.
First on the docket was Vladimir Cauchemar, the French DJ known for his trademark ironic skeleton mask (Cauchemar means nightmare in French). The set was housey and trappy, with touches of hip-hop aesthetics. See his bumping 6IX9INE remix for a taste of the vibe.
FKJ at 18:15. This multidisciplinary artist led the Island Stage into the evening with a blend of live saxophone and guitar looped onto R&B beats, creating an impressive, ambient, funky soul kind of thing. Then came Black Tiger Sex Machine, a Canadian DJ trio who drop mosh pit-ready heavy electro. Replete in glowing neon Power Rangers helmets, BTSM, as they're known to their fans, are electronic headbangers dressed as apocalyptical Daft Punk.
Meanwhile over at the twin main stages, Janelle Monáe was doing a version of badass-Beyoncé, putting on an impressive enough show to get guests and press whispering that she could have headlined. Through the park's forest and down the sloping hill, RÜFÜS DU SOL was giving the Valley Stage a perfectly pleasant sunset experience, followed by Beach House dream-pop drifting the crowd along downtown Montréal's twinkling cityscape.
Finally, Osheaga further solidified its electronic music cred by giving The Chemical Brothers its valuable Saturday night headliner spot, a risky move considering half the attendees weren't born when their debut album first dropped. The legendary duo, backed by Osheaga's truly impressive audio-visual setup, rocked the huge crowd with a well-choreographed light and electro show. Twenty five years in and these guys can still bring it.
Sunday
The festival's final day offered another lineup covering the entire spectrum of sound. The Island Stage showcased Monolink from Germany, an eclectic DJ running the gamut of electronic music genres who earned a spot on my phone's playlist. The Black Madonna rocked the night crowd with a fun interactive set, while local hip-hop DJ Kaytranada turned the Green Stage into a '90s basement party mixtape.
Closing the festival were Tame Impala, a perfect fit for the night sky with their psychedelic retro-rock vibe; and the final headliner, Childish Gambino, who proved his chops as a versatile showman, giving the departing crowd a smiley, sweaty throwback show filled with rap, blues, and funk. A joyous close to the whole affair. 
Follow Osheaga:
Facebook: facebook.com/osheaga
Twitter: twitter.com/osheaga
Instagram: instagram.com/osheaga