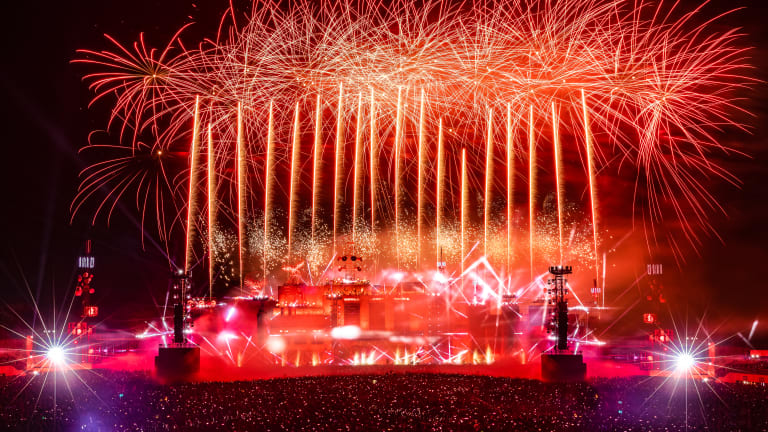 Parookaville Releases 2019 Aftermovie, Begins Exclusive Advance Ticket Sales for 2020
Advance tickets for Parookaville's sixth edition are on sale.
Parookaville - The City of Dreams - has in its five years grown to be Germany's largest and most spectacular electronic music festival. While the event itself is unlike any typical music gathering experience, it brings to life a crazy city once a year as the world's most festive place.
While one of the unmissable highlights was the 200-meter wide main stage designed to look like a futuristic 3D space station, that was far from all. With a meticulous production across the festival, which was clubbed with a lineup of world-renowned headliners, the festival was nothing short of a once-in-a-lifetime-experience. Headliners for 2019 included Above & Beyond, Armin van Buuren, The Chainsmokers, DJ Snake, and many more.
After wrapping up their fifth edition earlier this year, the festival kept the memories fresh and alive with their "Parookaville Unchained" video series. With weekly episodes over the last two and a half months, the series aimed to capture and encapsulate the experiences and emotions of the citizens of the festival. This innovative format has shown to be extremely successful, racking up over almost one million streams in this short time. 
But that wasn't all, they were not nearly done yet with this stunning 10-part video series. The official aftermovie for the fifth edition of the festival premiered today with the aim to take citizens back to the festival to soak in and relive some of the best moments through the epic imagery. 
Parookaville also announced that the advance ticket sales for their sixth edition taking place in 2020 will go on sale later this week on October 6th at 12:00 PM CET. The advance tickets will now no longer require pre-registration and in addition to the day-visas and weekend-visas, other packages including Deluxe, Hotel and Comfort packages, which will also simultaneously go on sale. More details regarding all the kinds of tickets can be found and bought here.
Speaking about the success of its fifth edition, Bernd Dicks, co-organiser at Parookaville GmbH, said:
We're delighted and grateful for the magnificent responses we've gotten on the fifth Parookaville and the after-series. Our creative team has developed a completely new festival format and the citizens are celebrating it. This once again demonstrates the huge level of innovative power inherent to Parookaville and our team."
As per a recently concluded Nielsen Survey, Parookaville holds the top spot for customer satisfaction and their likelihood to return. With a stunning 94% of visitors (very) satisfied and 93% planning to return next year, the festival beats front runners like Tomorrowland, Lollapalooza and more. 
Check out some of the highlights from the sold-out 2019 edition here.
For any more information regarding the festival, all information is available on their official website here. 
FOLLOW PAROOKAVILLE:
Website: parookaville.com
Facebook: facebook.com/parookaville
Instagram: instagram.com/parookaville
Twitter: twitter.com/PAROOKAVILLE