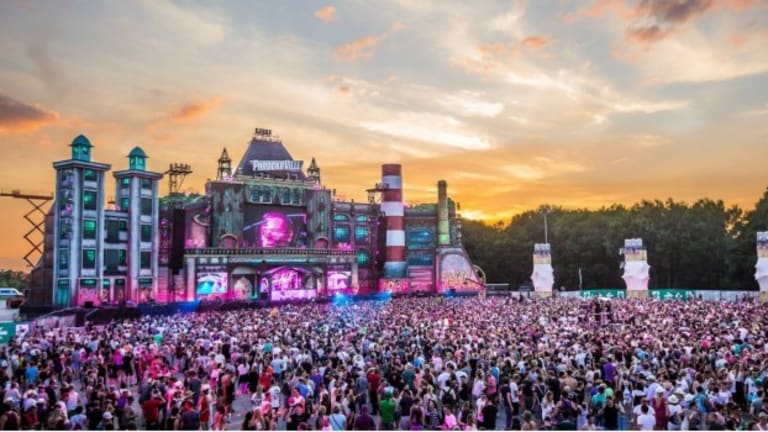 How Parookaville Became Germany's Not-So-Secret Overnight Success Story
In just its third year, Parookaville is stepping up to challenge the likes of Tomorrowland.
"Well, welcome to Parookaville!" said a tall, kind faced man as we asked around for directions to the media tent.
"I'm the co-founder of the festival," he said, this random stranger that we had approached was Bernd Dicks, one of the three co-founders of Germany's largest EDM festival. And we just happened to run into him.
Parookaville has some how managed to evade massive media coverage despite the western-German festival's incredible story so far. Located in a small town near the border of the Netherlands, Parookaville quickly grew from an idea into a massive EDM celebration in just a short three years. As the story goes, fictional mayor Bill Parooka left plans for a music utopia that comes alive once a year to partake in a blissful experience based on the single slogan, "May madness, love, and pure bliss rule this city." And it does.
Since it's founding in 2015, Parookaville has solidified itself as Germany's largest music festival. At its debut three years ago, Parookaville played host to an impressive 25,000 fans. In 2016, that number doubled. Now, in 2017 Parookaville sold out in two days to a staggering 80,000 people…without even dropping a lineup.
So what is it about Parookaville that has contributed to this explosion of growth? Maybe it's the festival's city design, inviting citizens to explore Parookaville's many thematic stages, such as Bill's Factory, a large industrial stage with smoke stacks that doubles as a pyrotechnic display. Or perhaps the Brainwash - Parookaville's local laundromat that churns out suds for your duds as the DJs perform on a booth built out of washing machines. Beyond the stages there's more to explore, you can head to the chapel and engage in holy matrimony, or if you find yourself on the wrong side of the tracks, you may head to the Police station where you'll get your mug shot snapped after going through an intense line of questioning in the interrogation room. These activities among others, can be documented in the Parookaville Passport, leading to reveler's full citizenship in the Parookaville community.
Although the experiential aspect of Parookaville certainly makes the festival a joy to explore, there's something else that separates Parookaville from many of it's music festival counterparts: its people.
This characteristically German festival plays host to a pure-of-heart crowd that is known for its sincere love of EDM. With a diverse age range of fans, everyone from 18 to 50 can be included in the magic of Parookaville. Here, everyone embodies the positivity and soul of dance music – without the help of illicit party favors. Perhaps this in itself is the most impressive thing about Parookaville – fans that actually ENJOY the music.
Here you will not see underage kids grinding their teeth in the daytime or someone seizing in the crowd, the energy that pulsates through Parookaville is unfiltered and organic. And while the beer flows freely (it is Germany after all) Parookaville citizens are impressive in the fact that they maintain the highest level of class.
And while the experience and the crowd in themselves are unique, the lineup also offers something for everyone. From main stage performances from Armin van Buuren, Tiësto, KSHMR, Steve Aoki and more, Parookaville hosts acts for fans from every genre. Curated stages like BootsHaus brings fans the bass with NGHTMRE, Getter, Alison Wonderland, and DJ Snake, while German label Aerochrone brings the world of underground tech-house in a Burning Man-style desert oasis. Or, you can get a glimpse of the Spanish isle of Ibiza with Pacha on Tour, as a freestanding structures on the festival's site double as nightclub, offering deep and dark music in the perfect location - in a cozy place where you're not worried about seeing anyone's face. Despite its 80,000 fans, Parookaville provides both intimate moments and main stage mayhem for fans to engage in every sort of social experience.
All in all, Parookaville is impressive in so many ways. From the production, to the crowd, to the lineup, Parookaville is Germany's not-so-secret festival that is making waves in the European music festival scene.
Move over Tomorrowland, Parookaville is ready to give you a run for your money.