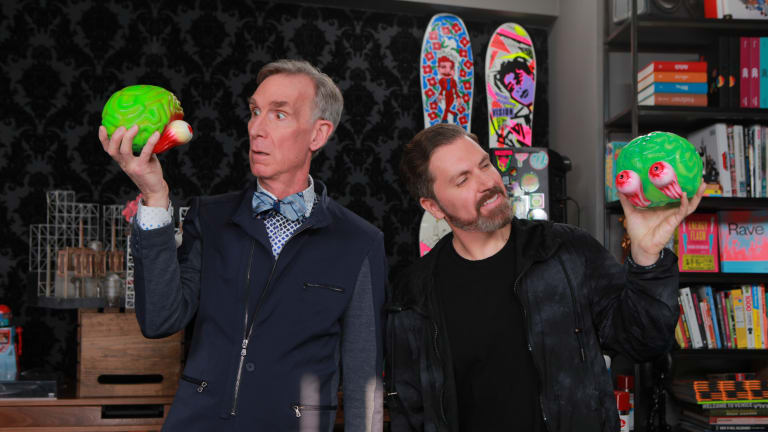 Pasquale Rotella and Bill Nye "the Science Guy" Announce kineticENERGY Theme for EDC Las Vegas 2019
Welcome to kineticENERGY!
Insomniac Founder and CEO Pasquale Rotella has collaborated with pop culture icon, educator and TV personality Bill Nye to announce the theme of Electric Daisy Carnival Las Vegas (EDC Las Vegas) 2019. What better way to announce this year's theme of kineticENERGY then to enlist the help of the physics man himself. The 23rd rendition of the event will return to the legendary Las Vegas Motor Speedway May 17th-19th.
Every year, EDC Las Vegas embodies a central theme that manifests itself at kineticFIELD and spreads throughout the festival. In recent years, this stage has been fashioned into a kineticCATHEDRAL for sonic worship (2014); a Crystal Village inhabited by owl guardians (2015); a kineticTEMPLE of sacred sounds (2016); the open arms of Mother Earth, kineticGAIA (2017); and the epicenter of universal love, kineticLOVE (2018). 
Always in motion yet true to its eternal nature, kineticFIELD now reveals its most natural state. This year's kineticENERGY theme will bring an electrifying experience to the Nevada desert that unites more than 400,000 Headliners through a beautiful vibration of movement and energy during the most anticipated event of the year. 
"Think of the potential," said Bill Nye. "Hundreds of thousands of people moving their bodies, freeing their minds, and dancing to music under the glow of spectacular light. We'll convert all this potential to a carnival of kinetic energy!"
In addition to his appearance in the video, Bill Nye will officially kick off the 2019 edition of EDC Las Vegas as host of the Opening Ceremony on Friday, May 17, amplifying his message of kinetic energy and positive vibes to thousands of Headliners at the cosmicMEADOW stage. 
Of the announcement, Rotella has said:
"It was an honor having Bill at Insomniac HQ yesterday on National Science Day to film our EDC theme reveal. He's beloved by so many in this community, and with this year's Kinetic Energy theme, it felt like the perfect collaboration. I've always believed this music and these events are good for the mind, body and spirit. Bill brought his own unique energy to this special reveal to help spread that message. I can't wait for him to kick off our Opening Ceremony at EDC Las Vegas." 
A limited number of EDC LV 2019 tickets are on sale online, here. Camping packages are available for purchase on the EDC Las Vegas Camping website, here. 
FOLLOW EDC LAS VEGAS:
Facebook: facebook.com/electricdaisycarnival
Twitter: twitter.com/EDC_LasVegas
Instagram: instagram.com/edc_lasvegas