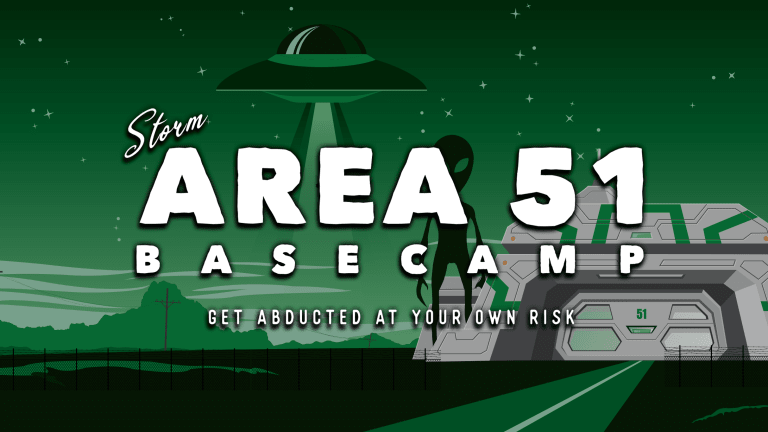 Legendary DJ Paul Oakenfold to Play Storm Area 51 Basecamp Event
The Storm' Area 51 event officially has a soundtrack.
When a Facebook user created an event called "Storm Area 51, They Can't Stop All Of Us," no one expected that it would be one of the biggest memes of 2019. With over 2 million people "attending" the event, it's garnered news coverage and the attention of the U.S. military. The meme has become so popular that the EDM community is now getting involved, and legendary DJ and producer Paul Oakenfold is now performing at the official Storm Area 51 Basecamp event on September 20th on the Extraterrestrial Highway. 
Fans can experience Oakenfold's Storm Area 51 Basecamp DJ set at the Alien Research Center on the Extraterrestrial Highway on the night of the big event, which includes more than just the music. Festival attendees will see expert speakers, enjoy alien-themed art installations, food, and Jeremy Kenyon Lockyer Corbell's popular Netflix documentary, Bob Lazar: Area 51 & Flying Saucers.
Oakenfold adds this festival to his belt and furthers his reputation for performing in unique and interesting places. Previously, Oaky became the first-ever DJ to perform at Mount Everest's base camp (setting a record for the highest-altitude DJ set ever played), and performed with techno/house music pioneer Carl Cox at Stonehenge. 
This Storm Area 51 Basecamp event will undoubtedly be a unique and interesting experience for festival attendees. Tickets to the first-ever 'Storm' Area 51 Basecamp are on sale now and can be found here.
FOLLOW PAUL OAKENFOLD:
Facebook: facebook.com/Oakenfold/
Twitter: twitter.com/pauloakenfold
Instagram: instagram.com/pauloakenfold
SoundCloud: soundcloud.com/pauloakenfold