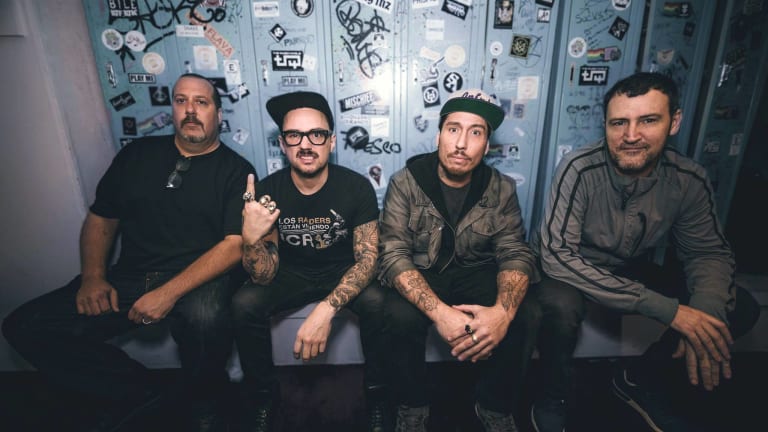 Planet of The Drums to Bring 20 Years of Apocalyptic Bass to Denver
Planet of the Drums will return to Denver with support from Nvrsoft, Reid Speed, Fury and more.
On Friday, November 22nd, DnB legends Planet of the Drums (AK1200, Dara, Dieselboy, and Messinian) are coming to Denver, Colorado to celebrate 20 years of apocalyptic bass. 
Organized by Q-Vents Presents, the Planet Of The Drums takeover of Cervantes Masterpiece Ballroom will be one of the biggest drum and bass events of the year, and Q-Vents owner Jake Browning's biggest show to date. Not only will the iconic Planet of the Drums crew be headlining the event, but DnB veterans such as AudioPorn UK recording artist Nvrsoft (who has just been nominated newcomer of the year by Drum and Bass Arena) together with DnB veterans such as Reid Speed of Play Me Records and Fury will also unleash a sonic assault upon the throngs of Mile High DnB lovers.
For six hours of pure DnB bliss, accompanied by a masterwork laser light display by Surreal Lasers, make sure to RSVP for the event, and don't forget to get tickets before they are gone.

FOUR MEN - ONE MISSION
It happened during the summer of 1999. North America's most prominent drum and bass DJs joined forces to create the legendary crew known as Planet of the Drums. Using their combined muscle to push drum and bass music into the spotlight of the main stage, they toured tirelessly for well over a decade, fronted by the vocal rhyme animal known as Messinian. Their incessant drive and motivation helped set the groundwork of the scene that exists today.
Feeling their work completed, the team turned their focus to personal projects and the Planet of the Drums project was put on the back burner while it's members turned to focus on their own personal projects. As was soon discovered, however, the drum and bass scene in North America began a slow freefall into underground obscurity.
This could not stand.
Reuniting in 2017, the Planet of the Drums crew returned to continue their original mission - celebrating, honoring and advancing drum and bass music. Their 2018 single "Awakening" represents a retrospective of some of their favorite sounds, highlights and moments from the past year. What always made POTD special was the compelling combination of the boys' varied styles - AK and his raw breakbeats, Dara's rolling dancefloor vibes, and Dieselboy with the heavy cinematic pressure. Three hundred and sixty degrees of futuristic drum and bass business.
THE PLANET HAS AWAKENED!
Check out the official tracklist >> tinyurl.com/yblufllg
Don't miss out on a once-in-a-lifetime opportunity to trip to the Planet of the Drums!
FOLLOW PLANET OF THE DRUMS:
Facebook: https://www.facebook.com/planetofthedrums
FOLLOW AK1200:
Facebook: https://www.facebook.com/AK1200official
Twitter: https://twitter.com/ak1200
SoundCloud: https://soundcloud.com/ak1200
FOLLOW DJ DARA:
Facebook: https://www.facebook.com/TheDJDaraOfficial
Twitter: https://twitter.com/daralickt
SoundCloud: https://soundcloud.com/dj-dara
FOLLOW DIESELBOY:
Facebook: https://www.facebook.com/Dieselboy
Twitter: https://twitter.com/djdieselboy
SoundCloud: https://soundcloud.com/dieselboy
FOLLOW MESSINIAN:
Facebook: https://www.facebook.com/MessinianFiorella
Twitter: https://twitter.com/mcmessinian
SoundCloud: https://soundcloud.com/messiniandubstep
FOLLOW Q-VENTS:
Website: https://www.qvents.co
Facebook: https://www.facebook.com/QVents
Twitter: https://twitter.com/q_vents
Instagram: https://www.instagram.com/q_vents
SoundCloud: https://soundcloud.com/q-vents