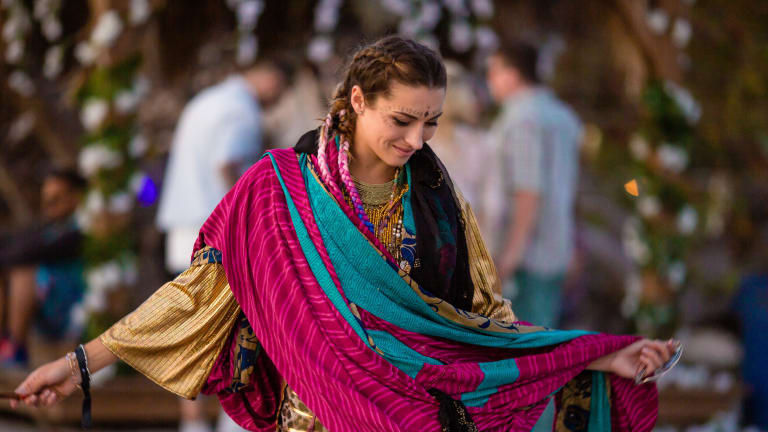 Rapture Takes Great Strides in Production and Vibe at Second Annual Event
After some first year growing pains, Rapture comes back for year two bigger and better than ever.
Within seconds of arriving at Rapture Electronic music festival, my Miami travel and dance companion, Dan, was immediately complimented for wearing his mother's vintage silk kimono.
Apart from our newly acquainted friend's delight at such fine beach attire, he was shocked that we had only just arrived at 1:30pm – just missing the 7am-1pm sunrise sermon from the Romanian guns from RPR Soundsystem. Although we had fully intended to launch ourselves into the festival at dawn, our better judgment (or perhaps worse, depending on your perspective) had forced us to rest up to be ready for the afternoon and evening of delights that were still left to be indulged at Rapture. Though we had arrived modestly early, day warriors were already making themselves comfortable on the festival grounds or were still riding last night's wave into the noon-time sun.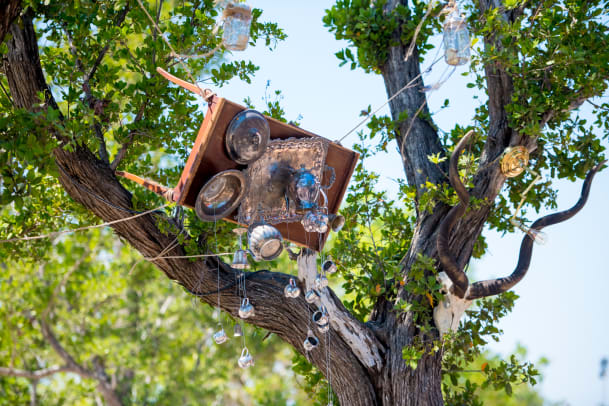 Greeted by decor sparkling in the sunshine, the foliage spilled over with silver kettles and teacups at the Un_Mute stage. From our opening conversation with the day's first dance companion, it wasn't long before we started questioning whether our journey to Rapture wasn't actually leading us down a rabbit hole to a beachfront wonderland. 
After saying goodbye to our new friend, we explored the grounds seeking out a much more laidback vibe. Moments later we caught the sound of beachfront grooves stemming from the Nomad stage, which offered delectably deep beats for daytime dreamers. Putting down our tapestry and staking our claim in a small but shady area in the soft ocean sand, we began our day at Rapture deeply content while quietly snickering about our snowed in East Coast compañeros who would have to live vicariously through our stories.                                                                                
The mood of Rapture was light, bringing together nightclub crawlers and daytime drifters to Miami's Virginia Key Beach Park for a day of sweet, sweet disconnect. Wandering the ground and interacting with fellow revelers was perhaps one of the prime pastimes of Rapture, although yoga and meditation workshops were readily available at the wellness lounge. 
Whether it was seeing @BradleyGunnRaver in live action by the Nomad stage, or wandering to the Soundgarden stage to escape the sunshine for the deep and sexy sounds of Yotto and Eelke Kleijn, Rapture's energy was mellow. The low-key atmosphere allowed for casual wandering to explore the sights and sounds of the grounds, rather than feel pressed for time commuting from stage to stage.
The site, too, had made marked improvements from the first year. After suffering a bout of bad weather in 2017, Rapture organizers returned with the focused intention for how to cultivate a vibe – rain or shine.
Most noticeable were the improvements made to the Terra Stage. In its first year, the open-air mainstage was less of a gathering place and more of a massive empty monument that suffered both from rain and from too much open space for shy fans. Learning from past experiences, however, the Terra Stage rebuilt itself with a soaring arched canopy. The new encompassing main stage allowed for better light and visual elements including brilliant LED panels. The sound, too, felt upgraded, tuned to the dance floor rather than the distant masses, thereby helping to cultivate an intimate club floor with supreme coastal real estate.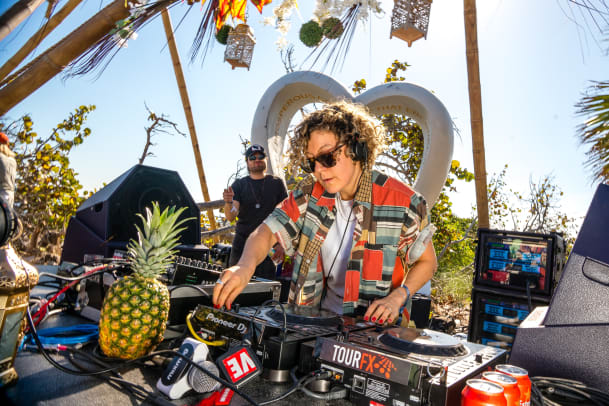 Performances from M.A.N.F.L.Y (an exclusive b2b from M.A.N.D.Y and Audiofly) as well as an evening warm-up by Guy Gerber helped to navigate sunset grooves while Luciano, the event's headliner, commanded the stage as it transitioned into nightlife energy. With soaring aerial artists flying overhead, Luciano's keen selected transversed the metaphysical to the political with Spanish spoken-word speeches that lit up the night with a climax of vitality for revelers who had traveled near and far to bear witness. After witnessing the strides that Rapture has taken since its inaugural event in 2017, there's no doubt that the event brand has plans to cement itself as a day-to-night destination for a crowd that enjoys the spontaneity of festival culture with the hypnotic rhythms of club floors.
Eventually, though, the hour grew late and the temperature cooled leaving us too chilled in our daytime attire for even on the hottest of dance floors. In its second year, the weather had played out beautifully, the stages had been curated perfectly, and Rapture had left little to be desired as another year came to completion. As we called it a day nearly 12 hours after our arrival, we felt as if we had done ourselves justice by fully immersing ourselves in the rapturous music experience at Virginia Key Beach Park.

Until next year, Rapture