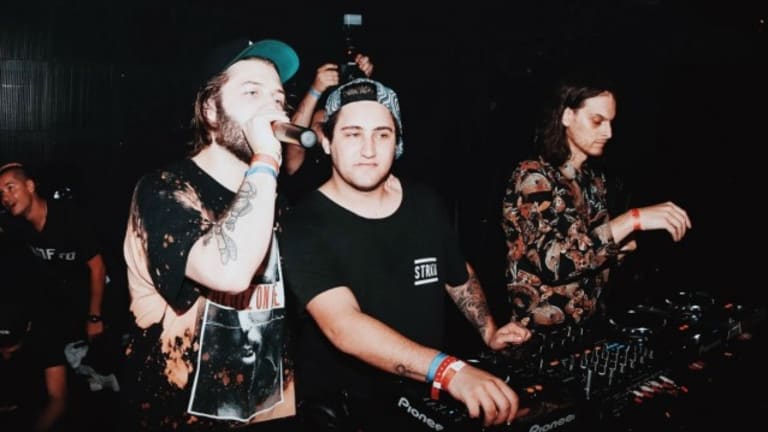 Jauz & Zeds Dead are Throwing a Massive Warehouse Rave for NYE Weekend
Deadbeats is going way Off the Deep End with RPM Presents for New Year's Eve weekend.
The clock is ticking toward the New Year and we're all playing a real-life game of musical chairs. We've gotta figure out what event we go to, what our outfit will be – and most importantly – how we're gonna coordinate everything with our massive crew.

Get ready for your group chat to be lit, because Deadbeats Goes Off the Deep End is the perfect warm up for the New Year.
[Scoop Your Tickets Here to Deadbeats Goes Off the Deep End]
On December 29th, Deadbeats Goes Off the Deep End will be the place to see or be seen for your pre-NYE warm up. Hosted by RPM Presents as part of their Big Week lineup of events, New York is getting the warehouse rave massive it deserves. An all-star lineup will keep the heat up and the beats down low all. Co-headlined by Zeds Dead and Jauz with support from Zomboy, Mija, Bro Safari, and GG Magree, the NY Expo Center is going to be lighting up the Bronx. 
With the first tier of tickets already sold ou, you don't want to miss your chance to catch this the old-school warehouse rave, meets new-school music at Deadbeats Goes Off the Deep End. Tier 2 tickets start at just $59, making this party an absolute STEAL.
If you don't believe us when we say that this venue is seriously sick, check out this video below from when RPM Presents brought rapper Travis Scott to the NY Expo Center. Now, replace hip-hop beats with bangin' ass bass and you've got a recipe for the most dope NYE warm-up ever.
Round up your crew, because there's no better way to send out 2017 with a BANG! than spending it with your BFFs.
Follow the link to grab your tickets to experience the mayhem at RPM Presents Deadbeats Goes Off the Deep End!
Purchase Tickets to RPM Presents Deadbeats Goes Off the Deep End
Cover photo courtesy of @montanamartz
*Sponsored content