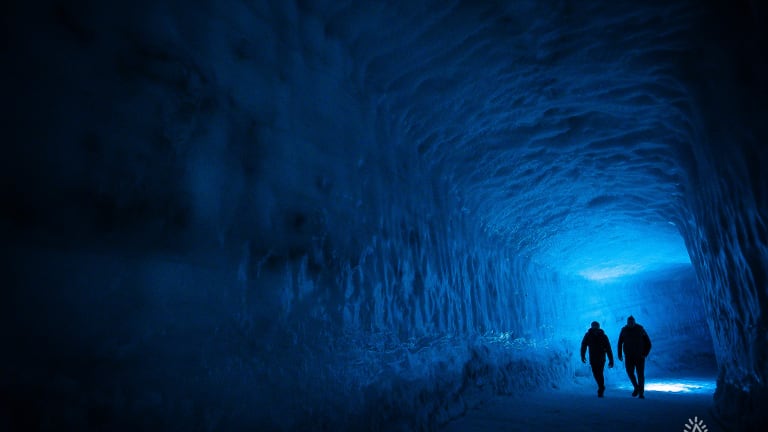 Secret Solstice 2019 to Host the World's Only Party Inside a Glacier with Martin Garrix and MK
Plus, an intimate concert inside a 5,200 year old lava tunnel!
If raging 80 feet beneath the surface in Iceland's second-largest glacier was on your bucket list, look no further than Secret Solstice. The sixth edition of the festival, which takes place in Reykjavík, Iceland June 21st-23rd, will host once-in-a-lifetime add-on events to this year's festivities. This year's nature-themed side shows will include Into The Glacier with Martin Garrix and Marc Kinchen (MK) and The Lava Tunnel - for which artists have yet to be disclosed. 
The beauty of Secret Solstice is it's set during the time of summer solstice, so guests will witness what it's like to live in 72 hours of continuous daylight. The breathtaking landscapes that lie ahead on this festival are sure to make anyone want to book a ticket. 
Into The Glacier will be held in Langjökull. Previously, the Ministry of Sound brought Dusky to the glaciers. Friday, June 21st will feature DJ Mag's #1 DJ, Martin Garrix. The Dutch superstar will be partying it up in the awe-inspiring crystal cave and beautiful ice tunnel formations. MK will be setting up camp on Sunday, June 23rd in a 10,000-year-old ice chamber. This is something you will not want to miss. Only 100 tickets will be available per event. 
On top of the glacier, the festival is hosting an intimate concert in The Lava Tunnel, a 5,200-year-old lava tunnel named Raufarhólshellir. The performance will take place Saturday, June 22nd and only 50 tickets will be released. 
Secret Solstice Music Festival features an array of genres including dance, rock, hip-hop and pop. Some major players include Robert Plant & the Sensational Space Shifters, Foreign Beggars, Black Eyed Peas, Pussy Riot and Boy Pablo, as well as a plethora of more local Icelandic talent. 
Secret Solstice 2019 weekend passes plus Into The Glacier and The Lava Tunnel side event tickets are on sale now while supplies last.
Tickets for Into the Glacier 2019 are on sale now from $292 USD | €260 | £222 | 34990ISK via https://secretsolstice.is/into-the-glacier-2019/
Tickets for The Lava Tunnel 2019 are on sale now from $208 USD | €185 | £158 | 24900ISK via https://secretsolstice.is/the-lava-tunnel-2019/
FOLLOW SECRET SOLSTICE HERE:
Facebook: facebook.com/secretsolstice
Instagram: instagram.com/secretsolstice
Twitter: twitter.com/secret_solstice