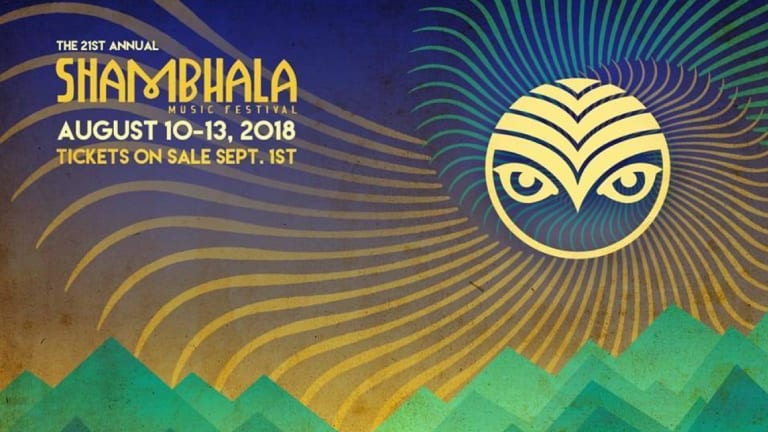 My First Shambhala is a Month Away! These are My Must-See Sets
You don't want to leave your music experience entirely up to the festival gods. It's best to have a plan of attack when you're floating between 7 stages for 3 days. Here's my top 42 artists to catch at this one-of-a-kind festival.
My friends have talked about the magic of Shambhala Music Festival for years, and this year I'mma finally see what all the hype is about. Or should I say, "aboot?"
If you're not familiar, Shambhala takes place on a small family-owned farm called Salmo River Ranch in British Columbia. Now, I'm not really into places that get below 0 degrees, but in summer where everywhere south is getting above 100, I figure Canada's a perfect festi fit. Plus I'll get to break out my passport! That thing hasn't seen much action in a hot minute. Tbh, the hope of dank poutine served at the late night kiosks is what really sealed the deal for me.
And the music, of course. I wanted something different and new, and my friends seem to have a special affinity for the Shambhala culture and fam, so I secured a ticket before the lineup was released. And when it was, I was a little surprised to see a bunch of artists I've never seen or heard of on the lineup. Instead of bumming that there aren't as many big name acts on the list (but there are some), I'm excited to experience a ton of new music! I've spent the last month picking through the names on the bill, and here are my top picks in a very particular order
See if you can label my music tastes as you work through the list.
Dirt Monkey - Been wanting to see this wubbly wizard for way too long! Listen to his sick mix on the official Shambhala mixes Soundcloud
Gramatik - Because he always brings the heat and the best beats
Space Jesus - He's been oh so quiet and I gotta see what he's been up to
Defunk! - Been wanting to see a defunk Shambs set forever and finally gonna see this Canadian funkbot in his element in the Fractal Forest
Boogie T - I love him and all his riddimagic
Buku - I will never miss a Buku set as long as I have feet to dance with
Rezz - Space Mom!
Destructo - He is legend
Basstracks - I just know this'll be good
Charlesthefirst - Such a unique sound. Caught him opening for a show and can't wait to see his festival set
Black Tiger Sex Machine - Gotta get a healthy dose of filth
Maximono - This was my second favorite Shambhala mix! These guys throw down the boots and cats
Glitch Mob - Close to my heart
Slynk! - They're live set from the festival last year is full of happiness
Perkulator - Saw him for the first time in June and didn't want him to stop
Yheti - Love those weird wobbles
Shlump! - Heavy bass heaven
Dabin - All the feels
Opiuo - The one and only and one of my all-time favs
Mr. Carmack
Boombox Cartel - Please please play the mariachi drop!
Dizzee Rascal - OMG this set will be redic and I must be there
Theo Tzu - Not to be confused with Zhu, this dude's Shambs mix had me stoked for his set right away
Joker - A dub ninja I've still never seen
Koan Sound - Love most everything I hear from them and never seen
Dirtwire - I always here they're great
Stickybuds - A fresh Canadian mix of all the sounds
Feed Me
Dr. Fresch - OG
Blackgummy - Missed his opening set at Rezz in Denver and heard he threw down
Woofax - He's got that glitch hop I love
The Librarian - Saw her at Bassnectar and she killed it!
Justin Martin - For my rave bae
Edamame - Denver represent!
Oshi
Protohype
Stanton Warriors - OGs of the British Garage scene one of the "never heard of's" I'm most excited to see
K Lab
Illgates - He's ill
Phibes - He should actually be higher on this list cause his Shambhala mix was fire
Toadface - Heard the things
Woolymammoth
Of course, we all know it's impossible to make it to every set you want to see at a festival - you gotta leave your destiny in the forest's hands - but these are the sets I most want to see. Next up, try to plan it out on the app!