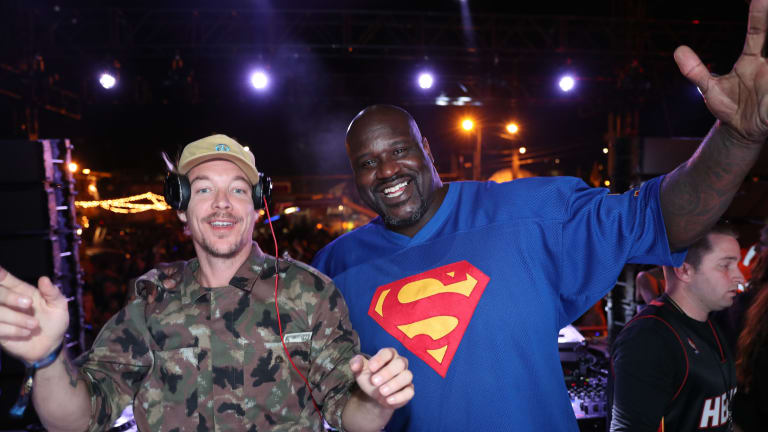 Shaq's Fun House Returns to Miami with Epic Blowout Event
NBA legend and superstar DJ Shaquille O'Neal joins forces with JBL for the third edition of "Shaq's Fun House" during Miami Music Week.
DJ Shaquille O'Neal, along with presenting sponsor JBL, have announced the return of Shaq's coveted traveling carnival-themed music party, "Shaq's Fun House," to Miami on March 29th, during the biggest week for dance music in the world - Miami Music Week! 

Very limited tickets go on sale Friday, March 9 - SHAQSFUNHOUSE.com.
Last year, Shaq's Fun House debuted at Miami Music Week with surprise performances by Diplo, Steve Aoki, A-Trak, DJ Carnage, Nervo, Alan Walker, and Cheat Codes, as well as appearances by Denver Broncos' Von Miller, designer Alexander Wang and Shark Tank's Daymond John. The evening also included the viral impromptu dance-off between New England Patriot's Rob Gronkowski and Shaq. 
Following the Miami event, the second edition of Shaq's Fun House activated in Atlanta during Super Bowl weekend, with performances by world-class talent such as Migos, Tiesto, Diplo, T-Pain, Lil Jon, and Cirque Du Soleil and celebrity guests including Jamie Foxx, Adam Levine, Evander Holyfield, Akon, Patrick Mahomes and many more.

Check out the official Super Bowl aftermovie for the Atlanta event below: 
Speaking about the upcoming third edition of Shaq's Fun House, O'Neal himself said:
"The artist roster for this year's Shaq's Fun House Miami will surpass even last year's epic lineup... it's a Shaq-sized surprise and what is even crazier is the Fun House experience JBL and I are putting on. Miami...I am back for another championship!"
Returning to The ToeJam Backlot in The Wynwood Arts District, Shaq's 2019 Miami Music Week event will kick off the morning of March 30th from 1:00 AM - sunrise. Guests will enjoy complimentary treats from iconic Miami restaurant Coyo Taco, as well as an open bar and donuts from Krispy Kreme. The upcoming third event (the second to take place in Miami) is poised to be the biggest and best Fun House yet, with many surprises to come.
Joe Silberzweig, co-founder of Shaq's Fun House, said:
"I am fortunate to have the pleasure of bringing Shaq's over-the-top vision to life. There was a real need at Miami Music Week to do something fresh and interactive, on top of welcoming amazing talent, and that is our goal with the Fun House." 
While the majority of the Fun House will remain invite only, a very limited number of All-Inclusive Open Bar Tickets from $149 go on sale to the general public general public this Friday, March 8th at 11:00 AM EST exclusively at SHAQSFUNHOUSE.com.
FOLLOW SHAQ'S FUN HOUSE:
Website: shaqsfunhouse.com
Facebook: facebook.com/shaqsfunhouse
Instagram: instagram.com/shaqsfunhouse