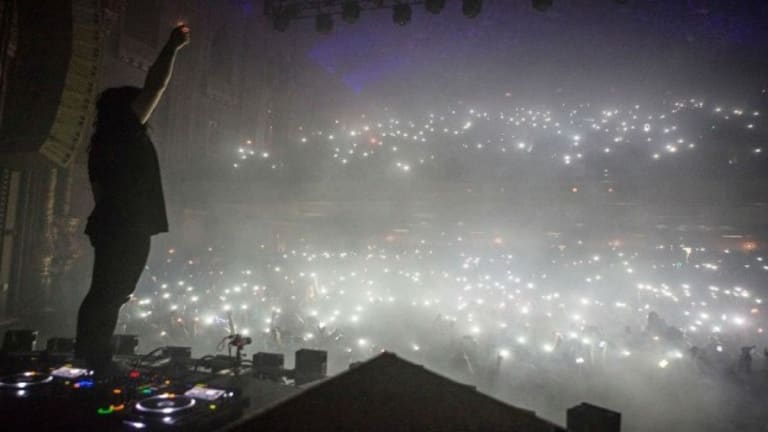 Watch Skrillex's Surprise Set at EDC Las Vegas 2019 in Full
EDC Las Vegas attendees were treated to an unexpected Skrillex set.
It took little time for word to spread through the EDM community that the Saturday surprise headliner at the 2019 edition of EDC Las Vegas would be none other than Skrillex. Now that this year's festival is in the books, video of the Los Angeles DJ/producer's set has surfaced about as quickly.
Clocking in at just over an hour, the set Skrillex (real name Sonny Moore) delivered at the circuitGROUNDS stage was riddled with IDs and fan favorites alike. Bouncing between top 40, bass house, jungle terror, dubstep and trap, his performance encapsulated the eclectic range of styles represented in his celebrated discography.
By the looks of things, Moore has a substantial amount of new music coming down the pipeline as well. In addition to a self-titled EP with Boys Noize under their collaborative Dog Blood project, he recently whet fans' appetites for "what feels like a couple bodies of work." Not only that, but he's rumored to be working on Rihanna's upcoming album.
Moore's set wasn't the only surprise faced by festivalgoers at EDC Las Vegas on Saturday. After high winds posed a threat to attendee safety, organizers were forced to temporarily evacuate two stages.
Insomniac has yet to announce the 2020 edition of EDC Las Vegas at the time of writing.
H/T: Dancing Astronaut
FOLLOW EDC LAS VEGAS:
Facebook: facebook.com/electricdaisycarnival
Twitter: twitter.com/EDC_LasVegas
Instagram: instagram.com/edc_lasvegas
FOLLOW SKRILLEX:
Facebook: facebook.com/skrillex
Twitter: twitter.com/Skrillex
Instagram: instagram.com/skrillex
SoundCloud: soundcloud.com/skrillex