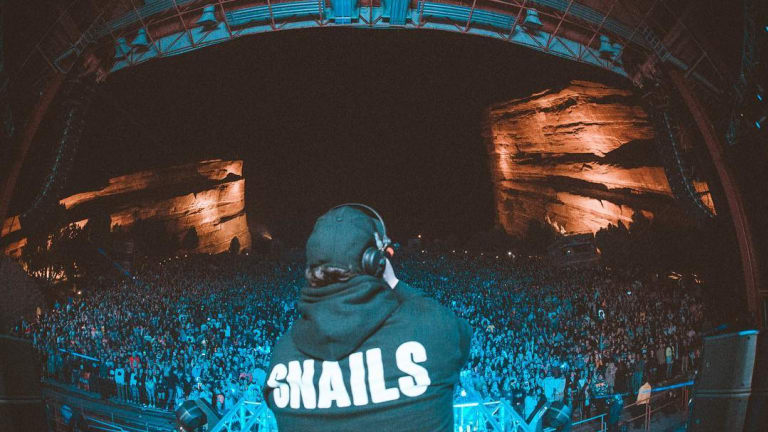 SNAILS Debuts "The Shell 2.0" TONIGHT at Red Rocks!
The legendary outdoor venue will be the first stop of the tour to see the brand new "holographic bass music experience".
Vomitsquad!  Today is the day!!
It's been an entire year since we gathered on the rocks for the first annual Sluggtopia.  Last October, we dressed for the chilly weather, tailgated as the leaves were falling, and climbed up the many steps into the beautiful Red Rocks Amphitheatre to hear THE SHELL live for the first time.  For everyone that had the opportunity to go, Sluggtopia I was an absolutely unforgettable experience.
Today, we get to do it all again!  Sluggtopia II has been a highly anticipated event since it was announced in January of this year.  To keep fans occupied throughout the year, SNAILS has performed at various festivals including EDC Las Vegas, and has released various collabs with artists including JAUZ.  SNAILS even started his very own record label, SLUGZ Music!  Even though tickets went on sale right away, the lineup wasn't announced until the beginning of May.  Sluggtopians from near and far have traveled to the Mile High City to see not only SNAILS, but Space Jesus, Funtcase B2B Cookie Monsta, and more.
"The Shell 2.0" will have it's North American debut tonight!  The brand new stage will also be debuted, and according to SNAILS' team, it's going to be something that no one has ever done before.
Snails is bringing his new show 'The Shell 2.0' to North America! A holographic bass music experience powered by groundbreaking production.
Looking back on the huge stage last year which featured a larger-than-life inflatable Gary, we can't wait to see what 2018 has in store!  As of yesterday, the event tonight is over 90% sold out, so if you haven't snagged your tickets yet, don't hesitate to click here!  The production is going to be bigger and better than ever before, and we're stoked to headbang to some new tunes as well.
This morning, SNAILS tweeted about how excited he is for the second edition of the festival, and we can really tell how special this yearly event is for him.
For anyone going tonight, the forecast is supposed to hit a low of about 45 degrees Fahrenheit with a 50% chance of rain throughout the night.  Since Red Rocks Amphitheatre puts on shows rain or shine, prepare for the weather!  I'll most likely be wearing leggings, leg warmers, and a hoodie with my Illenium jersey.  Of course, I'll also be shoving my raincoat in my Vibedration just in case.
If you aren't able to come to the show tonight, check out the full list of cities on The Shell 2.0 Tour!  53 other cities around North America will all be blessed with the gift of vomitstep and the brand new stage production.  Check out the video below to see if your city made the list!
I'll see you tonight on the rocks!