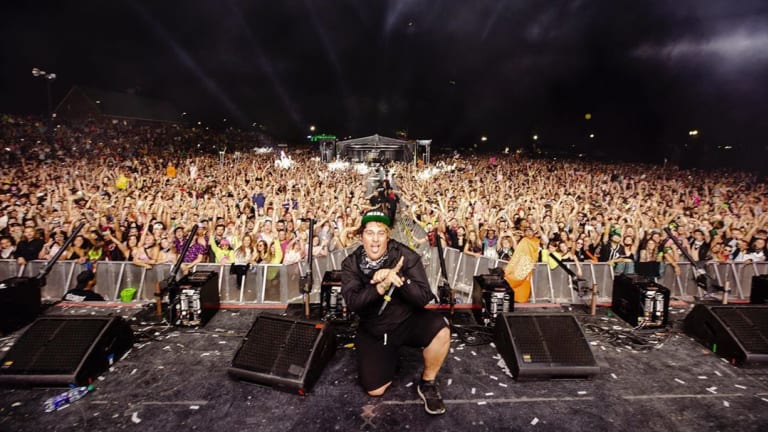 One Month Out: What to Expect at Sluggtopia III
This will be the first time that a Kill The Snails set has graced the legendary Red Rocks Amphitheatre stage.
For the third year in a row, SNAILS is bringing his massive festival, Sluggtopia, back to Red Rocks Amphitheatre. Taking place on Friday, October 4th, this festival is the perfect place for dubstep artists and fans to come together in the beautiful Colorado weather.
During the summer of 2019, SNAILS (known to friends and family as Frédérik Durand) performed at festivals all across the globe including Bass Canyon, ÎleSoniq, Electric Forest and more. He also released a few massive singles: "Jackhammer" with Krimer and "RKO" featuring Rico Act.
When the lineup was announced in April, fans went wild. For the first time in Red Rocks history, KILL THE SNAILS (SNAILS B2B Kill The Noise) will play a headlining set. In addition to this heavy-hitting headliner, Rusko, Midnight Tyrannosaurus, Sullivan King, Krimer, and Denver local Decadon will all take the stage.
As far as production goes, the set up at Red Rocks will be a surprise since the possibility of rain and wind at an outdoor venue provides too much risk to bring out the Shell 2.0 holographic stage. However, it will definitely be used throughout the rest of the tour with the addition of new visuals.
The WORLD OF SLIME tour kicks off in November and hits ten different cities across the United States in phase one alone. With over thirty total stops, different special guests including Kompany and Eprom will join SNAILS on the tour. There will also be a WORLD OF SLIME New Year's Eve event in Detroit and a leg of the tour that travels through Asia as well. For tickets and information, click here.
For any Sluggtopians who are lucky enough to travel out to the Mile High City, tailgate in the lots, and headbang to SNAILS' signature vomitstep, get ready to party! Red Rocks Amphitheatre is such a unique, breathtaking venue and it will most definitely be a night you won't forget.
Until then, make sure to listen to his most recent release with Subtronics, "SNAILCLOPS" that has appeared in both of their live sets as well as SNAILS' SNAILED IT Mix Vol. 7. Also, make sure to keep an eye out for his six other IDs that were just announced. These tracks are in collaboration with various other notorious dubstep artists including Kompany, Sullivan King, SVDDEN DEATH, and more! As of now, there isn't a release date set for any of the remaining tracks, but keep your eyes and ears open.
We are officially less than one month out from the event; start the countdown!
FOLLOW SNAILS:
Facebook: facebook.com/OfficialSnails
Twitter: twitter.com/snailmusic
Instagram: instagram.com/snailmusic
SoundCloud: soundcloud.com/officialsnails