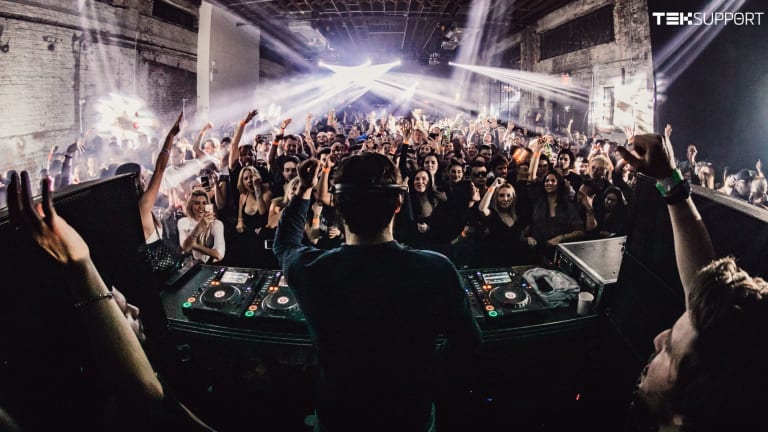 Solomun's Only US Show in 2018 [Review]
We braved the endless NYC winter to see Solomun!
A tangle of fur coats and sweaty bodies thrashed on the dance floor from midnight until 5 am. The basslines from the tracks were so intense, my phone camera was a blur. We felt Solomun's music just as much as we heard it.

After picking our way through cold, deserted Brooklyn streets, we landed upon 99 Scott Ave, an industrial warehouse in East Williamsburg. Before even entering, we could tell how in demand this show was. I saw at least 3 people try and purchase tickets for the sold-out show at the door.

And why was the night so popular, you ask? Solomun is a legend in the industry, with a career spanning 13 years, 30+ EP's and albums, and a consistent touring schedule around the world. His international appeal was clear at 99 Scott – at least half the crowd hailed from Europe. This was unsurprising though, as his career kicked off in Ibiza in 2012, and this was his only 2018 tour date in the United States. The Ibiza influences were clear that night too – if it wasn't 30 degrees outside, I could have sworn I was at Pacha; dancing alongside a thick, sweaty crowd to house music late into the morning.
With a minimal light setup, the music was the focus with loud, thumping speakers and consistently high-energy tracks. I don't think it was possible for anyone to hold still for a moment, the energy in the room was intense. Solomun took classic tech house beats and overlaid with simple but perfect melodies, taking the crowd on a sensual deep, journey through his 5-hour set. Towards the end of the night, he tossed in classic house and disco tracks and upped the funk to keep the party thriving. 
Overall, I'd rate it 4.5/5 booty bumps, and that half a point is solely because I was completely exhausted at the end of the 5-hour set. Thank you so much to Solomun & Teksupport for the beautiful night, can't wait to see you again!