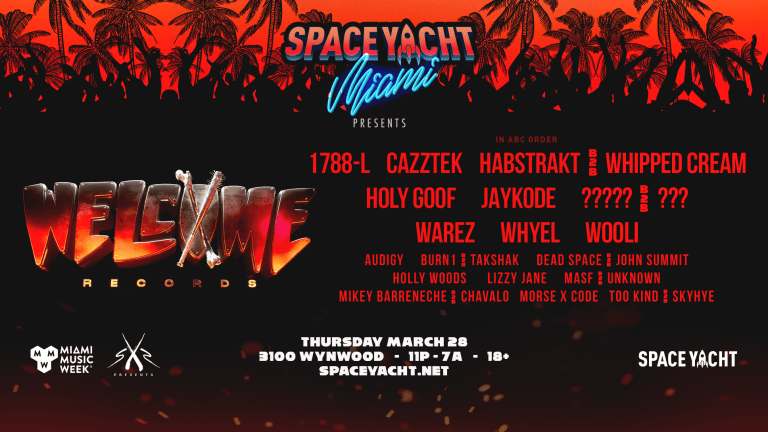 Space Yacht Releases Stacked Miami Music Week Lineup
Welcome Records takes over Miami bringing artists 1788-L, Jaykode and more.
Picture this: It's the night before Ultra Music Festival. Excitement and anticipation flood the streets of Miami as artists and music lovers from all over the world gather for a very special event. Kicking off the weekend is a special treat as Los Angeles based party, Space Yacht, brings their festivities down south on Thursday, March 28th.
Teaming up with Kayzo's Welcome Records and Florida promoter SXS Presents, Space Yacht has announced one of the most impressive lineups of the week for Space Yacht Miami. Featuring a variety of artists from 1788-L to Jaykode, Habstrakt, Cazztek and more, there is a variety of sound being showcased at this event - from heavy to house and everything in between.
The lineup has an artist slot left as "????? b2b ???", and we can speculate that one of these names belongs to the founder of Welcome Records, Kayzo.  Though the other is unknown, we know that Space Yacht will not disappoint on this special B2B performance.
Start your Ultra weekend off with a bang and join Space Yacht and Welcome Records for Space Yacht Miami. Tickets are available now here.
Follow Space Yacht
Facebook: facebook.com/spaceyacht
Instagram: instagram.com/spaceyacht
Twitter: twitter.com/spaceyacht
SoundCloud: soundcloud.com/spaceyacht
Follow Welcome Records
Facebook: facebook.com/welcomerecs
Instagram: instagram.com/welcomerecs
Twitter: twitter.com/welcomerecs
Follow SXS Presents
Facebook: facebook.com/sxspresents
Instagram: instagram.com/sxspresents
Twitter: twitter.com/sxspresents
SoundCloud: soundcloud.com/sxsradio