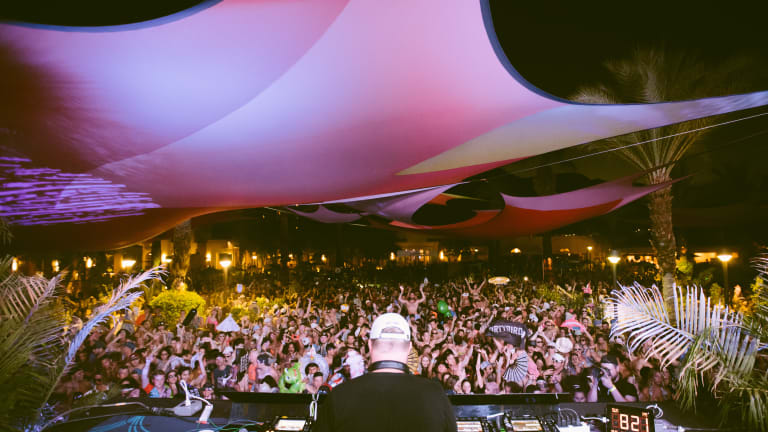 Splash House Made Waves as it Closed Out its 2019 Season
The pool party/festival hybrid featured some big names in house and techno.
The colorful desert city of Palm Springs graciously opened her arms to the premier pool party of the summer for one last time this year. A haven for music aficionados and revelers, Splash House made waves as it closed out its 2019 season. 
The kickoff event is the highlight of the weekend, the After Hours soiree at the Palm Springs Air Museum. Enveloped by war jets of a bygone era, the gallery plays host to an evening affair where guests dance the night away to house and techno acts. Sohmi, Kimiaz, and a live set by Phantoms started off the night. They were followed by Walker & Royce and Hot Since 82.
The After Hours rave continued a second night, where throngs of partygoers returned to the museum for round two. Special guest Diplo proved a fan favorite as his set lit up the atmosphere. Michi, Jessie Calistri, Enzo Muro, and Mark Knight helped round out the night.
Throughout the weekend, attendees were shuttled between three resort hotels that accommodated the entertainment and the entertained. The Saguaro, The Riviera, and The Renaissance hotels allowed their grounds to be the setting for pool parties and debauchery.
The trio of hotels shelter the artists that produce the sounds of the weekend. Some of those acts included Claude VonStroke, Snakehips, Solardo, Lane 8, Christoph, Hippie Sabotage, Louis Futon, Detlef, Lee Foss, Option4, Toro y Moi, Luttrell and Ekali, to name a few. 
However, while the roster of artists sharing their sound is impressive, the majority of guests could be seen roaming the grounds, embracing the California sun. From the hallways to the swimming hole, Splash House patrons enveloped the hotels and caroused into the night. 
What was once a celebrity getaway destination has now become a mecca for fans of not only music, but the lively atmosphere for which the parties are known. Splash House has injected a festive aura into the relatively quiet retirement community. The top acts in house and techno are a draw, but it is obvious Splash House attendees are there to party.
FOLLOW SPLASH HOUSE:
Facebook: facebook.com/SplashHousePS
Twitter: twitter.com/SplashHousePS
Instagram: instagram.com/splashhouse