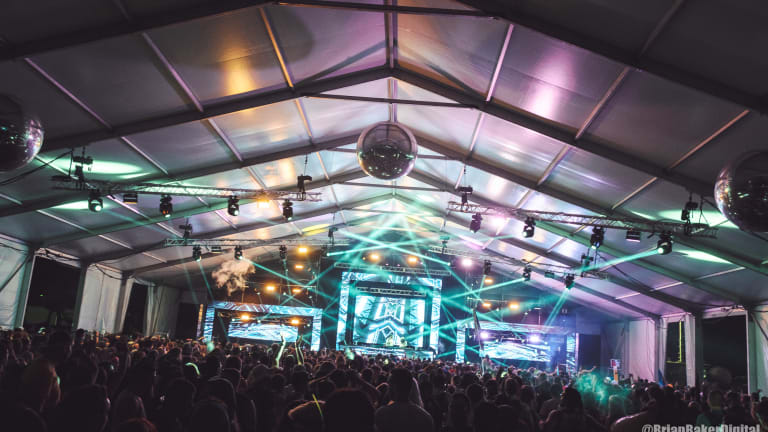 Defying Controversy and Doubt, Spring Awakening Returns with a Stronger, Safer Festival [Review]
Though its location was far, 2019 was Spring Awakening's smoothest festival in years with performances by GRiZ, DJ Snake, Excision, REZZ, Nora en Pure and others.
Another successful year is in the books for Chicago's Spring Awakening Music Festival. Although the planning of this year's installment came with controversy - and though React Presents was forced to announce new locations for the gathering twice - the 2019 edition proved an excellent installment of the Chicago summer music festival. 
Spring Awakening has been a mainstay of the Windy City since 2008. Readers who remember days past might pine for 2012-2015, when SAMF took place at Soldier Field. Others may also remember the festival's somewhat rougher home of Adams/Medill Park in Lower Westside Chicago. Late last year, the event's organizers announced that they would move away from Adams/Medill due to construction, and in November announced a new home of Douglas Park - home of Riot Fest. Unfortunately for React Presents, local city officials were not too pleased with this announcement and nixed the move.
Though there were whispers that React would not be able to find a location suitable for their eighth Spring Awakening, they defied naysayers and announced their new home of Poplar Creek in Hoffman Estates, Illinois. Poplar Creek is located just over 35 miles northwest of downtown Chicago, directly adjacent to the Sears Centre Arena.

Getting There
Logistically speaking, Spring Awakening's notable distance from Chicago proved to be its biggest downfall. Those with cars encountered a 1.5+ hour drive from downtown, and longish waits for festival parking. Public transportation was available for those who did not want to drive from the city or navigate parking alongside thousands of others. Travelers could expect to ride the Blue Line (~1 hour) all the way to Chicago's Rosemont neighborhood, then hop on a free, SAMF-provided school bus (~35min) for the rest of the way to the festival. On Saturday and Sunday, a closure on the Blue Line added a shuttle and about 45 minutes to the travel time. Though the transport was somewhat basic, the school buses ran smoothly and set a mood reminiscent of those worry-free summer camp days from so many years ago; this proved to be reinvigorating after the odious CTA trips.
Though the journey was long, React Presents should be praised for giving very clear travel instructions on their website, and providing free shuttles at least part of the way to the festival. Aside from distance and lengthened wait times due to the mass exodus of festivalgoers, as well as closures along the Blue Line, traveling to Spring Awakening was a smooth affair. With any luck, next year organizers can send their dates to the city to avoid closures during time. 
Festival Grounds
This year's Spring Awakening boasted of 27 acres, four major stages, two small stages, two ferris wheels, a rideable hot-air balloon (first time in SAMF history!), and a plethora of merchandise and food vendors. Though there were only two water stations, water was plentiful, lines were extremely fast, and the stations did not run out and spark minor riots like in 2017. Medical tents and security gave out free water, and bars were plentiful. It seems that React Presents definitely took previous years' pitfalls to heart and planned accordingly.
Upon entering the grounds, the festival felt smaller than advertised, but not for long. Immediately flanking the entrance, there were two hangar-style stages (the Function and the Hangar) that would be the weekend's home to SAMF's trance and dubstep acts. After walking in past the merch and food booths, however, the festival grounds broadened to include the enormous Solstice stage and the smaller (but still huge) Equinox stage. If there were any critics who docked previous Spring Awakenings for stage presence, they were surely quieted by this year's production size.
The Music
Though the new 'burby location and significant travel times may have dissuaded some festival goers, the lineup and performances really made the weekend worthwhile. Performers were well-placed in regards to both location and time slot. For the most part, there were no moments of major claustrophobia or crushing crowds moving from one stage to another. Unlike larger Chicago festivals like Lollapalooza, moving from one act to another was easy.
Friday's schedule was well stocked with popular headliners, but it was not so stacked as to leave the other days wanting. It seems that React Presents cleverly built Friday as a soft opening for their new, untested location, while still putting large names on the roster. During opening day, the Function stage had some popular house performers, like Golf Clap, Brohug, and Shiba San. With their stage under a large awning, these house heads drew large crowds of people looking to escape the daylight. The main stages saw names like Audien, Oliver Heldens, Zomboy, Illenium, and Zedd. Heldens brought an excellent house set to Solstice stage, warming up both the speakers and the enormous LED panels for the weekend. With excellent mixes of Childish Gambino's "This Is America," and the legendary "You Know" by Zeds Dead, he lived up to his hype and showcased some excellent talent during his Spring Awakening set.
Saturday's lineup felt substantially bolstered from the previous day, and the music from day two of SAMF arguably made the entire weekend worth it. The day started off with strong performances by Subtronics, who drew a huge audience to his 4:00 PM set, and Droeloe, who played their then-unreleased collaboration with Zeds Dead. What So Not brought his signature Australian trap and he marched around on Solstice stage playing marching drums. Flosstradamus and 4B absolutely threw down with their B2B set, bringing the first significantly trappy performance to the festival, which was certainly refreshing. Malaa brought the mood back with his thumping deep house, making way for Rezz' hypnotic performance and wicked sub-bass. The closing set that stole the show on Saturday night, however, was DJ Snake (with appearances by Malaa); he brought a pinch of trap and a touch of hardstyle back to the festival along with a lot of (literal) fire. DJ Snake pulled no punches. Immediately, upon starting his set, and made absolute full use of LED panels, strobes, pyrotechnics, fireworks, CO2 cannons, and lasers. Epileptics absolutely be warned.
Sunday's sets were certainly a deescalation of the day prior, and though the performances were calmer in genre, the energy and performances carried through to the final day of the festival. Peekaboo set the mood with a heavy-yet-chill session that was both energetic and somehow relaxing. GTA filled up Solstice stage with one of their house and techno purple sets, bringing their signature classiness to the festival. Rusko brought his OG dubstep to the Equinox stage, and was closely followed by an Excision Detox Set, which kept on with the day's "heavy-yet-chill" vibes. Nora en Pure spun some excellent house and deep house in the Function stage. In the words of one attendee, "Nora en Pure made it all worth it. Great set."
And finally, the performance that absolutely conquered Sunday night (and perhaps the festival overall) was, of course, GRiZ. Easing in with the opening sound bite from the first song of his recent album, Ride Waves, the performer's presence stomped onstage with an excellent mix of both new and old material. Considering this festival appearance is part of GRiZ' album tour, he played an appreciable amount of his newer, funkier work, but still focused a significant amount of time dropping jaws with his heavier, glitchier, dubbier, "older" style. 
Just as he claimed in his interview with EDM.com directly preceding his set, GRiZ's performance was "energetic and loud and no fucks given." Live vocals and instrumentals obviously dotted his show, and his signature saxophone solos were at least on par with some of his best performances.
The Experience
Though Spring Awakening struggled amid controversy and an unsure future earlier this year, React Presents pulled through and established a bigger, better, safer music festival. And although the journey to the event alone was exhausting at best, SAMF's newest location provided ample growing space for the its ever-increasing attendance. It can be more than difficult on a venue when an excess of 30,000 guests show up at the gates, but overall Poplar Creek handled it very well. Being located in the suburbs also contributed greatly to the overall attitude of the crowd. In previous years, audiences were often incredibly packed, sometimes unfriendly, and had a plethora of seedy occurrences (like rampant pick-pocketing). This year's attendees appeared largely well-mannered and friendly, with excellent attitudes and sunny dispositions. Unlike many festivals, there was a notable lack of emergency medical and police attention; necessity for EMS was "far below what was anticipated on each of the three days ... [and] There also was no major police activity required." 
It is apparent that React worked hard to alleviate issues from previous years, and the behind-the-scenes ran just as smoothly as the surface. They brought big names and huge stages, and did a great job helping their guests to and from the festival safely. Overall, this year's installment was an excellent return-to-form for React Presents, and a marked improvement over some previous years of Spring Awakening. Hopefully upcoming years will see a similar growth, but with less difficulty during planning stages. 
FOLLOW SPRING AWAKENING:
Facebook: facebook.com/springawakeningfest
Twitter: twitter.com/SpringAwakeFest
Instagram: instagram.com/springawakefest