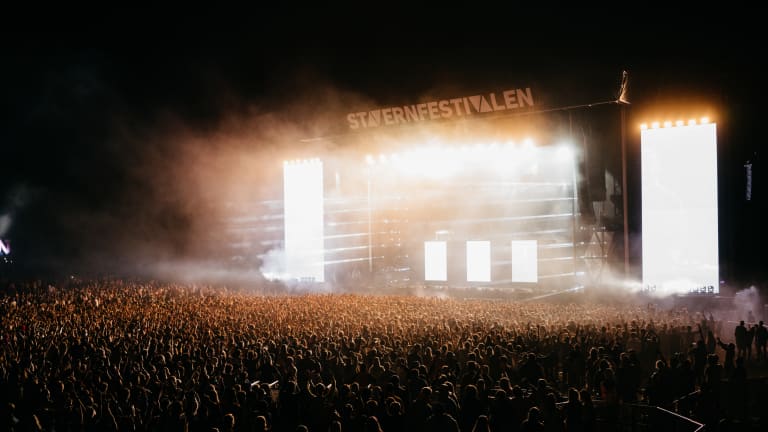 Stavern Festival Celebrates 20 Years of Pushing the Music Festival Envelope In Norway
The three-day festival is returning July 7-9 with headlining performances from Cardi B, The Kid LAROI, Major Lazer and more.
With Stavern Festival's massive 2022 edition just hours away, let's have a look back at the history of one of Norway's biggest live music events.
Stavernfestivalen—as it's called in Norwegian—was launched way back in 2001, when its first iterations laid the foundation for what would eventually become one of the country's most hyped festivals.
Since its inception, Stavern took near the city of Larvik in South Norway, which is located in a key spot, reachable within less than two hours from the country's capital of Oslo. But by 2015, the festival had well-transitioned from a small local event to a powerhouse brand. So it was time to move its location to the gigantic Larvik Golf Arena.
With this massive space still acting as the home of Stavern and its attendees over the event's three-day duration, it welcomed roughly than 80,000 attendees in 2019, grossing over €10 million. This monumental success galvanized the largest festival owner in Norway, Sky Festivals, to fully acquire Stavern after owning 50%.
Stavern is bound to achieve even more success under the wing of Sky Festivals. The company's portfolio includes Oslo's Findings Festival, Trondheim's Festningen, Stavanger's Utopia and many more events.
"We strongly believe in the Norwegian festival market for the years to come, and Stavern is a very strong brand that we really feel we can on keep growing in the future," said Trond Opsahl, Sky Festivals co-founder, at the time of the acquisition. "We are determined to make Stavern 2022 the biggest and best version ever."
Following a two-year hiatus, Stavern Festival is returning in a big way in 2022. Long revered for bringing together performers from many different musical styles to cultivate a diverse festival experience, organizers have booked Ed Sheeran, Elton John, Post Malone, Travis Scott, Kygo, Neil Young, Sting, Bob Dylan, Roxette, David Guetta, Pharrell Williams and Alan Walker, among many others.
This year, Stavern boasts headlining performances from Cardi B, The Kid LAROI and Major Lazer, as well as iconic Norwegian acts A-ha and Sondre Justad. Additional artists who are slated to take the stage are Ashnikko, Clairo, Astrid S, James Arthur and Rae Sremmurd, as well as French trailblazer Madeon and EDM.com Class of 2022 hitmaker ACRAZE.
Three- and one-day passes for Stavern Festival 2022 are available here alongside camping and hotel options.
Check out the full lineup below.
FOLLOW STAVERN FESTIVAL:
Facebook: facebook.com/stavernfestival
Instagram: instagram.com/stavernfestivalen
Website: stavernfestivalen.no