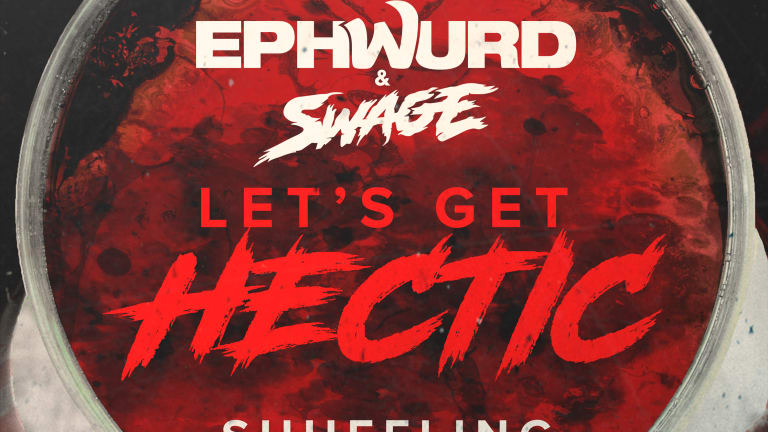 EDM.com Presents: "Let's Get Hectic" Shuffling Contest - ENTER NOW TO WIN!
Ephwurd and SWAGE release hot new single "Hectic" and announce "Let's Get Hectic" Shuffling Contest with EDM.com.
Ephwurd is back with another festival-ready heater, "Hectic," a massive collaboration with SWAGE inspired by his undying love for '90s era dance floor classics.
Since the song is such a great fit for the now widespread shuffling trend that has swept through the world of dance music, Ephwurd and SWAGE have decided to launch a one-of-kind shuffling competition chock full of great prizes and promotional opportunities.
Check out the entry requirements below, and may the best shuffler(s) win!
Contest Terms: Using this 30-second audio clip from Ephwurd and Swage's "Hectic," participants will film a shuffling routine which demonstrates their very best choreography.
Prizes: The winning dance will be selected by Ephwurd. Dancers will win an ultimate merch pack (one of each item), a free download of the track, and the winning video will be uploaded to the EDM.com Instagram and promoted by Ephwurd and SWAGE across their socials.
Rules & Entry Requirements:
Entries can be done on your own or as part of a group - creative choreography is what we're looking for!
Participants MUST post their video to Twitter, Instagram and Facebook, and must tag @Ephwurd, @SWAGEsound and @EDM, as well as including the hashtag #letsgethectic. Failure to do so will disqualify your entry.
All posts must be made prior to February 20th; the winner will be announced on February 25th.
Suggestions:
Tight choreography is better.
Consider your film making technique and get creative.
Costumes or unique outfits are recommended but not required.
Consider your setting, but don't do anything dangerous - we will not accept any entry that we consider to be reckless or disrespectful.
Show off your style!
Post early if you can! 
Watch the example below for ideas, and get working on your video right away - we look forward to seeing how creative our shuffling community can get!

FOLLOW EPHWURD:
Facebook: facebook.com/Ephwurd
Twitter: twitter.com/Ephwurd
Instagram: instagram.com/Ephwurd
SoundCloud: soundcloud.com/ephwurd
FOLLOW SWAGE:
Facebook: facebook.com/SWAGESOUND
Twitter: twitter.com/SwageSound
Instagram: instagram.com/SwageSound
SoundCloud: soundcloud.com/SWAGESOUND