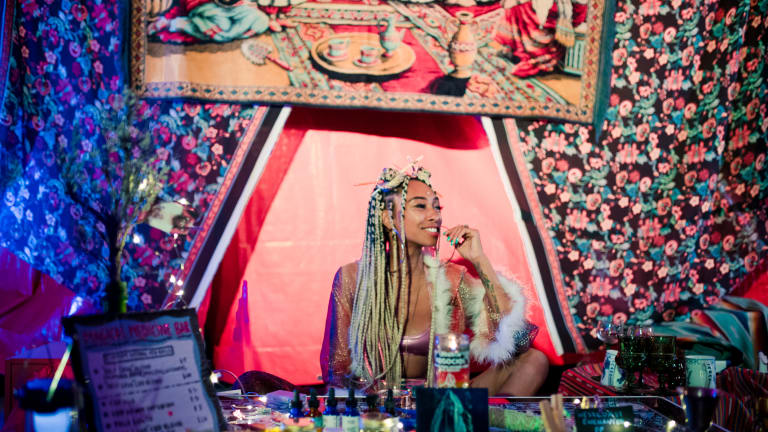 5 Things You Didn't Know about Taos Vortex Festival 2019
Taos Vortex 2019 is the home of Theatre Brunch, Pussy Power House, and a centuries-old cemetery complete with its own headless skeleton and murder mystery.
Southwesterners, rejoice! Taos Vortex festival returns to New Mexico this weekend for the second year in a row. After releasing their full lineup in August, Meow Wolf has been working hard to bring their festival alive this weekend in Taos, New Mexico. 
In celebration of the event, here are five things you might not know about Taos Vortex:
5. Taos Vortex is the festival brain-child of eccentric art-collective Meow Wolf
Meow Wolf was founded as an artist collective in 2008 in Santa Fe, New Mexico, and has since become an arts and entertainment group. Meow Wolf is most well-known for their interactive art-labyrinth, the House of Eternal Return.
Taos Vortex 2019 will mark Meow Wolf's second installment of this festival. This year sees a bolstered lineup, and three full-days of camping, music, and other performances. 
4. Nestled in the festival grounds is a nearly 200-year-old cemetery
Kit Carson Park, aka Kit Carson Memorial Park, also happens to be the site of the Kit Carson Cemetery. Established in 1847, the cemetery was originally founded for the burial of American soldiers and civilians killed in the Taos Rebellion of 1847. 
Among those interred is the alleged body of decapitated con man, Arthur Manby. According to his headstone, it was he who planted the trees that shade this year's festival campgrounds. See the official map for the cemetery's location; read about the unsolved 1929 Manby murder here.  
3. This year's Taos Vortex sports some impressive VIP options, with the food-inclusive Vibe Hut and stunning Glamping options.
The Vibe Hut is the Vortex's main VIP offering. The Vibe Hut includes "complimentary locally-sourced food from Dig & Serve, non-alcoholic drinks, charging stations, as well as access to a VIP cash bar." 
This year's festival also boasts a gorgeous "Glamping" tier. For those particular VIPs, Meow Wolf will supply "a curated, furnished space including comfy queen bed and linens, outlets for charging your devices, snacks, drinks, and much more." The Glamping option also includes full weekend access to the Vibe Hut. For more information, check out the luxury add-ons.
2. Taos Vortex has multiple breakfast options, including Sunday's Theatre Brunch
For any guests who need a mid-festival pick me up, Taos Vortex offers breakfast during every morning of the weekend. The Camp Breakfast option allows access to the Vibe Hut from 8:30 AM to 10:00 AM. Guests can choose from "made-to-order items such as burritos, omelettes, breakfast tacos, and french toast."
Taos Vortex has the one-time Theatre Brunch on Sunday at 11:00 AM. It is a multi-course meal and show. Tickets for both breakfast and brunch can be purchased as add-ons. 
1. Maximalist, sex-positive Pussy Power House will have their own curated event space during Taos Vortex
Pussy Power House was started by Corinne Loperfido as a feminist art community. Since then, it has become the force behind curated pop-up events across the country. They focus on body-positive performance art and "edu-tainment."
This year, Pussy Power House will bring their Temple of Senses to Taos Vortex. They aim to encourage people "in a non-sexual space to be able to feel comfortable and sensual and ask for what they want." For more information, read Meow Wolf's article about Pussy Power House, "pleasure stacking," and this year's Taos Vortex.
Whatever your interests, whether the amazing music and VIP digs, or the coincidental cemetery/murder mystery combo and tantalizing arts performances, Taos Vortex has it covered.
Visit the Taos Vortex official website for more information.
Follow Meow Wolf:
Facebook: facebook.com/meowwolf.sf
Twitter: twitter.com/MeowWolf
Instagram: instagram.com/meow__wolf