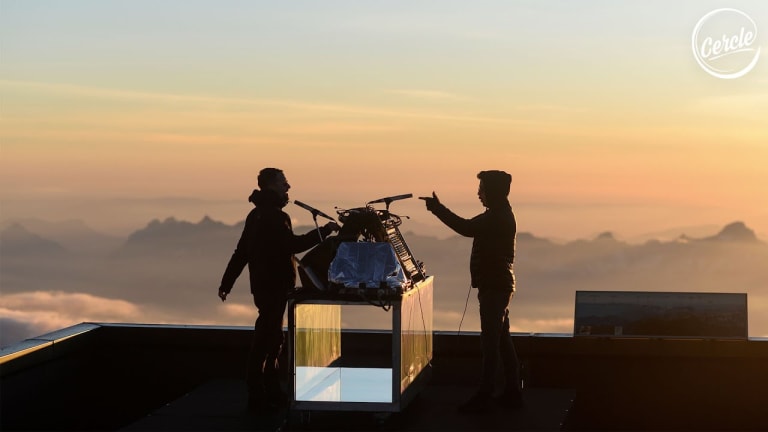 Watch The Blaze Perform Live Atop a 12,605-Foot Mountain in the French Alps
The duo played a fundraising live set in below-freezing temperatures atop Aiguille du Midi in France.
Cercle is a media production company well known for livestreaming electronic music performances at unique and sometimes extreme locations around the globe. With an aim to showcase the world's culture and heritage merged with captivating musical performances, Cercle has streamed everywhere from sandy beaches to icy mountaintops, to roaring waterfalls and historical landmarks.
Previous Cercle livestreams have featured performances from the likes of ZHU, Adam Beyer, Solomun, and many more in unique and historical locations. Paris-based electronica duo The Blaze were the latest to take the reins for a signature Cercle livestream. 
Braving the bone-chilling mountains of Chamonix, France, the pair performed atop the Aiguille du Midi, a mountain in the French Alps. At a height of 12,605 feet (over two miles above sea level), The Blaze burned through an hourlong set of their unique, ethereal electronica in temperatures as low as 23°F. Music from their album Dancehall was heavily featured against a breathtaking backdrop above clouds as the sun descended toward the horizon.
The fundraising efforts for this Cercle live stream benefited the GoodPlanet Foundation and Foundation du Patrimone, supporting environmental efforts and cultural heritage initiatives. Donations to those charities can still be made here. 
FOLLOW THE BLAZE: 
Facebook: facebook.com/TheBlazeProduction
Twitter: twitter.com/TheBlaze_Prod
Instagram: instagram.com/theblazeprod
SoundCloud: soundcloud.com/theblazemusic