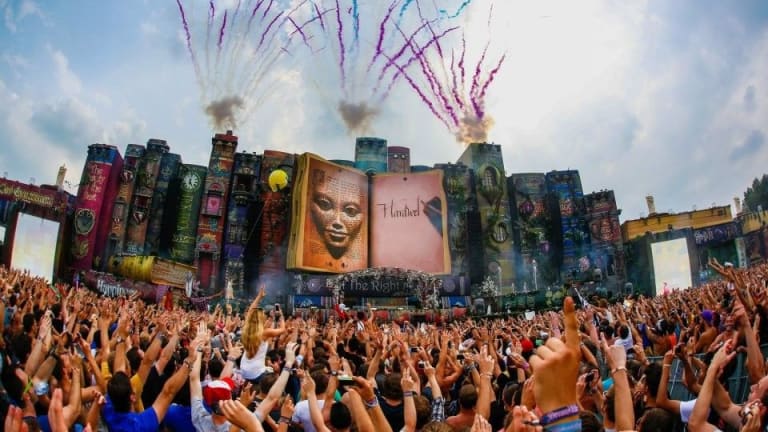 Tomorrowland Introduces New Stages for 2019
Tomorrowland released set times online and updated their phone apps.
With Tomorrowland less than 10 days aways, eager fans are speculating what the 15th anniversary has in store for them. The three-day festival in Boom, Belgium is known for delivering the most over-the-top, out-of-this-world production an event has ever seen. This year they are shooting to go even above that. 
The theme of Tomorrowland's 2019 edition is "The Book of Wisdom," and organizers recently revealed that each attendee would be given a physical book. The lineup for the 15th-anniversary celebration includes such headliners as Seven Lions, Eric Prydz, Claude VonStroke, The Chainsmokers and more.
One addition already released to the public is the "Symphony of Unity," an orchestral performance that will take place once during each weekend. Today, the team behind the festival has released the set times, updated the phone apps, and revealed a list of new stages for guests to behold.   
The iconic Freedom stage is set to change this year. In order to fit Eric Prydz' Holosphere structure, the stage had to be redesigned. By the looks of the sphere, they are going to need to expand upwards in order to fit that beauty in. 
The Theatre Formidable 360 stage was debuted last year and is already being replaced. It was received with mix reactions and now is transforming into something called Q-Dance. Tomorrowland reports will feature a sword that stands 131 feet high. 
L'Orangerie, a stage from Tomorrowland Winter, is being brought into the summer sunshine. It will replace the floating arch stage. L'Orangerie is designed to resemble a greenhouse which should prove interesting in July temperatures. 
The Tulip, one of the longest-running stages at Tomorrowland, is being replaced with a stage called Kara Savi. It is said to emulate last year's "Planaxis" theme. It will be adorned in white and gold and stand 55 feet high. 
The Tomorrowland Winter Lotus main stage is coming to Belgium. The Organ of Harmony will be no more. It will be reconfigured to fit live acts - and surely, it will be a beautiful sight to see. 
The brand new main stage will fit the theme of this year, The Book of Wisdom, a homage to the 2012 festival. Tomorrowland says that the main stage will be 26 meters tall and 132 meters wide, which puts it at almost the exact same dimensions as the Planaxis stage. The main stage takes a month to build and has been in the works since September.
Tomorrowland 2019 will take place from July 19th-21st and July 26th-28th. For more information or to purchase tickets, visit the event website.
H/T: EDMTunes
FOLLOW TOMORROWLAND:
Facebook: facebook.com/tomorrowland
Twitter: twitter.com/tomorrowland
Instagram: instagram.com/tomorrowland