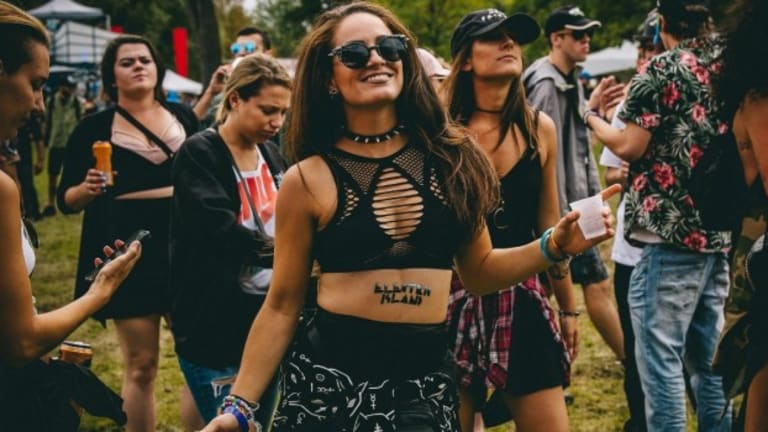 Toronto's Electric Island Brought the Heat Despite Cool Temps [REVIEW]
Electric Island boasted top talent from some of the world's hottest names in dance music, and did so with style.
It was a quick four hour drive to Toronto, Canada's largest city and a major multicultural hub of North America.
I got up early Sunday morning to cross the border after spending a late night at a Berghain-style rave in a distillery warehouse in Detroit. Despite being equal distance to Chicago, this was my first time venturing to the capital of Ontario all because of a press release I received a few weeks prior for Electric Island. The two-day daytime massive boasted a stunning lineup featuring Dixon, Sven Väth, The Black Madonna, Soul Clap, Chris Liebing, Dusky AND Claude Vonstroke. Obviously, I had started planning immediately.

Crossing the border gave us a comical interaction that would set the tone for the long holiday weekend. As I drive up to the border crossing, the patrol officer sternly asks:
"What's your business in Canada?"
"We're going to a music festival," I respond.
"Do you have any drugs on you? Any methamphetamines?"
"No ma'am."
"I don't care what you do there, just don't come back with anything."
And so we were allowed into Canada and drove the smooth distance to Toronto to give summer a proper send off at Electric Island located on Hanlan's Point, a large island embraced by the fresh waters of Lake Ontario. Just a short ferry away from the shoreline of the city, the journey to Electric Island offered breath-taking views of Toronto skyline with full view of the iconic CN Tower.
Walking into the venue, I got the feeling that Electric Island wouldn't be the typical day festival which has been beaten to death in US markets by a barrage of the same shitty lineups. Electric Island was well-curated and focused, specifically targeting a demographic instead of pandering to the masses with DJs of clashing genres and audiences. Maybe I'm getting old and jaded, but these days a good crowd is as important to me as a good lineup or venue, and Electric Island was a party for people who know how to party. There were no pacifiers or neon-colored pony beads, but there was plenty of black-on-black fashion that has swept through the techno scene in recent years. With a crowd whose average age was more likely to be in their late 20s/early 30s than pre-teen, Electric Island was a weekend getaway for music fans that understand what club culture is all about.
When we arrived, Dusky were dropping beats while the sun was still high in the sky, offering fans their mellow fusion of soulful house with London flair. As I walked around the crowd, during Dusky's set I was surprised to see how many people were representing my city. Detroit was embellished on tees, tanks, and flat-billed caps in this Canadian city by fans paying homage to the genre's roots – something that until very recently even Detroit wasn't conscious of. This was the way to start out on the right foot.
As Chris Liebing, known by many as "The Hammer" took to the decks, the mood of the crowd got significantly heavier as the banging "four on the floor" beats took over the sound system, bringing the the atmosphere of underground clubs to the twilight sky of Toronto. Electric Island, unlike many of its other North American counterparts understands its own audience and created an atmosphere where music like Chris Liebing could be enjoyed outside of dark warehouse spaces. So many times when other festivals book these "underground" artists, the crowd full 19-year-old festikids who are more equipped for head banging that two-stepping, don't fully understand how to listen to techno music which can immediately kill the vibe of any dance floor...regardless of whether you're at music festival bucket-list behemoths like EDC or Ultra. Here, the crowd at Electric Island moved in rhythm with the mix, counting beats and matching transitions with their dance moves, something not typically witnessed under daylight conditions.
Walking to the second stage offered a much deeper vibe, featuring the groove-ridden rhythms of Gab Rhome. If you couldn't make it to the playa of Black Rock City earlier this month, the second stage offered a soulful alternative to the dust of Burning Man. Under the intimate half-moon dome, Gab Rhome moved bodies in both the booth and in the crowd as the sun was setting acting as a perfect palate cleanser for the evening.
For the main course, Claude VonStroke served up a hot dish of tunes as the evening's headliner, playing more than just tech-house in a sea of loyal Dirtybird fans. Dropping everything from banging techno, to jungle, to booty-popping house music, Claude VonStroke proved why he has become a leader in the North American underground movement. To top off an evening of label favorites and eclectic track selections, Claude brought his set to a climax with a rare performance of his 2006 hit, "Who's Afraid of Detroit," which left more than a few fans whistling the song's iconic riff.
Although the weekend came to premature end on Monday because of poor weather conditions, Electric Island was still an impressive collection of music, fans, and skillful use of venue space. Closing out it's summer 2017 season, Electric Island continues to push the envelope by daring to be the underground daytime massive that not only Toronto deserves, but that the North American festival market should aspire to achieve.