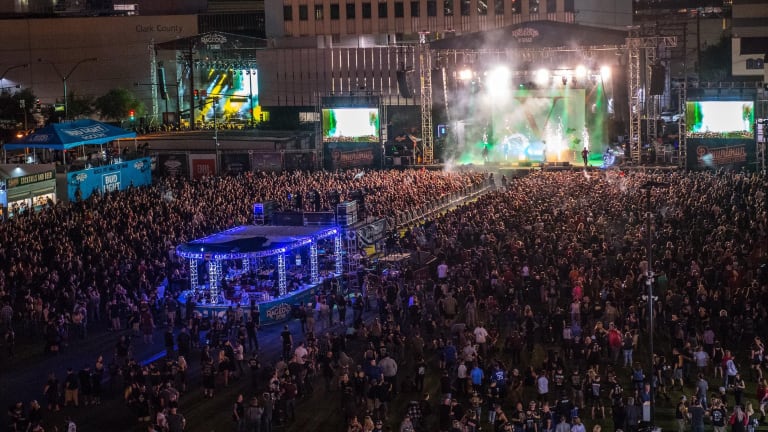 The Ultimate Festivals to Experience in Las Vegas
Las Vegas is as full of great music festival events as it is with fun gambling games. Here are the top Las Vegas festivals to consider adding to your calendar!
Upcoming Las Vegas Festivals You Need To Experience
Just about every player passionate about casino games and winning big has a favorite gambling-themed song to listen to while they enjoy spinning the reels, watching the wheel turn, or the cards being dealt... but can you say that you have a favorite Las Vegas music festival experience under your belt? Believe it or not, Sin City is home to many world-class festivals outside of the internationally recognized Electric Daisy Carnival that attracts thousands upon thousands of visitors with their epic lineups, skilled DJs, and unforgettable vibes.
If you're interested in visiting the city of lights for a touch of premium gaming, why not plan your trip around one of the city's best music festivals as well? That way, you can enjoy the best of both worlds while adding even more amazing experiences to your growing list. Here are some of the upcoming top Las Vegas festivals that you definitely don't want to miss:
The Jazz Eclectic Music Festival: September 14th, 2019
Coming up in just a few months' time and kicking off on September 14th at 1:00 PM PST, the Jazz Eclectic Concert Series is a popular series of concerts that takes place four times a year at Las Vegas' Smith Center. It showcases a unique blend of world-famous musical artists, including regular Grammy Awards nominees and award-winners, along with an array of up-and-coming talent for the best of both worlds.
The Jazz Eclectic Music Festival will take place at the stunning Springs Preserve Amphitheatre and will attract masses of music fans, thrill seekers and families alike to enjoy a day of sweet tunes, sophisticated enjoyment, and amazing local talent. Headlined by five-time Grammy award winner Billy Childs, on the roster for the event are many other award-winning artists, Billboard chart toppers and emerging jazz musicians along with food and wine stalls, various exhibits, VIP reception, and outdoor picnic facilities.
Life is Beautiful: September 20th-22nd, 2019
Hosted in vibey Downtown Las Vegas, Life is Beautiful has an all-star lineup on offer for this year's attendees. Headline acts include the likes of Post Malone, Billie Eilish, Chance the Rapper, The Black Keys, Vampire Weekend, Lil Wayne and Of Monsters and Men, along with iconic '80s band Toto (the singers of smash hit track "Africa"), South African rap phenomenon Die Antwoord, Aussie guitar master Tash Sultana, and eclectic duo Louis the Child.
Also on the schedule are various art exhibits, pyrotechnic displays, delicious culinary opportunities, and live comedy shows to keep things delightfully lighthearted this coming September. This is truly set to be one of the top Las Vegas festivals on the calendar this year, so make sure you're there!
iHeartRadio Music Festival 2019: September 20th-21st, 2019
Taking place at around the same time as Life is Beautiful, the iHeartRadio Music Festival will be a haven for those who prefer rock and alternative jams to EDM, rap, pop, and the like. Scheduled for this year's fest are headlining acts Cage the Elephant, Halsey, Def Leppard, Heart, Alicia Keys, Chance the Rapper, Mumford and Sons, H.E.R, and many more.
The ninth edition of the iconic festival will be hosted by Ryan Seacrest, and it is rumored that there will be several surprise onstage collaborations to keep guests on their toes.
Electric Daisy Carnival Las Vegas: May 15th-17th, 2020
Many of the top Las Vegas music festivals are dedicated to EDM, and it isn't hard to see why. Luckily, you have plenty of time to save up and plan for the upcoming Electric Daisy Carnival (EDC) Las Vegas, which will take place in Sin City in mid-2020. Sponsored by Smirnoff, Uber, and Tinder, the event's lineup will pack a massive punch thanks to headliners like Alison Wonderland, Bill Nye (yes, really!), David Guetta, Deadmau5, Ganja White Knight, ArtBat, Infected Mushroom, Adventure Club, Rawtek and 4B.
If electronic is your genre, be sure not to miss EDC Las Vegas, which will be packed with high-energy performers, pyrotechnics, light shows, and stage art that depicts a unique fusion of technology and nature.
Punk Rock Bowling Music Festival: May 21st-25th, 2020
Punk Rock Bowling is turning 22 in 2020, and they plan to celebrate the only way they know how. Get ready for a weekend packed with punchy punk music, top headlining acts like Rancid, The Specials, FLAG, Descendants, The Stranglers, The Vandals and The Damned... and free drinks for the first 1,000 rockers at the door!
The festival welcomes people of all ages, and kids under eight will get in free. On offer are rentable lockers, air-conditioned bathrooms, live video screens, bleachers and a 6,000-square-foot tented beer garden as well, ensuring that you can be punk rock and comfortable at the same time. Even vegetarians and vegans will be catered for, and with Vegas just around the corner, you are guaranteed a good time no matter which way you swing it!