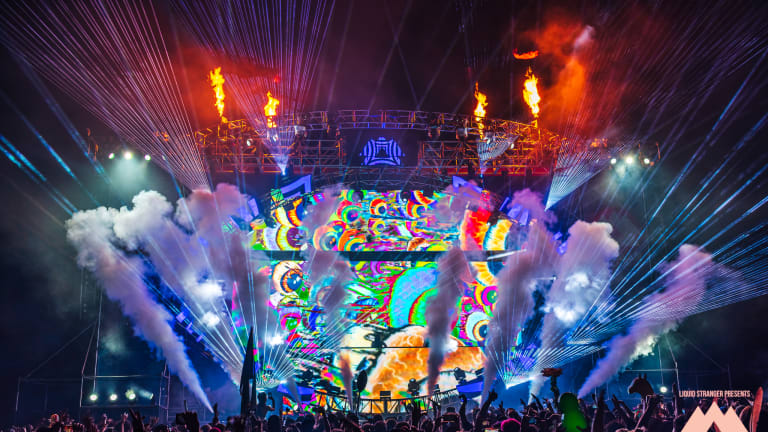 Review: Liquid Stranger's First-Ever Wakaan Music Festival Debuts as Premier Bass Event in the U.S.
In its inaugural year, the festival went off without a hitch.
If you ask Liquid Stranger — or anyone from his Wakaan label for that matter — they'll tell you it was never the goal to host their own music festival. This past weekend, however, they hosted a sold-out, 10,000-person Wakaan Music Festival that set a new standard for bass music events across the country.
Founded in 2012, the original intent of the label was simply to act as a platform for a group of friends making fringe bass music. Led by Martin Stääf (the man behind Liquid Stranger), the group found its own moderate following and carved a niche into the electronic scene by promoting freeform bass. As bass music pushed into the mainstream in recent years, so did Wakaan, helping cull over 200,000 fans to Stääf's online "Liquid Stranger Family."
Sometime last year, his growing family began to clamor for a festival of their own, making mock lineups and hounding Stääf himself online for an event they could call their own. This past weekend, those fans' dreams and Stääf's longtime vision for a collective bass family came into fruition with Wakaan Music Festival on Mulberry Mountain, a rustic and tucked-away venue in Ozark, Arkansas.
The event kicked off with a pre-party Wednesday night, with three thousand showing up early to catch a Liquid Stranger throwback set and appearances from Michal Menert, Protohype and Sully. On night one, those fans were introduced to the smaller, more intimate stages that would host the after parties over the weekend. At both the Chakra and Halo stages, music kicked off at 2:00 AM, running all the way through sunrise at 7:00 AM. While the Chakra stage hosted underground gems like Jantsen, Mize, and sfam, the Halo stage — hosted by the Jaenga Bus — presented takeovers from up-and-coming bass labels Sub.mission, Sermont Nation and the Spicy Bois.
The festival's main stage, Aura, opened up Thursday, as the remaining thousands began to arrive from around the country. In the buildup to the festival, the Wakaan team and artists began circulating the hashtag #IAmWakaan, emphasizing the importance of each member of its community. To reference this, the Aura stage production was set up in the shape of an eye. As fans looked on throughout the weekend, this served as a continual reminder that those watching were every bit as integral in the experience as those playing onstage.
Wanting to create a more intimate vibe for their fans, the festival provided a free-roam experience for those in the audience. At any given time, fans could walk up to the railing and circle around to the back as they pleased. There was even enough room to grab a seat on the ground, or set up an inflatable couch (which the festival allowed in) just about anywhere. This made for prime viewing of some of the best bass acts around the country, while nixing the inconvenience of bulky crowds and lines.
While these stages hosted sets from big names like Space Jesus, Rusko, and Manic Focus, its greatest moments were when it served as a pedestal for some of 2019's breakthrough acts. Night one's defining moment undoubtedly belonged to LSDREAM, the former twonk star-turned space bass phenom. His set brought the majority of the festival into the main stage grounds as the sun dipped below the mountainous tree line. Every moment felt monumental as he flexed his midtempo bass repertoire while wearing a bucket hat onstage. He even debuted his track "Ace of Cups" for the first time live, leaving many stunned as they continued on with their night.
Another standout moment came Saturday with the appearance of Florida producer Lucii, one of Wakaan's brightest stars despite serving as the opening act of Liquid Stranger's five-show Infinity Tour only a few months ago. While she's picked up notoriety for singing on her own tracks, at 5:30 PM on Friday, she showed the masses that her subtlety only adds to the weight of her thunderous bass. This was only to be upstaged by PEEKABOO, who began at 11:30 PM. The Wakaan/Deadbeats star blew up last year behind his G-REX collab, "Babatunde," but has shown he's anything but a one-hit wonder since. His Friday set felt like a full-scale headlining performance, from the crowd energy to his imposing "peekaboo" visuals. It doesn't seem too far off that the Detroit act will be a headliner on his own.
Aside from Friday, each night ended with a set from Liquid Stranger himself. During Thursday night's downtempo set he unveiled the news of a new downtempo label, Sskwan (it has it's own Facebook page now too), and all of Liquid's sets served as gentle reminders of why this community has become so special. Stääf took every chance he could to thank fans, artists and team members for their contributions in making this dream a reality.
While Stääf's decades of hard work laid the foundation of Wakaan, he continually reminded everyone in attendance that this dream was a collective effort. This served as a further testament as to why this community and the Wakaan family have become so revered and special today. Instead of putting individuals on a pedestal, it's promoted the idea that everyone, whether artist, fan, or staff, is just as important in bringing an idea to life.
While its year one success will undoubtedly garner interest from major promoters around the world to make it bigger and more commercial, the vibe and intimacy forged at Wakaan Music Festival in 2019 will set the standard for bass events like it for years to come.
FOLLOW LIQUID STRANGER:
Facebook: facebook.com/liquidstranger
Twitter: twitter.com/LiquidStranger
Instagram: instagram.com/liquidstranger
Soundcloud: soundcloud.com/liquidstranger
FOLLOW WAKAAN:
Facebook: facebook.com/WAKAANofficial
Twitter: twitter.com/wakaanofficial
Instagram: instagram.com/wakaanofficial
SoundCloud: soundcloud.com/wakaan