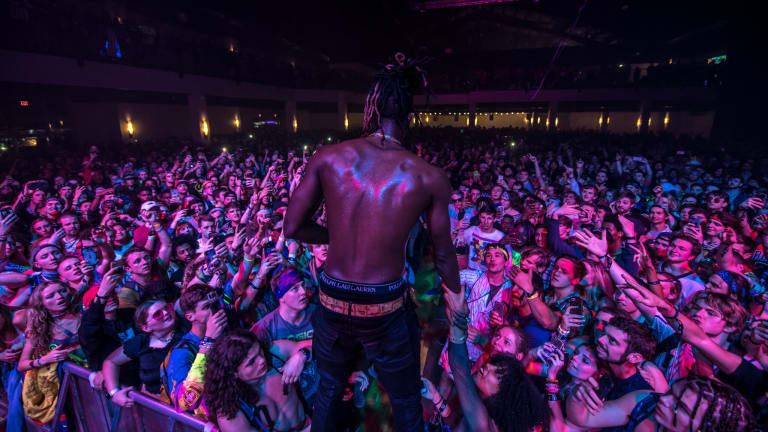 What Happens in the Big Easy Stays in the Big Easy at Buku Music & Arts Festival
We headed down south to New Orleans, Louisiana for a festival experience like no other.
After arriving in NOLA (and eating my body weight in gumbo and crawfish) I headed down to Mardi Gras World for my first ever Buku experience. From start to finish, Buku made sure that guests were engaged through performances, art, and different areas to explore.  Each stage at Buku provided a different sensory experience, tailored to the vibe of each show. With 6 stages total, including 5 stages open to GA and a "VIP Back Alley, this festival made sure to cover every kind of show that festival guests could ask for.
The main stage, called the "Power Plant" hosted some of the largest crowds of the weekend, including Bassnectar, SZA, Migos, and Illenium.  This stage was perfectly placed for an incredible 360 degree view of the city, making the festival feel like its own little world within the bustling streets of New Orleans. On both nights of the festival, this stage was accompanied by a picture perfect sunset with plenty of room around the stage to enjoy the experience as you pleased. With plenty of food, activities, and decorations surrounding it, this stage set the scene for many picture-perfect festival moments.  
My personal favorite stage, the "Float Den" was the place to go for a bit of a more immersive experience.  This indoor stage got its name from the multiple Mardi Gras floats that are housed around the outskirts when not being used in parades.  The use of purple, green, and gold lighting and different floats all around made for the perfectly themed NOLA spot to catch a show.  Acts like Jai Wolf, Virtual Self, Alison Wonderland, and REZZ helped the Float Den lift off into space with vibrant energy and delicious beats. Hosting perfect sound quality, immaculate production, and a surprising amount of room for an indoor stage, there wasn't a minute wasted in the Float Den. With multiple exits and restrooms surrounding the outskirts of the building, Buku made sure that this indoor space was as accessible for guests as possible.
If I wasn't at the Float Den, then you could probably find me at the "Wharf" stage.  Located outdoors, this stage was surrounded by interactive art that was available for pictures, climbing, dancing, sitting, you name it.  Snakehips, Gryffin, and Honey Dijon were some of the acts that kept the Wharf grooving late into the evening with genre-mashing vibrancy. Keeping the vibes up the entire time, this staged housed mostly house music artists with a few others in between. With a perfect view of the Mississippi River, this stage takes the prize as the most scenic place of Buku to get your groove on.
The "Ballroom" stage was the place to be for a more personalized show experience.  This room resembled a venue that I would normally catch at your local venue theater  I was able to catch The Russ Liquid Test and Mura Masa, but this room also hosted Isaiah Rashad, A Day to Remember, Flatbush Zombies, and more.  The Ballroom was all about the vibes, with the ability to see the artists and interact with them closer than any of the other stages.  This stage generally stayed spacious for most of the shows, allowing people to hang out in the back or make their way up to the front for their favorite acts.
After experiencing 2 full days at The Buku Music & Arts Festival, I know that I will be back in NOLA next year for a second helping. My biggest compliment to the Buku team is that this festival seemed very organized from start to finish, with an impressively trained production crew. I really enjoyed the vibe that Buku, and I feel that it is different from any other festival of its kind. They say you have to experience something to fully understand it, and I think that statement stands true for this festival.  
For more information, and to start planning your trip to New Orleans for next year's Buku Project, check out their website here.