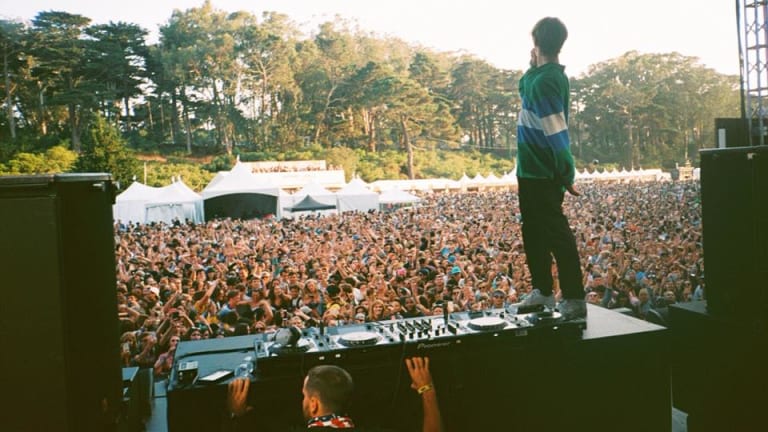 Whethan On A Wednesday At NYC's Brooklyn Steel This Week
The 19-year-old Chicago producer is going on tour to celebrate his upcoming Life Of A Wallflower EP.
19-year-old dance music prodigy Whethan, real name Ethan Snoreck, got his start on Soundcloud as many young ambitious producers do. Stellar remixes of Louis The Child, Zayn and Ty Dolla $ign put his name on the map, garnering millions of streams and attracting big names like Skrillex and Flux Pavilion to his distinct future bass sound. He has since carved out a signature electric pop style for himself, bolstered by cascading originals with Dua Lipa, Charli XCX and Oh Wonder.
The Chi-town wunderkind has already played massive festivals like Lollapalooza, Electric Daisy Carnival and Coachella, toured with uber-popular The Chainsmokers and even headlined a tour of his own. Now, as he gears up to release his new EP, Life Of A Wallflower, Whethan is getting back on the road for a six-week tour featuring support from Manila Killa, Louis Futon, Alexander Lewis, Chet Porter, Andrew Luce, Win and Woo, MADEINTYO, Sweater Beats and Yoshi Flower.
Catch Whethan on a Wednesday as he heads to NYC to play Brooklyn Steel on September 26, bringing MADEINTYO, Sweater Beats and Andrew Luce along for an epic mid-week party. Grab tickets here, and get a taste of what's to come by taking a listen to the special mix he made just for the fall tour plus his brand new single "Radar."
An infectious collaboration with genre-defying UK duo HONNE, Radar is the first track off Whethan's upcoming Life Of A Wallflower EP. A smooth song brought to life by HONNE's impassioned vocals, Whethan's bouncy synth work and a playful chemistry that combines the best of both artists. Electro-soul meets electronic pop for a feel-good song that evokes a lighthearted sense of freedom and cheer.
In Whethan words:
"This is the first song off the Life Of A Wallflower project. It's a great representation of the sound I've been inspired by and I'm thrilled to finally show the world this song with HONNE"
And as for HONNE's thoughts on the collab: 
"Pardon the pun but Whethan had been on our Radar for a long time so it was great to finally work together on something. We're super excited about the track and the way it's turned out."
Stay tuned for more tracks from the Life Of A Wallflower EP, and catch Whethan in NYC this Wednesday for what's sure to be a superb show.