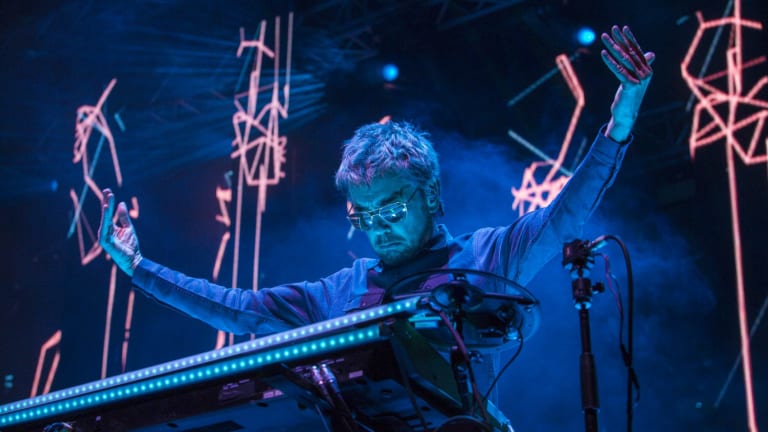 Witness Jean-Michel Jarre Bring His Compositions to Life at Seattle's Paramount Theatre
Hot off his performance at Coachella, Jean-Michel Jarre will be taking over Seattle's Paramount Theatre
There are few names in electronic music that carry as much weight as Jean-Michel Jarre.
The French-born composer and producer is a monument of modern electronic music, having helped to shape the sounds of the future through his innovative work with synthesizers played in tandem with traditional instruments. 
Purchase Tickets to Jean-Michel Jarre's Performance at Seattle's Paramount Theatre
With over 22 albums in his nearly 5-decade career, Jean-Michel Jarre has received both critical and popular praise. His 1976 album Oxygéne, explored consciousness through ambient visions, bringing early electronic music to the masses. The success of this album set the stage for Jean-Michel Jarre to enter the Guinness World Record books on 4 different occasions for holding some of the world's largest outdoor concerts. His most recent achievement, held in Moscow in 1997, saw a staggering crowd of 3.5 million flocking to see the revered composer in person.
Since that time, Jean-Michel Jarre has continued to bring his expansive sound to audiences across the globe. On Wednesday, April 18th, Jarre will send fans into a cosmic soundscape at Seattle's Paramount Theatre. 
Presented by Seattle Theatre Group and Delta Airlines, fans can partake in Jean Michel Jarre's mesmerizing performance featuring visually stimulating production that has helped to cement Jarre as an iconic performer and artist.
Hot off of his performance at Coachella, you can purchase tickets to see Jean Michel Jarre by heading to www.stgpresents.org/tickets.
For more information, follow the links below to stay up to date with Seattle Theatre Group and Jean-Michel Jarre.
Follow Jean-Michel Jarre:
Website: jeanmicheljarre.com
Facebook: facebook.com/jeanmicheljarre
Twitter: twitter.com/jeanmicheljarre
Instagram: instagram.com/jeanmicheljarre
Soundcloud: soundcloud.com/jeanmicheljarre
Seattle Theatre Group:
Website: www.stgpresents.org
Facebook: facebook.com/seattletheatregroup
Twitter: twitter.com/stgpresents.org
Instagram: instagram.com/stgpresents/