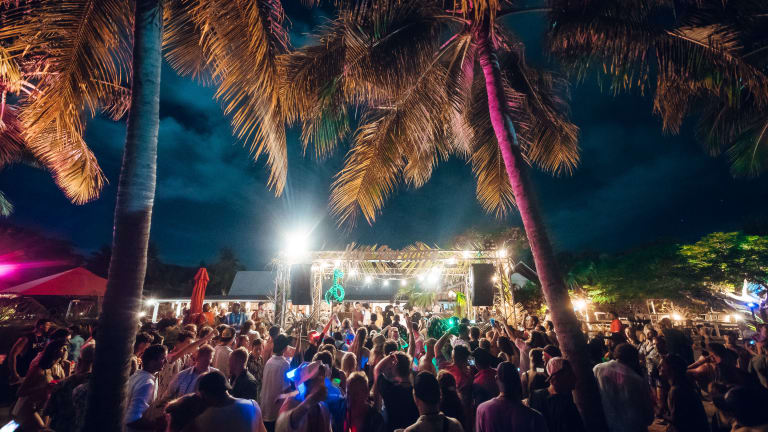 Your Paradise Fiji Makes a Case for Palm Trees in the Post-EDM Festival Landscape
2019 saw the boutique festival stay abreast of electronic music's turning tides.
Rolling waves reflect the night sky's shimmering likeness before crashing softly on the shores underfoot. The buzz of exotic wildlife from foliage all around nearly drowns out the sub bass of distant kick drums as excited revelers amble towards their source in droves. Unsurprisingly, these sensations are as core to Your Paradise Fiji as the entertainment itself.
The electronic music festival - whose sixth edition took place from December 6th-12th - takes place annually on Malolo Lailai, one of the Mamanuca Islands of Fiji. NOISIΛ, Gorgon City and AC Slater were among the 2019 headliners, as well as returning alumni like Mija and Doorly. Split between Malolo Lailai's Musket Cove and Plantation Island resorts as well as boat parties and takeovers of nearby vanues, the artists were afforded a picturesque backdrop indeed.
It is perhaps Your Paradise's emphasis on non-lineup attractions that serve as a case study on longevity in the wake of the EDM boom, though.
Impossibly warm, clear, blue waters surrounding the island offer ample alternatives to anyone seeking respite from the clamor of the main stage. Charter boat sailings, scuba diving excursions, and sunrise/sunset walks presented opportunities for festivalgoers to explore Fiji's unique flora and fauna. Coupled with the organizers' redoubled focus on community and eco-friendliness, the setting promotes a lifestyle that extends beyond celebration.
One can't help but fall in love with the charm of the locals. Tourism remains Fiji's primary industry, and the importance of luxury service is not lost either resort's staff. They don't leave their culture at the door, however; the servers at the main restaurant, Dick's Place, will lovingly chide you like a grandmother for letting your food get cold.
The appeal isn't lost on the DJs themselves, many of whom casually intermingle with regular ticket holders. On a particular morning, A-Trak and What So Not can be heard discussing the obsolescence of studio-length albums over breakfast while Getter cracks jokes with his entourage - not to mention Lee Reynolds, who seems to be everywhere on the island at once. The networking opportunities available to music industry professionals are truly a draw in and of themselves.
Also in the crowd at any given time is Your Paradise co-founder Dom Furber, who looks young enough to blend in among attendees - albeit with eyes as tired as those of any career promoter. The Sydney, Australia-based entrepreneur organized boat parties before going on to represent the likes of Amine Edge & DANCE, Breakbot, Kyle Watson, Nora En Pure and Weiss as a booking agent. As it turned out, a festival on land would soon follow.
"When we started Your Paradise, we wanted to do something different that nobody else had really done," he told EDM.com. "The festival landscape in Australia is so crowded, and we wanted to set ourselves at the same level as [our competitors] but without doing a festival in Australia."
Furber partnered with Hadi J, Ignacio Garcia and Steve Pillemer on Your Paradise, whose debut edition saw acts like Alison Wonderland, Hayden James and Peking Duk perform across four days in November of 2014. Over the years, artists like Jauz, NGHTMRE, Shiba San, Mija and Ekali have graced its lineups.
The founders' vision has essentially remained the same since the beginning. By providing a "destination festival" experience with better amenities than bush doof campground festivals or mainstream massives, they've reached a customer base exclusive enough for the limited infrastructure of the island to support it.
That's not to say it's been smooth sailing the entire time. The festival grew parallel to the EDM explosion in its early years - but after its peak, booking fees for tier-one DJs outgrew the value they brought to a festival whose attendance was only in the hundreds.
"Due to the location it is a challenging show to book - and while we are looking for headliners every year the experience comes down to the immersive qualities of the show and it's one-of-a-kind location," Furber said. "Those factors make it what it is. We have also given more curational shine to collectives that fit our vibe, like Night Bass, Anjunadeep, and Desert Hearts."
Then came Fyre Festival in 2017, a debacle so widely publicized that it made prospective attendees skeptical of what the event had to offer. At a time when social media commentators declared any event brand "the next Fyre Fest," Your Paradise's beaches-and-bathing-suits branding made it an easy target. "It's made it really difficult for us because perception is reality and a lot of people in the U.S. think it's too good to be true," Furber said. "It's not too good to be true, and it actually happens."
As capable promoters do, however, Furber and company got creative - and in the process, they may have drawn out more of the festival's true essence.
2019 marked the first year that villas in the Musket Cove resort were available in Your Paradise packages, and organizers expanded the festival's wellness program significantly. Yin yoga replaced pop-up dance parties on the nearby sandbank, and morning walks gave early risers an opportunity to watch the sun come up at the beginning of their day. "All funds raised from the wellness add ons went towards our yearly pledge for the Mamanuca Environment Society which is a great way for guests to give back," wrote Garcia in a statement.
The Mamanuca Environment Society partnership was another 2019 development - one that built upon the socially conscious ethos shared amongst staff and revelers alike. "As an event, we're working on driving sustainability initiatives," wrote Hadi J in a statement. "The Your Paradise volunteer team also planted 1,100 trees across the island's coast and we hope to triple that in 2020."
When it's all said and done, the growth of Your Paradise indicates that their efforts have not been in vain. 720 partygoers attended the 2019 event, up from the 600 tickets sold for the 2018 edition. The brand has never been more present on a global scale; roughly a fourth of this year's attendees hailed from the U.S. (compared to groups of no more than 10-20 in previous years).
The continued success of Your Paradise also speaks to a broader trend in electronic music. As the smoke and mirrors of the past decade's festival explosion fades, fans realize that the emperor has no clothes and outgrow the overpaid button pushers topping the bills of monolithic McFestivals. As their tastes evolve, so too does their sense of self-care, ethics and cultural literacy. It's a mature concept considering how young and full of life so many of them still appear to be.
Whether or not the ship has sailed on the modern festival boom, Your Paradise has evidently course corrected with care. No dates or lineup details have been announced for the 2020 event, but pre-registration is now open on their official website.
FOLLOW YOUR PARADISE:
Facebook: facebook.com/YourParadiseFiji
Twitter: twitter.com/yourparadiseexp
Instagram: instagram.com/yourparadise