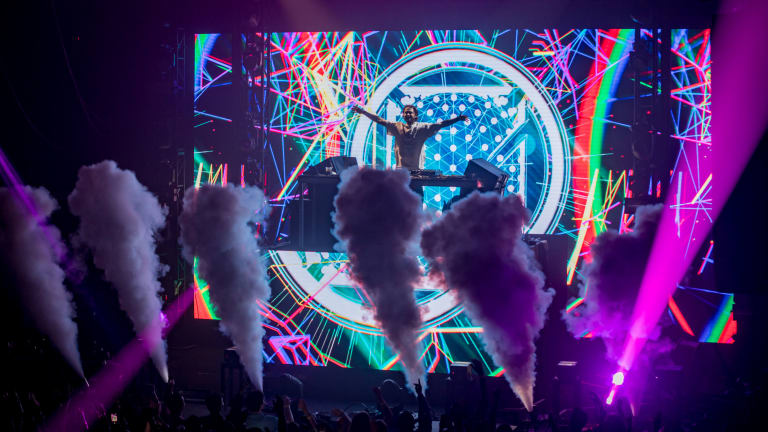 Light & Life Kicked off NYE Weekend with Zedd at the Helm [Review]
Light & Life and Zedd teamed up to throw the ultimate New Year's Weekend party.
Teaming up with Light & Life to jumpstart New York's New Years Eve Weekend, Grammy award-winning artist Zedd played his first show at the Brooklyn Navy Yard this past Friday.
Filling out the Brooklyn warehouse, the crowd was teeming with excitement and anticipation before he took the stage. When the lights cut out and peaceful raindrop plop sounds rang one at a time along with a flashing visual, his fans went nuts yelling for him to come on. Soon enough, Zedd did pop up behind the decks. He started off his set with his 2015 Jon Bellion feature, "Beautiful Now."
After that, Zedd had the whole warehouse partying nonstop through his hour-and-a-half set. Combining Light & Life's expertise in lighting setups and his visuals, some of which were recycled from his True Colors tour, it was no surprise people couldn't stop jumping along to his genre-varied mix.
Following the bassy trap/dubstep vibe the previous act, Medasin, instilled within in the crowd, Zedd incorporated some trap into his own set with remixes of Fat Joe with Remy Ma, Drake, Kendrick Lamar and Cardi B. From those bass-heavy drops he either then weaved into some reggae and more tropical beats or hard dance and grungy ones. At some points, he'd even teased a few of his own releases only to cut right into something else entirely.
With 17 years of successfully commanding the dance floor, the Russian-German DJ knew exactly how to keep everyone on their toes from one track to another. Among the most interesting moments of the night was when he built up the drop into DJ Snake's "Propaganda" with Vengaboy's classic '90s party hit, "We Like To Party!" It pleasantly threw attendees off guard at first, then took them back in time to Mr. Six doing some crazy dance moves in front of the Six Flags bus. Then, all of a sudden they were smacked in the face with some heavy bass drops and - in true Zedd fashion - a spectacular, color-changing laser show.
Throwing in nostalgic songs like Whitney Houston's "I Wanna Dance with Somebody" and Daft Punk's "One More Time" only made the night even more magical. He also paid tribute to Avicii with almost playing "Good Feeling" in its entirety. Though, the night wouldn't be complete without hearing some of Zedd's hits, which there were plenty of.
Starting with "Beautiful Now" the seasoned DJ mixed in his catchy remixes of Rude's "MAGIC!" and Shawn Mendes' "Lost In Japan" along with originals like "Stay," which features Alessia Cara, and "I Want You To Know" with Selena Gomez. Going back into his discography, it was like a breath of fresh air when Matthew Koma's velvety voice rang throughout the warehouse. Bathed in a sea of blue light, Zedd had the crowd instantly jumping along to "Spectrum."
With the last 10 minutes of his set, he wasn't stopping there. After "Spectrum," Zedd went right into his radio hit with Paramore's Hayley Williams, "Stay the Night." When the chorus came, so did loads of string confetti falling from the ceiling and even more people belting out lyrics and dancing with each other.
It comes to no surprise that Zedd ended this amazing set with arguably his most popular hit, "Clarity." Taking a look around, it was definitely the song that people really stuck around to hear. Though when his set ended, the crowd hadn't had enough with just "Clarity."
After chanting his name for a few minutes, Zedd popped back behind the decks and played his most recent radio hit, "The Middle," with Maren Morris and Grey. It's not something you see often after a DJ finishes his set, but Zedd, being the fantastic entertainer that he is, gave the people exactly what they wanted: an unforgettable New Years Eve Weekend experience. 
Follow Zedd:
Website: zedd.net
Facebook: facebook.com/Zedd
Twitter: twitter.com/Zedd
Instagram: @zedd
Soundcloud: soundcloud.com/zedd
Follow Light & Life:
Facebook: facebook.com/WeAreLightLife
Twitter: twitter.com/wearelightlife
Instagram: @wearelightlife