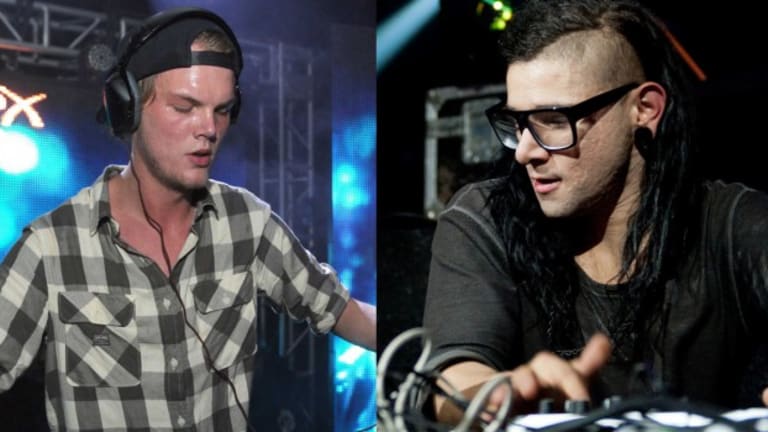 10 Crazy Facts You Didn't Know About EDM's Top DJs
Impress strangers at a club with these 10 crazy facts about your favorite EDM DJs.
DJs and producers today come from all sorts of backgrounds, so it's guaranteed that there are some stories to be heard throughout the scene. From previous musical projects to crazy family ties, the webbing of EDM is incredibly intricate and tightly-knit, and it has provided for a plethora of interesting facts from our scene.
In case you're interested in expanding you're knowledge of our ever-expanding scene, check out these 10 surprising facts about some of the biggest artists in EDM today:
1. Avicii's name comes from a Buddhist term for "hell"
When his legal name was already taken on MySpace, Tim Bergling aimed for Avīci, which in Buddhism means "the lowest level of the Naraka or 'hell' realm, into which the dead who have committed grave misdeeds may be reborn." Pretty dark right? Well, after learning that this username was taken on Myspace too, the soon-to-be Swedish superstar decided to add another "i" to his name, thus affirming his identity as the man we know today - Avicii.
2. Kaskade spent 2 years as a missionary in Japan
After spending his freshman year at Brigham-Young University in Utah, Ryan Raddon chose to spend 2 years working at The Church of Jesus Christ of Latter-day Saints in Japan, where he worked full-time as a missionary and learned to speak Japanese. Although it's been over 10 years since his mission trip, Kaskade still speaks Japanese at a conversational level, demonstrated in his conversation with Coke-E below:
3. Dada Life met at a chili-cookoff
Of all the places for the champagne-popping, banana-loving duo to begin their reign as Dada Life, Olle and Stefan met while feasting at a chili cook-off in Sweden. After chatting about music and chili recipes, the two headed to the studio to make a track together. Soon after, Dada Life was born.
4. Laidback Luke is a master at kung-fu
Yeah, don't mess with this guy. Laidback Luke is a long-time practitioner of kung-fu, more specifically Choy Li Fut, and he has received more than a handful of medals to prove it. In 2013, the 37-year-old DJ represented Team Kung-Fu Holland at the world Championship in China, and the 4-man team won 23 gold medals and 5 silver medals. Laidback Luke got to bring home four gold medals and a silver medal of his own, which confirms that he will not only drop the beat, but he'll drop you too.
5. Ultra Music Festival was named after Depeche Mode
Depeche Mode reigned as one of the biggest electronic acts on the radio from the 80s to the early 2000s. Their 1990-hit "Enjoy the Silence" is one of their biggest tracks to date, and it is still kept in rotation on radio stations worldwide. Ultra, one of 13 albums and EPs they've produced thus far, inspired festival creators Russell Faibisch and Alex Omes so much that they named their annual Miami gathering and now international brand after the release.
6. Steve Angello and Sebastian Ingrosso are childhood friends
Few DJs today have a relationship as deep as Steve Angello and Sebastian Ingrosso. Angello has been quoted in an interview saying,"Me and Seb met when we were six or seven; we got into all kinds of trouble together!" Throughout their careers thus far, they've worked on a handful of projects including Buy Now, Fireflies, General Moders, Mode Hookers, Outfunk, and The Sinners.
7. Hardwell finished his first tour when he was 14
While most pre-teens spent their time doing homework and partaking in extra-curricular activities like football or painting, Robert van de Corp had a different agenda. The Dutch producer and DJ got into electronic music at an incredibly young age. After a hastened success in his early teens, Hardwell embarked on his first tour throughout the Netherlands at the age of 14.
8. Moby is related to Herman Melville, author of Moby Dick
Richard Melville Hall is a singer, songwriter, DJ, producer, musician, photographer, animal rights activist, and to top it all off, great-great-great-grandson of the illustrious author Herman Melville. Considering the legacy that Herman left with to his 164-year-old novel, it's clear to see why Moby has been so successful in his endeavors as well.
9. Sunnery James hired Ryan Marciano at a sports shop
"When I hired him we instantly became friends. Since the first day we worked together it was friendship, and every day we would talk about music and everything, just like today." Sunnery James and Ryan Marciano both hail from the same area of Amsterdam, but before they were touring the world making chart-topping hits, the pair began their friendship at a sports retail store. James was asked to hire new interns, and Marciano was one of the first to walk in the door. Talk abut fate!
10. Skrillex has more Grammy Awards than any other artist in EDM today
With a total of 8 awards thus far, Skrillex takes the cake for most-Grammy-winning EDM artist in the industry today. Skrillex won three Grammy Awards in 2012: Best Dance Recording for "Scary Monsters & Nice Sprites," Best Dance/Electronica Album for Scary Monsters & Nice Sprites, and Best Remixed Recording, Non-Classical for his remix of Benny Benassi's "Cinema." Then the following year, Skrillex came back to win the same three awards: Best Dance Recording for "Bangarang," Best Dance/Electronica Album for Bangarang, and Best Remixed Recording, Non-Classical for his remix of Nero's "Promises." And just recently, Jack U won a pair of Grammys for their album Skrillex and Diplo Present: Jack U, and their collaboration with Justin Bieber "Where Are U Now".