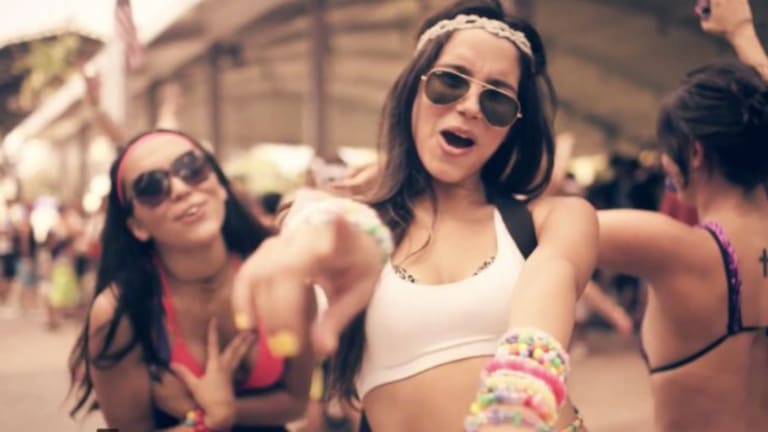 10 Unexpectedly Awesome Places To Throw A Rave
Weird? Possibly. Obscure? Maybe. Awesome? Yes.
If EDM fans are known for anything, it's that we love to party. In fact, we love to party so much that we host dance gatherings that annually bring in upwards of 500,000 people just to party. Regardless of the size of our festival culture, DJing at house parties and warehouses is truly where it all began, so it's in our blood to know exactly where to take the music to have a good time.
When you think about it, there are endless locations where we can rave our faces off - all it takes is the right mentality and a little creativity. From your friend's mom's basement to the local hobo's shack in the middle of the forest, here are ten places to take your next rave.
Disclaimer: We do not condone any illegal activity that is involved in turning these locations into areas for raving. 

1) Your friend's mom's basement/flat.
Rule #1 of throwing any party - take as little responsibility as you can. We all know the feeling of hosting a house party that gets so out of control... the police start to crash it. And 99.9% of the time, it doesn't usually end like you planned. You can most likely dodge this awkward encounter by hosting the party at your friend's mom's basement - that way, all you have to focus on is buying the booze, bringing the music, and if the cops come, you're out of the box faster than a horse at the derby.
2. A random boat at the local dock
If you live by the water and have a boat, this shouldn't be anything new. However, if you live by the water and don't have a boat, you'll have to cut some corners to make your "boat party" happen. If you choose to make your way to your local dock, hop the fence, and find your ideal sea-party vessel, just remember the further the boat is from the dock the better because sound is usually amplified when traveling over water. Now, this is clearly illegal, so be ready to jump the deck at any time - you never know if some drunk bro is going to blast the foghorn when that new Flosstradamus track drops, alerting the neighbors of your aquatic rave-venture.
3. The local school gym
Remember those "teen-nights" back in middle school when they'd host a DJ and provide all sorts of snacks and juices just so you could party while being "supervised" until 10pm? Well now that you're adults, these gym parties can be a bit different. Now we'll be the supervisors, the party will go until 4 am, juices will be alcoholic, and well, we'll probably still be eating Gushers or Fruit Roll-ups as we do the moonwalk on the gym floor. Regardless, if you have access to your local school gym, you better use that resource to host the most epic party ever. Who knows, maybe you'll see some of your old teachers get down.
4. Your neighbor's pool
If there's a pool and music, then you've got yourself a pool party, right? Well, it's not quite that easy. Public pools can be tough to host parties at considering the weekly turd that makes its way into the deep end, and you better believe that a pool party at the nearest rich folk's country club will be everything but "raging." However, the third alternative is your neighbor's pool, and that right there is the perfect place to get wet while banging your favorite tunes. Just make sure the neighbors have actually left for the day/night rather than just went shopping at Target - there's no deal or sweepstake on the planet that will save you when they come home to this madness.
5. Run-down subway station
It's safe to say that most, if not all, major cities are able to support an underground nightlife scene - but how many of these cities' venues are truly "under ground?" With subway and metro systems present in all major cities, there is always a viable location to host your next rave, and that is right at the end of the railroad. Abandoned subway stations can mostly be accessed via long walks on the rails and by drain-diving, so the aesthetic is perfect for hosting all sorts of dark and gritty genres, from minimal techno to hardstyle to drum & bass and more. The best part about it? Who knows what hobos will stumble on the party and join in!
6. A farm in the middle of nowhere
Farmlands are perfect for throwing raves - they're in open space, they're usually in the middle of nowhere, and they have plenty of areas to set up stages and even sleep (wait, what?). If the farm has a barn to use, well that's just icing on the cake. Whether it's during the day or at night, you can get away with absolutely anything, from a 100-foot-tall bonfire to a naked paintball match to an inflatable pool of cow's milk - well maybe not that last one, but you get the point.
7. The abandoned home in the forest
If there's a large forest by you, than you can bet there's also an abandoned house somewhere in there. At first it might be hard to find, but once you do, then you have found the sweet spot of all sweet spots. The planning might take a little more effort than usual, but considering that you're in the middle of the forest, the repercussions should be minimal. Just hope that the home doesn't belong to someone, or something for that matter. A bear and a desperate wilderbeast wouldn't exactly be the most welcoming of guests.
8. The empty frat house
Imagine this: your fraternity is gearing up for their bi-monthly 3-day retreat to Las Vegas, and you're super short on cash after last week's drinking binge. They leave you the keys to the house, and ask that you "hold down the fort" until they return. So what would any logical brother do in a situation like this? Throw a massive party with all the local sorority sisters (and even some GDI's if they bring booze). Your home is now a castle for raving, and you're now the king - make that Rave-nclaw. If you're not a Greek member looking for a good time, just tell them you're the DJ, and you'll be welcomed with open arms.
9. A school bus
Taking a party bus to a show isn't anything new, but what about putting a show onto a party bus? This gives you the mobility to take the party nearly anywhere, and still rave both on and off the bus. You can go bar hopping between sets, take the party to a Taco Bell, and even catch a ride home once it's all said and done. Talk about the ultimate rave experience. Just make sure whoever is driving is certified: Otherwise, there's just no easy way to explain this party to a police officer.
10. A camping site in the mountains
Spending time with nature is equally as important as spending time raving, so why not do both? Plenty of festivals have moved towards more mountainous regions due to their acoustics, space and seclusion. Bringing a rave to the mountains is one of the best ways to have an uninterrupted celebration, and the views that accompany the party will be all the more worthwhile. However, as with any time spent in the mountains, keep away from any cliffs both above and below, as EDM at loud volumes has been known to cause avalanches.