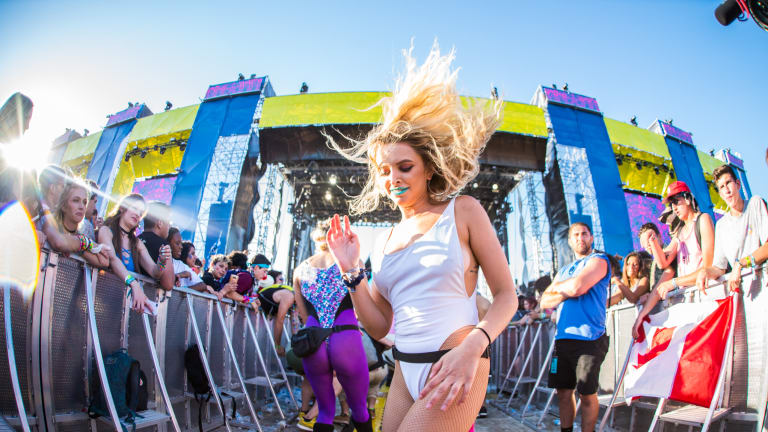 10 Questions To Ask Yourself Before Going to a Music Festival
These are vital.
You've seen the lineup. You've texted your whole contact list. Now the questions start coming in. Leading up to any music festival, we tend to have interesting debates pop into our noggins. Laughable and relatable, check out these thoughts we concocted before going to any music festival!
1. Even though I've seen everyone on this lineup twice... is it worth going?
The answer is yes. Hard yes. Although you may have seen your favorite artists before, any new experience allows for new memories to be made. Your DJs are also guaranteed to switch up their sets for a new event. So yes, yes it's worth it. 
2. Am I going for music or social clout?
This thought crime happens way too often. Don't get too in your head and make sure you are gonna go for the love of music!

3. Will I discover the next big artist there? 
The beautiful "walk into an unknown set and then fall in love with the artist" experience doesn't always happen. Check out the lineup in its entirety beforehand and listen to some fresh names you haven't heard before! You never know, next year they may be closing out the main stage!
4. Ah, did I make a playlist?! Must make pre-festival playlist!
This is serious to your hype protocol. We all have that one friend or yourself who makes the playlist! Get on that ASAP. Oh, and don't forget to make it collaborative.

5. Am I bringing the crew, or flying solo? 
As much as we want all of our friends to go, there are some festivals where the homies can't make it. Should it stop you? Absolutely not. Going on your own will push you out of your comfort zone and allow you to meet new people!  Either way, both can be fulfilling experiences. 
6. Have I set my reminder to email my boss that I'm sick?
This is very important. Make sure you formulate a solid email prior to the festival. Writing one after a festival could be less comprehensible. LOL
7. How my exes will I run into at this festival?
Ah yes, the biggest fear of them all. With thousands of festival attendees surrounding you, you somehow, someway, might run into some exes. If that's not spooky I don't know what is.
8. Will I make it to all the sets I want?
We all want to believe we can magically make it to every set. Unfortunately, things happen, sets overlap, and Jake may take too long to get ready. 
9. Ugh, do I have to go to the gym today? 
To workout, or to not workout. That is the question. Nobody wants to be stashing those extra wintertime cookies around their middle during peak festival season. If you don't care about being ripped, at the very least do it to keep your mind, body and soul engaged.
10. What's my budget? Do I have a budget? 
As most of us are regular members of society, we do have a budget. However, money comes and goes but the memories will last a lifetime.