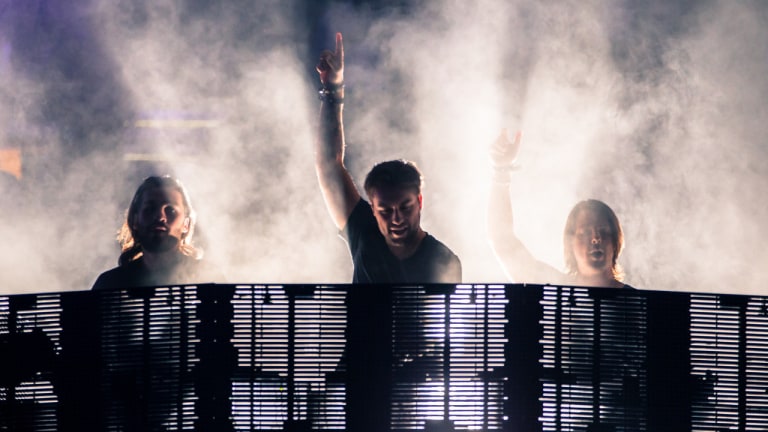 13 Iconic EDM Songs Everyone Loves Singing Along to Live
When these songs drop, entire crowds sing along.
There are certain songs so deeply engrained in the EDM vernacular that when they're played out in a live setting instinct takes over. Here are our highlights of songs that inevitably have crowds singing their every lyric word for word at festivals and shows around the world. 
1. Zedd - Clarity (ft. Foxes)
While the lyrics and songwriting by Foxes make "Clarity" singalong worthy, crowds seem to have equal enjoyment in chiming in with the background vocals on the build and drop of this track. 
2. Above & Beyond - Sun & Moon (ft. Richard Bedford)
We have never seen more teary eyes in a crowd than when this song comes on. Forever a staple of Above & Beyond's sets, the pure emotional response to this track is simply unmatched. If you think everyone in your festival group is beyond engaging in an emotional singalong to this one, you're in for a surprise.
3. Benny Benassi ft. Gary Go - Cinema (Skrillex Remix)
This song is in a category of its own. We honestly can't think of another track that has been played out as many times for such a prolonged period of time, while still capturing consistently strong responses from crowds worldwide.
4. 3LAU - How You Love Me (ft. Bright Lights)
This is a track that everyone seems to know the lyrics to when it comes on, but for some reason, few know the title. Listen to 3LAU's "How You Love Me" below, it might be a song you've lbeen searching for.  
5. Krewella - Alive
This was among the first EDM tracks we can recall to receive national top 40 radio play, concurrent with the EDM boom in the United States. From the sound design to the songwriting, it was instantly memorable in every capacity. It's no wonder as soon as the piano intro kicks in during a Krewella live set, crowds around the world know what to do. 
6. ODESZA - Say My Name (feat. Zyra)
At this point in its lifespan, ODESZA's 2014 release "Say My Name" doesn't quite have the nostalgia factor working for it yet. However, the duo has been aggressively touring for several years now, so it's not necessarily a surprise this track feels familiar like an old friend.
7. Kaskade - Disarm You (ft. Ilsey)
Kaskade has long been a staple of festivals around the world. That said, his 2015 release "Disarm You" has quickly become a fan favorite in his live sets. Kaskade is known for frequently diversifying his performances, so whenever he drops "Disarm You" fans are ecstatic to chime in with the lyrics.
8. Swedish House Mafia - Don't You Worry Child (ft. John Martin)
Prior to their hiatus, Swedish House Mafia could not have gone out on a higher note with the release of this song. The unparalleled hype surrounding this track on the radio and on tour dramatically expanded the reach of the group outside the electronic music ecosystem. When people who don't normally like or listen to electronic music can sing this word for word, there's no better indication of success. 
9. Avicii - Levels
Live tributes by DJs around the world to the late Tim Bergling have shown us that the iconic progression of "Levels" will always invite audience participation no matter who is playing it out. 
10. NERO - Promises
This song's initial trajectory was vastly helped along by an iconic remix from Skrillex. Given NERO's impact on electronic music in the years since, however, people seem to be taking an equal appreciation to the original. Either way, when the chorus of "Promises" hits, everyone will try to hit the high notes (and few will succeed).
11. Calvin Harris - Feel So Close
Even if you're not the best singer, you might have a chance at it when "Feel So Close" comes on. It's laid back enough to the point where it feels like an accessible song for anyone to sing. Perhaps this is the magic behind Calvin Harris' breakthrough single.
12. Alesso vs. One Republic - If I Lose Myself
At its peak you could hear this song on festival mainstages, bars, college parties, and every venue in between. The impassioned crowd response has always been the same. To think Alesso's version dramatically outshined the original release by One Republic is a remarkable accomplishment by Alesso.
13. Sebastian Ingrosso, Tommy Trash, John Martin - Reload
There's no additional perspective we can give on this track. Everyone knows it, everyone sings along with it. "Reload" is unanimously regarded as a timeless contribution to electronic music, so when John Martin's "take my hand..." lyric comes in the crowd is inevitably ready to belt out what's next. 
Did we miss anything? What're some songs you just have to sing along with live? Let us know on social media!