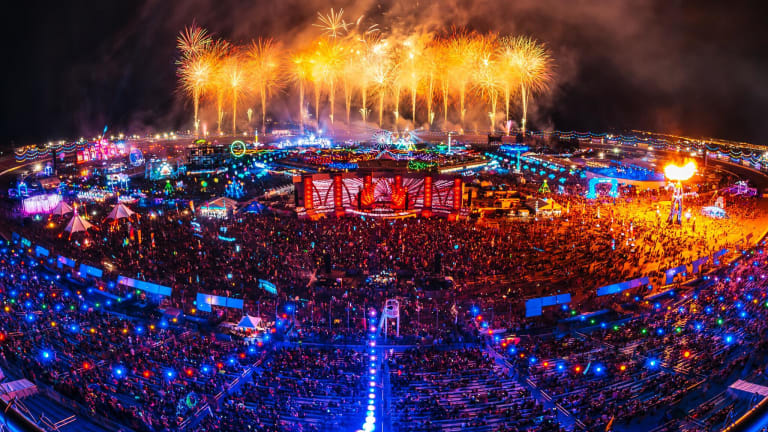 2010-2019: a Timeline of the EDM Decade
These 100 stories defined EDM over the past ten years.
Electronic music, disc jockeying, and remix culture extend back generations, with the past ten years marking their biggest recent mainstream breakthrough. On the foundation laid by house and techno innovators like Frankie Knuckles and The Belleville Three - as well as superstars like Paul Oakenfold and Armin van Buuren, who carried the torch at the turn of the millennium - EDM came to describe the most recent era in dance music history.
A convergence of trends was responsible for EDM's rise in the early 2010s. Around the time music streaming services began to change the face of the recording industry, the North American festival boom increased the demand for globetrotting DJs. Combined with advances in music production software that shattered the barrier of entry for bedroom producers and yielded exciting, new sounds, these factors made for a perfect storm in which a vibrant chapter in the story of electronic music could unfold.
As 2020 approaches and the EDM decade draws to a close, the EDM.com staff have collaborated on a timeline of 100 stories that illuminate a widely impactful pop culture phenomenon. Read on for our list of 100 events that defined EDM over the past ten years.
1. Rusko's "Woo Boost" increases mainstream awareness of dubstep
Dubstep came to the forefront of the scene early in the 2010s, and continues to remain innovative and ever-changing. At the helm of this movement was Rusko, who established himself as a godfather of sorts, and is perhaps one of the most well-known producers and DJs within dubstep. Rusko accomplished this with many memorable and influential songs, but perhaps none of them more well received than "Woo Boost." He dropped the single in March ahead of his debut album, O.M.G.!, which came out via Mad Decent in May of 2010. The track was heard everywhere, from clubs to festivals to the soundtrack of the 2011 video game, Saints Row: The Third. Its influence stretched far beyond the early 2010s and even continues to be reworked, remixed, and played out by dubstep DJs to this day.
2. Bassnectar releases "Bass Head"
In March of 2010, Bassnectar released the track "Bass Head" on Timestretch, his third EP. Timestretch would help cement his popularity as the legendary experimental bass producer, and "Bass Head" would become legendary for his diehard fans who have since co-opted the term as their collective moniker. "Bass Head" has since been played over 25 million times on YouTube alone.
3. Hardwell launches Revealed Recordings
Hardwell, one of the patriarchs of the Dutch DJ/producer community, launched his own label called Revealed Recordings in April of 2010. He was the first of many independent superstar DJs to do so as a vehicle for releasing the music of younger talents within the electronic dance music community. His first few signees included artists that would later become titans of the EDM genre like W&W and KSHMR, and the label paved the way for his Hardwell on Air podcast. From releases by Afrojack to Dash Berlin to DubVision and more, Revealed Recordings continues to be a dynamic force in the EDM community and is a major catalyst for many young DJs' careers to date. 
4. SoundCloud announces 1 million users
After its founding in 2007, SoundCloud rose from startup beginnings to emerge as a staple in online music sharing and streaming. In May of 2010, SoundCloud announced 1 million users, an accomplishment that arguably marked a shift in the consumption of music as a whole. Because SoundCloud allows users to upload original content, it became a platform for independent artists to perfect their craft as well a hub for music aficionados to explore a variety of microgenres. If it weren't for SoundCloud, the world may have never seen the meteoric success of mumble rap or discovered now big-time, best-selling EDM artists like Marshmello.
5. Skrillex releases debut EP, My Name Is Skrillex
My Name is Skrillex served as the introduction of a producer who would become one of EDM's all-time biggest stars. After a successful stint fronting the band From First to Last, lead singer Sonny Moore adopted the stage name Skrillex and released his first EP as a free download whose influence on an era of electronic music producers cannot be denied. The six-track EP would go on to obtain millions of plays and thrust him into the mainstream spotlight.
6. Swedish House Mafia release "One"
In July of 2010, a legendary DJ trio comprised of Axwell, Steve Angello and Sebastian Ingrosso released their first official single, "One," under the name Swedish House Mafia. The big room instrumental was a worldwide hit, and it became an even bigger one when Pharrell Williams jumped on for the more radio-friendly vocal version, "One (Your Name)." It reigned at the top of the dance music charts in 17 different countries and went gold and platinum in six.
7. Afrojack releases "Take Over Control"
Afrojack's "Take Over Control" featuring fellow Dutch artist Eva Simons cemented the DJ's superstar status. The single dominated both dance floors and international radio stations, helping bring about EDM's mainstream naissance in 2010. More of a commercial spin for Afrojack at the time, the August, 2010 release topped Billboard's dance charts for six weeks, eventually going platinum in Australia and the U.S. It was the DJ's first Billboard Hot 100 entry.
8. Duck Sauce release "Barbara Streisand"
In September of 2010, two titans of electronic music - Armand Van Helden and A-Trak - released a critically acclaimed nu disco single that topped the Billboard charts and became one of the first commercial electronic tracks to be nominated for a Grammy Award. Duck Sauce became one of the first acts in years to bring the nu disco sound back into commercial popularity.
9. Skrillex releases "Scary Monsters and Nice Sprites"
After turning the heads of tastemakers across the globe with his debut EP, the fast-rising Skrillex followed it up with another one titled Scary Monsters and Nice Sprites in October of 2010. Between its roller coaster ride of a title track and songs like "Kill EVERYBODY" and "With You, Friends (Long Drive)," the effort further demonstrated the dimension of the DJ/producer's production capabilities.
10. Avicii releases "Seek Bromance"
Having started out as an instrumental track shared in the spring of 2010, "Seek Bromance" quickly catapulted a relatively unknown Avicii into mainstream success when it came out the following October. The vocal track reached the top twenty charts in countries across Europe, including his native country of Sweden.
11. deadmau5 releases 4x4=12
While deadmau5 was already a massive force in EDM, his first album of the decade helped make him a household name. 4x4=12 came out in December of 2010 and was his first album to rank in the Billboard charts. It included some of the most iconic songs in his library, perhaps most notably "Raise Your Weapon." The album and aforementioned track would go on to pick up two Grammy nominations and continue to cement his legacy in the EDM world.
12. Above & Beyond release Group Therapy
The sophomore release by beloved U.K. trio Above & Beyond, Group Therapy cemented the trance group as mainstays in the EDM scene in June of 2011. The trio's most cherished tracks can arguably be found in Group Therapy including "Sun and Moon" and "Thing Called Love."
13. Electric Daisy Carnival moves to Las Vegas
When what was initially Gary Richards and Steve Kool-Aid's brainchild and the soon-to-be mother of raves moved from Los Angeles to Las Vegas, few could have imagined Electric Daisy Carnival would become the megalith of rave culture that is EDC Las Vegas today. Now overseen by Pasquale Rotella and the Insomniac team, the event attracts a whopping 450,000+ people to its flagship event in Las Vegas and countless more to satellite versions in China, Japan, Korea, Orlando, Mexico and other locations. 
14. Rothbury Festival becomes Electric Forest
After taking place in 2008 and 2009 as Rothbury Festival, the event went on hiatus in 2010 before returning as Electric Forest in 2011. Initially focused on rock and jam bands, the gathering has become one of the largest electronic music festivals in the United States.
15. Spotify debuts in the U.S.
After securing deals with major labels Universal, EMI, Sony, and Warner Music Group, Stockholm-based music streaming service Spotify launched in the U.S. in July of 2011. The company faced stiff competition from Internet radio giant Pandora, satellite radio company Sirus XM, YouTube's immense catalog of free music videos, and offerings from on-demand digital music services like Rhapsody, Rdio, MOG, and Grooveshark. With outstanding social features, an ever-growing library of music, a sleek, seamless user experience, and expertly structured subscription options, however, Spotify blew the rest out of the water and brought digital music streaming to unparalleled mainstream appeal. As of October 2019, Spotify had 113 million paying subscribers and bright forecasts as the leader in music consumption - though Apple Music is toe to toe in the ring.
16. NERO release Welcome Reality
Though British producers Dan Stephens and Joe Ray had been releasing music together as NERO as early as 2004, they became a household name in August of 2011 off the success of their debut album, Welcome Reality. The cinematic collection heavily featured singer Alana Watson over '80s-inspired dubstep, drum and bass and electro instrumentals. She later officially joined the group as a vocalist and married Stephens in 2015. 
17. Calvin Harris and Rihanna release "We Found Love"
Kicking off a string of pop-EDM collaborations that would come in the years to follow, Calvin Harris teamed up with Rihanna on "We Found Love" in September of 2011 The track went on to top the US Billboard Hot 100 chart for 10 consecutive weeks and became the longest running #1 single of the year. 
18. Flux Pavilion releases "I Can't Stop"
Few other singles spoke to dubstep's anthemic potential to the extent that "I Can't Stop" by Flux Pavilion did. Released in October of 2011, the song's memorable vocal and melodic brand of bass wobbles made it a fast favorite among a generation of fans dipping their toes into electronic music's heavier side.
19. Avicii releases "Levels"
In October of 2011, Avicii released "Levels," one of the most acclaimed songs in the history of EDM. Its catchy big room lead synth melody has grown virtually synonymous with EDM itself. The song topped the dance charts in eight countries, went platinum in 11, and multi-platinum in more than half of those regions.
20. Blackmill releases Miracle
In November of 2011, the mysterious SoundCloud sensation Blackmill released Miracle, one of the most serene collections of melodic dubstep in the history of the genre. Some of the album's tracks - like "Spirit of Life" and "Let It Be" ft. Veela - would help amass the producer millions of plays. While he would release tunes sporadically over the course of the decade (including his late 2019 return), he never once played a live show despite years worth of rumors of future performances. 
21. David Guetta and Sia release "Titanium"
Rarely does an emotionally charged dance track manage to make its way into the mainstream, let alone facilitate a solo career breakthrough. As 2011 was coming to a close, David Guetta and Sia accomplished as much with "Titanium." It came out in December as the fourth single from Guetta's album, Nothing But The Beat, and critics praised the track for its impassioned lyrics and soaring vocals. The track peaked at #7 on the Billboard Hot 100 and catapulted Sia's solo project.
22. Knife Party release "Internet Friends"
Rated by Diplo as one of the best songs of the decade, "Internet Friends" by Knife Party rightfully earned that title. The hard-hitting bass of the song taps into people's underlying, growing fear of the darker side of social media. In the lyrics, a crazed internet stalker threatens a death sentence for being blocked on Facebook. It was released in December of 2011 as the first single from the Australian duo's debut EP, 100% No Modern Talking. 
23. Holy Ship! embarks on its first sailing
In January of 2012, Holy Ship! left port of the modern festival frameworks and took our hearts to sea. In addition to gangbuster lineups, the event's swanky accommodations and baller amenities contributed to it being quickly hailed as one of the most talked-about raves of the decade.
24. Krewella release genre-bending "Killin' It"
Released in January of 2012, "Killin' It" was the breakout single from Krewella's debut EP, Play Hard. It launched the trio into a legendary dance music career, including an International Dance Music Award for Best Breakthrough Artist that same year. With infectious vocals, a heavy dubstep drop, and serious festival main stage firepower, "Killin' It" established Krewella as a fixture of the EDM landscape right from the get-go.
25. Skrillex nominated for five Grammy Awards
In February of 2012 at the 54th Annual Grammy Awards, Skrillex was nominated for five Grammys and took home three: Best Dance Recording for "Scary Monsters and Nice Sprites;" Best Dance/Electronica Album for Scary Monsters and Nice Sprites; and Best Remixed Recording, Non-Classical for his remix of Benny Benassi and Gary Go's "Cinema." He took home three more in 2013 and two in 2016. 
26. Alesso releases "Calling" after Sebastian Ingrosso's mentorship
Sebastian Ingrosso of Swedish House Mafia played a huge role in launching Alesso to stardom. Ingrosso took his young fellow Swede along on the trio's One Last Tour and introduced him to millions of fans. It wasn't until March of 2012 with the release of their iconic collaboration, "Calling," that the whole world discovered what Alesso had to offer.
27. Madonna makes "Molly" joke on Ultra Music Festival main stage
Only the queen of pop could make a drug reference while introducing one of the biggest names in EDM and get away with it. During the 2012 edition of Ultra Music Festival, Madonna took to the main stage to introduce Avicii, but not before asking "How many people in this crowd have seen molly?" Molly is a slang term for MDMA, the active compound in ecstasy. The pop icon also took advantage of the stage time to perform a track off her latest album, aptly titled MDNA. The Molly reference took a life of its own after deadmau5 slammed Madonna on social media. The two eventually buried the hatchet days later.
28. Baauer releases "Harlem Shake"
Bauuer's "Harlem Shake" showed the potency of meme culture and influencers in the social media era. Whatever the formula was, "Harlem Shake" was wonky enough to draw fans in and engage participation from millions who felt compelled to make their own videos to the song. Matt & Kim, the Miami Heat, and the Norwegian Army were just a few of the song's long list of seemingly random supporters who got in on the act. Today, this particular intersection where music meets memes is alive and well on TikTok, but in many ways "Harlem Shake" was the case study that showed the pathway for artists to rise by becoming memes even existed.
29. Paris Hilton debuts as a DJ
In June of 2012, socialite Paris Hilton made her DJ debut at Pop Music Festival in Brazil. When the reality TV star donned her jewel-encrusted headphones on a festival stage for the first time, her performance was not without its share of technical setbacks or harsh criticism. By the end of the decade, however, Hilton had conquered Ibiza with her Foam and Diamonds residency at Amnesia nightclub, and was named Forbes' richest DJ in 2016.
30. Swedish House Mafia announce breakup
Axwell, Steve Angello and Sebastian Ingrosso come together to form Swedish House Mafia even before the decade began. After creating history together, the trio decided to focus on their individual careers and call it a day in June of 2012, at which time they announced their One Last Tour. The 52-date world tour culminated with their closing performance at Ultra Music Festival in Miami in March of 2013. Ironically, the same festival was also where the super-trio would make their comeback.
31. Psy uploads music video for "Gangnam Style"
Before 2012, the only products widely known in America from Korea were Kia cars, Samsung cell phones, and a Demilitarized zone at the 38th parallel between North and South Korea. That all changed when popular K-Pop artist "Psy" released "Gangnam Style" in July of 2012. The song not only topped the music charts in over 30 countries worldwide, but became a symbol of Korea's changing culture and capitalist rise. The song's music video became the first video ever to reach over a billion views on YouTube, and was even recognized by President Barack Obama in 2013 as a symbol for America's new obsession with Korean culture.
32. Robert Sillerman's SFX Entertainment spurs "the EDM Arms Race"
Entertainment mogul Robert Sillerman shared plans for an enterprise that would come to symbolize the hubris around EDM in the early years of its mainstream explosion. Borrowing the name of a company he previously founded and sold to Clear Channel, who then rebranded it as Live Nation, he launched SFX Entertainment, a conglomerate that would acquire electronic music brands from across the globe. In what Billboard dubbed "the EDM arms race" in a September, 2012 cover story, he pledged to invest $1 billion into the industry annually.
33. Disclosure and Sam Smith release "Latch"
Disclosure's Guy and Howard Lawrence championed a sophisticated, house-inspired sound that appealed to the first wave of EDM fans to outgrow the commercial sounds of the main stage. "Latch" featuring Sam Smith demonstrated the broad appeal of such a style. The lead single of the English duo's 2013 debut album, Settle, it went on to receive radio play across the globe in the years to come.
34. Swedish House Mafia release "Don't You Worry Child" ft. John Martin 
Shortly after announcing their final tour, Swedish House Mafia shared "Don't You Worry Child" featuring John Martin as a farewell single of sorts. To date the song is their highest performer in the U.S., reaching #6 on the Billboard Hot 100.
35. Calvin Harris releases 18 Months
The definitive Calvin Harris album 18 Months saw the Scottish producer shift to a new sound in October of 2012, earning him his second consecutive #1 album on the UK Charts. In fact, nine tracks managed to crack the top 10, making 18 Months the first album in history to do so. Prominent singles include "We Found Love" featuring Rihanna, "I Need Your Love" featuring Ellie Goulding, "Thinking About You" featuring Ayah Marar, "Bounce" featuring Kelis, and "Feel So Close." The songs "Let's Go" featuring Ne-Yo and "Sweet Nothing" featuring Florence Welch were nominated for Best Dance Recording at the 55th and 56th Grammy Awards, respectively.
36. Zedd releases debut album, Clarity
In October of 2012, Zedd released his debut studio album, Clarity, and became a household name in the music industry. From "Spectrum" featuring Matthew Koma to "Stay The Night" with Hayley Williams, the album included many of Zedd's popular hits. To this day, the title track is still his most successful single.
37. Flume releases debut self-titled album
A release that played no small role in the popularization of the future bass genre was Flume's self-titled debut album. After it arrived by way of Future Classic in November of 2012, songs like "Holdin On" featuring Otis Redding, "Left Alone" featuring Chet Faker, and "Insane" featuring Moon Holiday introduced a template for sounds that would become an indispensable facet of the EDM landscape.
38. ODESZA reinvent the live experience of EDM
With a stage setup that includes varying combinations of live controllers, instrumentalists and other performers, ODESZA broke the CDJs-and-mixer mold common to mainstream EDM acts. Considering that they now sell out massive, outdoor venues and even launched their own festival, it's hard to believe that their first-ever show in November of 2012 took place at a 450-person capacity venue.
39. Avicii plays "Wake Me Up" at Ultra 2013 to mixed reactions
Avicii's "Wake Me Up" was recently named one of Spotify's Top 50 Most Streamed Songs of the Decade. However, the DJ/producer's now biggest hit featuring Aloe Blacc was not necessarily loved at first listen. Avicii first debuted the song during his set at Ultra Music Festival in March of 2013, and it immediately caused a stir among attendees and those watching via live stream at home. For those who need a refresher, "Wake Me Up" was the first dance song to incorporate any sort of country music influence and the bold new idea evidently did not sit well with fans in the immediate aftermath.
40. Daft Punk return with Random Access Memories
In the midst of EDM's rapid climb in mainstream popularity, legendary French duo Daft Punk revisited classic electronic music influences in Random Access Memories. Released in May of 2013, the album included collaborations with '70s disco stalwarts like Giorgio Moroder and Nile Rodgers of Chic in addition to contemporary figures like Pharrell Williams.
41. Martin Garrix revolutionizes big room with "Animals"
In June of 2013, Martin Garrix (real name Martijn Garritsen) released his runaway hit single, "Animals." He was 17 when it came out, making him the youngest artist to put out a track on Spinnin' Records at the time. The song was a massive commercial success, which helped launch Garritsen's career as one of the most acclaimed EDM DJs in the world. "Animals" remains one of the most popular big room tracks of all time.
42. Kaskade releases Atmosphere
Having already started off the decade strong with two studio albums, Kaskade released Atmosphere in September of 2013. Debuting at #16 on the Billboard 200 charts, the effort built on the success of his previous records, relying on uplifting lyrics alongside big room beats. "Last Chance," "No One Knows Who We Are," "Why Ask Why," and "Something Something" stand out as perfect examples. The title track, which features vocals by Kaskade himself, was nominated for Best Dance Recording at the 2014 Grammy Awards.
43. TomorrowWorld debuts outside Atlanta, Georgia
In September of 2013, SFX Entertainment decided to bring a taste of famous Belgian music festival Tomorrowland to the United States. The American spin-off, TomorrowWorld, took place in Chattahoochee Hills near Atlanta, Georgia, due to its resemblance to Boom, Belgium. While many feared the festival would flop, it's inaugural year was a massive success as it draw over 140,000 attendees with 300 artists performing across eight stages.
44. DJ Snake and Lil Jon release "Turn Down for What"
French producer DJ Snake and rapper Lil Jon (real names William Grigahcine and Jonathan Smith, respectively) released their collaboration, "Turn Down For What," in December of 2013. It quickly achieved commercial and viral success, culminating in twelve platinum certifications in North America alone.
45. Oliver Heldens popularizes future house with "Gecko"
Having started off 2013 as a new Spinnin' Records signee, Oliver Heldens found himself on the verge of becoming the next big name in EDM with the December release of "Gecko." The instrumental future house track caught the attention of fellow Dutch DJ Tiësto, who signed it to his label, Musical Freedom. A vocal version titled "Gecko (Overdrive)" was released a few months later, propelling Heldens to superstardom.
46. The Chainsmokers release "#SELFIE"
When The Chainsmokers' "#SELFIE" debuted in 2013, it took over the airwaves. It was originally released as a free download by the up-and-coming duo. It grabbed Steve Aoki's label, Dim Mak's attention, who then released the track at the beginning of 2014. The tongue-in-cheek song would be written off as a gimmick by more critical fans, although the duo would go on to prove themselves a permanent fixture of EDM in the years to follow.
47. Tiësto explains why he left trance
Easily one of the biggest names in EDM, Tiësto has garnered a massive following since the late 1990s. His current sound is nothing like the groundbreaking trance music that propelled him to fame, however. In a 2014 DJ Mag video interview, the Dutch DJ and producer shed light on why he parted ways with trance. "Some of the old trance guys still have a following, but it doesn't feel like anybody really cares," he said. "It's nice to be in touch with the 16 to 18-year-old kids who are coming up producing house music. They see me as a godfather, and it's really cool to be in touch with them."
48. ZHU releases "Faded," inspiring a wave of anonymous artist projects
"Faded" was the first single off ZHU's debut EP, The Nightday, and it catapulted the mysterious musician to stardom as it was supported by Pete Tong and gained massive commercial success. Since its release in April of 2014, ZHU has proven the marketing appeal of anonymous artist projects, collaborating with the likes of Skrillex, NERO and Tame Impala, and performing at festivals such as Coachella and Lollapalooza. 
49. Seven Lions raises the bar on melodic dubstep with Worlds Apart
Seven Lions released his second EP titled Worlds Apart in April of 2014. The melodic dubstep mastermind crafted five breathtaking tracks with vocalists including Ellie Goulding, Kerli, and Tove Lo. The EP was well received, landing a #2 spot on Billboard's Top Dance/Electronic Albums chart the same year.
50. Tomorrowland expands to two weekends
In 2014, Tomorrowland dominated the electronic music festival scene as the biggest festival of its kind in the world. In celebration of its 10th anniversary, the Belgian festival expanded to two weekends for the first time. Although it reverted back to one weekend after the July, 2014 event, the festival returned to a two-weekend format in 2017.
51. Porter Robinson shifts his style with Worlds
Following the release of his 2011 EP, Spitfire, Porter Robinson completely revamped his style to bring his debut studio-length album, Worlds, to life. This 12-track album included some of his most famous songs, like "Sad Machine" and "Divinity," giving Robinson worldwide recognition, a Billboard #1 in the Top Dance/Electronic Albums category, and a 2014 tour of the effort's namesake.
52. Kris Trindl sues Krewella after breakup
Despite matching tattoos and a shared Chicago living space, Krewella members Kris Trindl and sisters Jahan and Yasmine Yousef found themselves at the center of a lawsuit that shook the EDM world to its core. Trindl sued the sisters for $5 million in 2014 for breaching oral contracts and conspiring to kick him out of the group in order to keep more money for themselves. The lawsuit was a grave reminder that the partying that often accompanies a full-time touring schedule comes at a cost: Trindl's rehab stints and alcoholism were a main catalyst for the breakup. Trindl was the main producer of the group while Jahan and Yasmine were responsible for songwriting. He eventually settled with the duo in 2015, and they releasd "Say Goodbye," a single released shortly after the split with references to Trindl, and a tip to future electronic groups to seal all business deals with paper and a signature instead of tattoo ink. 
53. Jack Ü releases "Take Ü There" 
In 2013, notorious DJ/producers Skrillex and Diplo came together to form Jack Ü. Their September, 2014 debut single, "Take Ü There," features Canadian singer, Kiesza. Released on their own labels, OWSLA and Mad Decent, the full-length album titled Skrillex and Diplo Present Jack Ü would follow the next year.
54. Marshmello debuts with "WaVeZ"
With a sample from Uncle Luke's legendary "I Wanna Rock" and a fresh dose of future bass, anonymous EDM powerhouse Marshmello burst onto the scene in March of, 2015 with "WaVeZ," which he uploaded to Soundcloud. Using a fast-paced beat and quick chord progressions, "WaVeZ" was the first glimpse into Marshmello's unique, upbeat production style that would grow into a colorful, arena-filling empire. The masked producer followed up the single in 2016 with his debut album, Joytime, and the rest is history. 
55. Jack Ü and Justin Bieber release "Where Are Ü Now" 
An overt trend that comes to mind relative to EDM, especially in the latter half of the decade, is mainstream artists taking an active interest in the phenomenon. It's hard to believe that just a few years ago Skrillex, Diplo, and Justin Bieber ushered in a broader interest in dance music in such a big way. At the time Jack Ü was a fledgeling project, but it had massive hype around it. Needless to say, Skrillex and Diplo were pressured to deliver something memorable. When the big reveal that Justin Bieber would be joining the two for a single called "Where Are Ü Now," reactions were mixed. Bieber himself was coming out of a rough patch personally and professionally and was seen as a polarizing presence in the public eye. Diplo later stated he was warned that working with Bieber could end his career. Skrillex and Diplo have not been known to back down from crazy ideas, however, and like clockwork they won over the skeptics and then some with what became the biggest dance music track to hit the radio at the time. 
56. Major Lazer and DJ Snake release "Lean On"
Major Lazer and DJ Snake came together to work on "Lean On" which features vocals by MØ. The four-on-the-floor track went on to become a huge commercial hit and one of the best-selling singles of all time. The official music video which was shot in Maharashtra, India, also garnered them billions of hits owing to the massive popularity of the song and its signature hook step. 
57. CRSSD Festival creates the boutique festival blueprint
Midway through the EDM decade, festivalgoers began to seek out more curated gatherings. San Diego's CRSSD Festival disrupted the market by curating and techno/house-focused experience in its biannual spring and fall editions, proving the viability of the boutique festival model in the process.
58. Alison Wonderland releases Run
Home to some of her most unforgettable tracks including "U Don't Know," "I Want U," and its title track, Alison Wonderland's debut album, Run, made her a force to be reckoned with. The 12-track effort topped both Australian and American charts, earning her an ARIA Music Award and pushing forward a wildly successful career.
59. Ultra debuts RESISTANCE brand, signaling house and techno's resurgence
Sixteen years after its 1999 debut in Miami Beach, Ultra Music Festival made a pivotal change in programming by adding the new RESISTANCE stage to its roster. Focusing on house and techno, the addition of RESISTANCE signified a barometic change in the electronic dance music industry as "underground" genres began to develop more widespread global appeal. Today, RESISTANCE has become one of Ultra's most recognized event brands.
60. Martin Garrix Sues Spinnin' Records
Martin Garrix's music topped more and more EDM charts around the world in 2015. However, with more and more producers under legal age getting signed by major dance labels and management teams, many labels opted to take advantage their financial positions within the EDM industry by claiming the copyrights to any and all master records produced under brand. This all changed when the 18-year-old Dutchman terminated his management contract with Spinnin' Records and sued his former management team for violation of copyright, claiming that he was told "false and misleading" information regarding his right to own the copyrights of his own master recordings when signing with the label. Both parties settled and Garrix was transferred ownership of all master recordings under his name prior to his 18th birthday, which came as a massive win for DJs everywhere who had been signed to larger EDM labels.
61. TomorrowWorld transportation breakdowns lead to the festival's demise
TomorrowWorld, the American spin-off of Belgium's mega festival Tomorrowland, initially saw success and praise; however, its popularity and lifespan were short lived. For the third and final edition in 2015, severe rain and flooding rendered the festival grounds unusable and inaccessible. Attendees were required to take shelter in their flooded campgrounds, or hike several miles to where they could be picked up. TomorrowWorld would not return, and its failings foreshadowed the collapse of SFX Entertainment the following year.
62. Inaugural Dirtybird Campout introduces summer camp-themed festival concept
When Claude VonStroke dreamt up the idea of Dirtybird's signature summer camp-themed festival - which debuted in October of 2015 - the house music world and the festival industry rubbernecked. Now near Modesto, the games and activities at Dirtybird Campout give attendees as much to rave about as its stacked lineups.
63. Dimitri Vegas & Like Mike declared DJ Mag #1 amid voter controversy
Belgian DJ and producer duo Dimitri Vegas & Like Mike saw huge popularity within the decade, which allowed them to secure the #1 spot on the DJ Mag Top 100 DJs poll in October of 2015. It was revealed, however, that a portion of their votes came from apparent ground campaigns in which employees of the superstar DJs approached fans at events and festivals and talked them into voting for the duo. This sparked a strong backlash from DJ peers and fans alike, and called into question the credibility of DJ Mag's polls. 
64. Dreamstate sparks trance resurgence in North America
In November of 2015, trance fans from around the world congregated in San Bernardino, California for the first-ever all-trance festival in North America, Dreamstate. The brainchild of Insomniac, Dreamstate is a celebration of the genre, and has been credited for sparking the trance resurgence in North America. Throughout its five-year history, Dreamstate has expanded to host events in San Francisco, Melbourne, London, New York, and Poland.
65. Rezz releases debut album, The Silence Is Deafening
While underground sensation Rezz was already making serious waves a year prior, the January, 2016 release of her second EP, The Silence is Deafening, instantly made her one of bass music's most exciting acts. Marking her first of several releases on deadmau5' mau5trap label, tracks like "Edge" and "Delusion" would help the young artist grow her cult and become a headline act. 
66. SFX Entertainment declares chapter 11 bankruptcy
Largely due to mismanagement of the numerous assets it acquired during "the EDM arms race," SFX Entertainment declared chapter 11 bankruptcy in February of 2016. The conglomerate's plummeting stock value leading up to the decision arguably contributed to the EDM industry's first contraction of the decade. The company would later rebrand as LiveStyle with Robert Sillerman no longer serving as CEO. 
67. Eric Prydz releases long-awaited debut album, Opus
Swedish progressive house producer Eric Prydz released his debut album in February of 2016. The 19-track effort included old singles along with new tracks and unreleased IDs that were highly ought after in his live performances. Opus was in the works for 10 years, beautifully showcasing the producer's creative vision over time.
68. Major Lazer play historic concert in Cuba
Major Lazer has long been an international ambassador on the EDM scene, dancehall and other eclectic styles into mainstream awareness. The group took diplomacy a step further by being the first major international act to play in Cuba since Washington and Havana restored relations. The free concert was held in front of the U.S. Embassy in Havana.
69. Avicii quits touring
After a handful of hospitalizations and health scares, Avicii took to social media to write an open letter to his fans in 2016 announcing his retirement from live events and touring. In the heartfelt letter, he explained how the constant stress was taking a toll on him and he had to make the decision to quit touring as he had "too little left for the life of a real person behind the artist."
70. Detroit Mayor Mike Duggan Declares Week of Movement "Detroit Techno Week"
Since 2000, Memorial Day Weekend in Detroit has become synonymous with techno. In 2016, Detroit mayor Mike Duggan made it official by declaring May 23rd through May 30th as the first ever Detroit Techno Week. "Detroit becomes a tourist destination for music lovers," Duggan wrote in the first-ever certificate of recognition for Detroit Techno Week. "I encourage all to come out and celebrate the festivities, as it creates local and international awareness of Detroit's rising creative culture."
71. Flume releases Skin LP
Released via Future Classic, Flume's second album, Skin, gained international popularity and further defined the sound for which we now know the Australian producer. The effort won many awards, including both a Grammy and an ARIA with some of its most popular tracks being "Never Be Like You," "Say It," and "Smoke & Retribution."
72. The Chainsmokers release career-defining single, "Closer" ft. Halsey
Before releasing "Closer" featuring Halsey, The Chainsmokers already had a string of hit songs, like "Don't Let Me Down," "Roses," and the notorious "#SELFIE." But "Closer," which came out in July of 2016, was arguably an unmatched release. It was The Chainsmokers' first #1 single on the Billboard Hot 100, taking the top spot for 12 consecutive weeks, and remaining in the top five for 26 consecutive weeks. From the radio to retail stores to club floors and festival stages, "Closer" was heard everywhere at its peak. Not only that, but it marked The Chainsmokers transition to a pop-EDM act, an identity they continue to maintain today.
73. Porter Robinson and Madeon release "Shelter"
In August of 2016, Porter Robinson and Madeon took the world on an emotional journey with their powerful collaboration, "Shelter." Accompanied by a heartfelt animated short film about a girl who lives alone in a world of her own making, the track became huge enough to call for a worldwide tour of the same name.
74. Daft Punk and The Weeknd release "Starboy"
On November 24, 2016, The Weeknd (real name Abel Tesfaye) released his 18-track, third studio album, Starboy, via Republic Records. The title track was a moody, synth-heavy collaborative hit alongside masked French duo Daft Punk. After spending 8 weeks at #2, the single climbed to the #1 spot on Billboard's Top 100, making it Daft Punk's first #1 single. 
75. Fyre Festival shows promoters the world over what not to do
Selling tickets for up to $100,000 apiece, Fyre Festival marketed itself as an "immersive music festival." The "Coachella in the Caribbean" VIP experience was promoted by supermodels like Kendall Jenner, Bella Hadid, and Hailey Baldwin as an exclusive party for wealthy Instagram influencers. Attendees were promised luxury accommodation on an island in the Bahamas, a party with celebrities, and "the best in food, art, music and adventure." Upon arriving at the event in April of 2017, however, they were greeted by disaster relief tents with rain-soaked mattresses, cold cheese sandwiches in foam containers, and the absence of music headliners like Pusha T, Tyga, Migos, and Blink-182. Images and videos from Fyre Festival went viral, spawning documentaries from online media giants Hulu and Netflix. Billy McFarland, the lead festival organizer, was eventually sentenced to six years in prison and ordered to pay over $26 million to investors and customers he defrauded. Talk about a dumpster fire.
76. Gary Richards resigns from HARD Events
Gary Richards, better known as DESTRUCTO, resigned from HARD Events - the production company he founded ten years prior - in August of 2017. He went on to partner with LiveStyle and launch a new event brand called AMFAMFAMF.
77. SoundCloud founders resign after company secures emergency funding
Soundcloud, well known for providing rising music producers with a place to share their music, barely stayed afloat in 2017. CEO Alex Ljung was replaced by former Vimeo CEO Kerry Trainor after the struggling music service managed to secure an emergency deal of about $170 million in funding.
78. Excision debuts bass music festival Lost Lands
Since the beginning of the decade, Excision has released some of the biggest tunes in dubstep while hitting the road with mind-blowing production unlike anything on the market. His next move, however, would make him one of, if not the most important figures in modern-day bass music. With the creation of his very own festival, Lost Lands, Excision gave bass music fans a gathering where their favorite music would be displayed prominently, not relegated to side stages. It would grow into the world's premier bass music event and host performances from both the genre's biggest names as well as up-and-coming and under-the-radar talent.
79. Rusko announces he's cancer free
In May of 2017, the EDM community was in a vulnerable state after learning that bass legend Rusko had been diagnosed with a rare form of stomach cancer. Mercer canceled all upcoming shows at the time to focus on healing and intensive chemotherapy sessions. In October of 2017, the dubstep icon happily announced he was 100% cancer free and would continue working on music. 
80. Datsik accused of sexual assault by multiple women