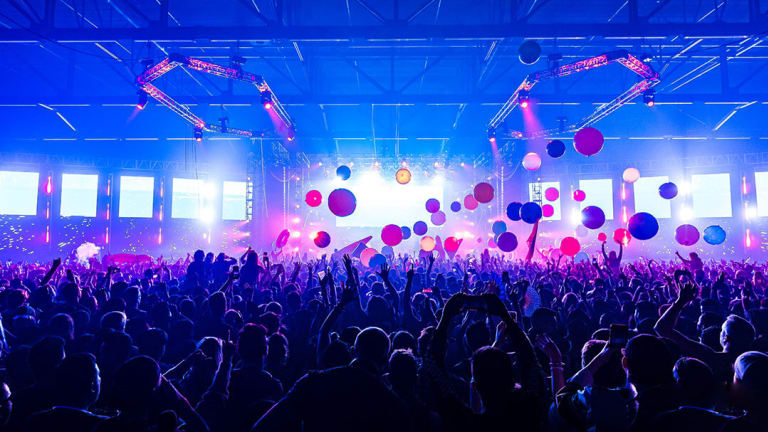 2018: The Year in EDM
These 20 stories defined electronic dance music over the past 12 months.
A lot happens in the EDM world over the course of a year.
We here at EDM.com take pride in keeping a finger on the never-ending pulse of the scene. Unless you're as wrapped up in its goings on as we are, however, it can be easy to miss a beat.
With that in mind, we've chosen 20 stories that provide a snapshot of what happened in EDM in 2018. From Avicii's untimely death to Swedish House Mafia's momentous reunion to Ultra Music Festival's relocation, these are the moments that defined electronic dance music over the past 12 months.
20. Spotify Goes Public Amid Lawsuit
As streaming platforms like SoundCloud have alienated electronic music fans in recent years, Spotify has doubled down on the demographic. The service hasn't been popular across the board, however. In January it came to light that Wixen Music Publishing had filed a $1.6 billion lawsuit against the Spotify. Shortly thereafter, the latter company quietly filed its initial public offering to become a publicly traded corporation.
19. Datsik Stops Tour After Sexual Assault Allegations
In March, a number of women came forward to share stories of sexual encounters involving Canadian DJ/producer Datsik. He subsequently stepped down from Firepower Records and discontinued the Ninja Nation Tour - although some suspect he may try to make a comeback.
18. Swedish House Mafia Reunites After Five Years
At the peak of their success, EDM supergroup Swedish House Mafia disbanded following a performance at the 2013 edition of Ultra Music Festival in Miami. They reunited at the same festival's 2018 edition, and closed the year out by announcing new music in addition to 2019 shows in seven cities around the world.
17. Avicii Dies at 28 of Apparent Suicide
On April 20th, 2018, Avicii was found dead in Muscat, Oman. The Swedish DJ/producer had long suffered with anxiety and depression, causing him to discontinue touring back in 2016. In a statement made by his surviving family members, it came to light that his cause of death was suspected to be suicide. 
16. 2018 IMS Report Shows EDM Industry Slowdown
Kevin Watson's annual business report at the International Music Summit in Ibiza serves as a barometer of EDM's growth as an industry. This year's IMS Business Report estimates that the industry contracted from $7.4 billion to $7.3 billion from 2017-2018, possibly due to mainstream crossover of electronic music making its impact "immeasurable."
15. Jeffrey Sutorius Ousted from Dash Berlin
In June, Dash Berlin frontman Jeffrey Sutorius issued a statement revealing that he had discontinued his business relationship with Sebastiaan Molijn and Eelke Kalberg, who produce most of the music for the trio. In a later interview he spoke in greater detail about the events leading up to the split. Sutorius has debuted new music as a solo act, and Dash Berlin's current members have shared plans for new releases in 2019.
14. XXXTentacion Murdered at 20 Years Old
Rapper Jahseh Anfroy, better known as his stage name XXXTentacion, was shot dead in Deerfield Beach, Florida on June 18th, 2018. Dedrick Williams from Pompano was arrested and charged with first-degree murder shortly thereafter. XXXTentacion had collaborated with EDM artists like Diplo and Skrillex.
13. SoundCloud Announces Key 2019 Partnerships
Following years of misadventures on their road to financial solvency, SoundCloud has announced perhaps its most promising integrations to date. Most notably, the streaming service announced in October that partnerships with brands like Native Instruments, Serato, Virtual DJ, DEX3, Mixvibes, and Hercules will allow DJs to stream SoundCloud upload straight to their decks.
12. Martin Garrix Wins #1 in DJ Mag Top 100 for 3rd Year in a Row
Punctuating Martin Garrix's five daily track releases in celebration of Amsterdam Dance Event was the news that he was named #1 DJ in the world in the annual DJ Mag Top 100 awards series. This marks the third time in three years that the Dutch DJ/producer has received the honor. 
11. Hardwell Announces Indefinite Tour Hiatus
In September Hardwell announced that he would take an extended break from performing, saying that "being Hardwell 24/7 leaves too little energy, love, creativity, and attention" for him to lead a normal life. He ended his final, sold-out October performance at the Ziggo Dome in Amsterdam with a tearful speech revealing that he would one day return to the stage.
10. deadmau5 Takes Social Media Break Following PR Fiasco
In a matter of days, Canadian DJ/producer deadmau5 elicited ire from the trans community as well as those on the spectrum for insensitive remarks made in two separate instances. He subsequently issued a statement revealing his own mental health struggles, saying that he would "be going off the radar" indefinitely.
9. Paul van Dyk Speaks Out Against ALDA Events Following Injury
In 2016, a stage malfunction caused Paul van Dyk to fall and sustain major injuries during his set at A State Of Trance 750 in Utrecht. During an interview at this year's Amsterdam Dance Event he said, "Up to this point, none of these guys involved picked up the phone to call me and ask me how I am." He later clarified that he was speaking about ALDA Events.
8. Steve Aoki Collabs with K-Pop Group BTS
Perhaps the biggest international EDM crossover of 2018 was the collaboration between Steve Aoki and Korean boy band BTS. Titled "Waste It On Me," the song afforded the opportunity for the latter group to venture outside of their K-pop comfort zone.
7. Marshmello Lands on the Cover of Forbes' "30 Under 30" Feature
Despite being an anonymous DJ/producer, Marshmello landed on the cover of Forbes' annual "30 Under 30" feature this year. In an interview, his manager, Moe Shalizi, predicted that the artist's income will rival that of Calvin Harris in 2019.
6. The Chainsmokers to Produce a Movie of Their Song's Namesake
In a November interview at the Victoria's Secret Fashion Show, Drew Taggart and Alex Pall A.K.A. The Chainsmokers discussed their plans to produce a movie titled Paris. Pitch Perfect author Mickey Rapkin hatched the idea for the script after listening to their 2017 song of the same title.
5. Dreamstate SoCal 2018 Overrun by Pickpockets
The 2018 edition of the flagship festival of Insomniac's all-trance Dreamstate festival was overshadowed by an alarming number of instances of theft. One attendee shared an account of being physically assaulted after confronting a pickpocket.
4. Ultra Music Festival to Relocate to Virginia Key in 2018
In September Ultra Music Festival's contract to return to Bayfront Park in 2019 was rejected by the Miami City Commission. As the result of a controversial vote, the same commission granted the event's organizers permission to relocate to Virginia Key next year.
3. Moe Shalizi Leaves Red Light Management to Start His Own Firm
In November it came to light that Moe Shalizi would leave Red Light Management to start his own company, bringing Marshmello, Jauz, Ghastly, Slushii, Sikdope and 808 Mafia producer Southside with him. The following month, emails revealed the name of his new firm to be The Shalizi Group. 
2. Twitch Celebrity Ninja Releases EDM Compilation, Ninjawerks
In possibly the biggest EDM/eSports crossover in history, Twitch star Tyler "Ninja" Blevins partnered with Astralwerks on a "soundtrack to gaming" titled Ninjawerks. Featuring songs by the likes of Tiësto, Dillon Francis, GTA and 3LAU, it allowed some of electronic music's biggest names to tap into the gamer market.
1. Illenium Announces Madison Square Garden Show in 2019
Near the end of his massively successful and sold-out Awake 2.0 tour, Illenium addressed his audience at Terminal 5 in NYC with a special announcement. Without revealing an exact date, he disclosed that he will headline Madison Square Garden at some point next year.