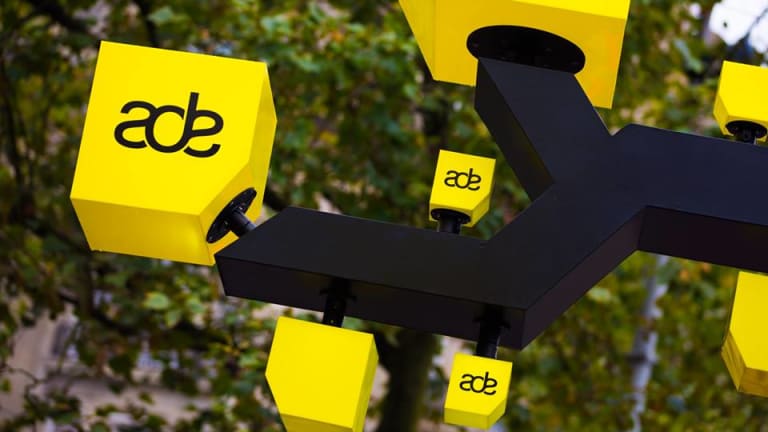 5 Places to Be at Amsterdam Dance Event 2018
These are five events not to miss if you're attending Amsterdam Dance Event.
Today marks the beginning of one of the most important weeks in electronic dance music: Amsterdam Dance Event (ADE). Besides the conference, workshops and networking opportunities, these are the five parties that deserve the spotlight beforehand:
5. Paul Kalkbrenner's Unofficial ADE Kickoff
Today at 7:00 PM local time, the doors of the 98-year-old Scheepsbouwloods will open for no other than Paul Kalkbrenner. The combination between his stunning live performance and the special factory location could make it one of the highlights of this year's ADE. Since it will be one of the kickoff events, ADE might not be saving the best for last this year. However, there are still many more exciting shows ahead. 
4. Gaia will Lift Paradiso into Heaven
For several years already, the purest trance tracks from Armin van Buuren are released under his Gaia alias. Together with studio partner Benno de Goeij, who is also one half of trance duo Rank 1, ha debuted Gaia at Ultra Music Festival in 2014. After perfoming only once or twice each year, the two artists decided it was time to invest more time in the Gaia project. The result: an upcoming Gaia album and brand new live show set to be premiered at this year's ADE.
Such a unique moment obviously requires a unique location - it perfectly fits Paradiso, which is arguably the most legendary venue in Amsterdam. Armin already teased bits of the GAIA show in his weekly vlogs, so prepare yourself for two hours of heaven.
3. Hardwell's Final and Perhaps Most Special Show
Thursday will be a special day in the EDM scene since it will feature the indefinite farewell of Hardwell. The Dutch DJ/producer made an emotional statement after his last show on Ibiza, claiming that:  "being Hardwell 24/7 leaves too little energy, love, creativity, and attention for [his] life as a normal person."
He is definitely leaving with a huge performance, however, together with the Dutch Metropole Orchestra. Buckle up for a ride through the history of dance music during Symphony: The Global Revolution of Dance. Luckily, everyone that cannot be present in the massive Ziggo Dome has the chance to watch Hardwell's last performance on live stream. Find out more information here, and make sure to clear your schedule from 8:00 PM until midnight CEST. 
2. Awakenings Basically Owns the Gashouder This Week
The people at Awakenings thought to themselves, why not hire the massive venue Gashouder for the entire week and fill it with the crème de la crème of techno? By looking at the daily lineup we can already say it was a delicious idea. Wednesday will feature a hard opening night, which, includes Charlotte de Witte and DJ Rush, among others. Adam Beyer will present his Drumcode sound on Thursday, bringing some of his friends with him. Friday will be hosted by Maceo Plex, and on Sunday Awakenings' own lineup will close out ADE. The finale includes Sven Väth, Luciano, Kölsch, and more. 
As if this was not enough techno to get you through the ADE week, Saturday will feature two massive parties. Joris Voorn and his friends will start things off at noon until 10:00 pm CEST. After a small, 90-minute break, Joseph Capriati invites even more icons to the Gashouder until 8:00 AM the next day. Awakenings has practically managed to host their own festival within the whole ADE occasion.  
1. Groove away on Kryder's own party boat 
Besides the Amsterdam Music Festival being hosted in the Johan Cruijff Arena and this year's #1 DJ being (re)elected, Saturday features some great smaller parties. One that definitely stands out is the God Save The Groove boat party by Kryder. The boss of the recently launched Kriteria label is known for his groovy sound; he always tries to get audience's shoulders rolling. Now, though, he will also attempts to entertain Amsterdam's aquatic population by hosting his own boat party. Last year's event must have been a great success considering that Kryder had to book a boat of twice the size.
Follow Amsterdam Dance Event:
Facebook: https://www.facebook.com/amsterdamdanceevent/
Twitter: https://twitter.com/ADE_NL
Instagram: https://www.instagram.com/amsterdamdanceevent/