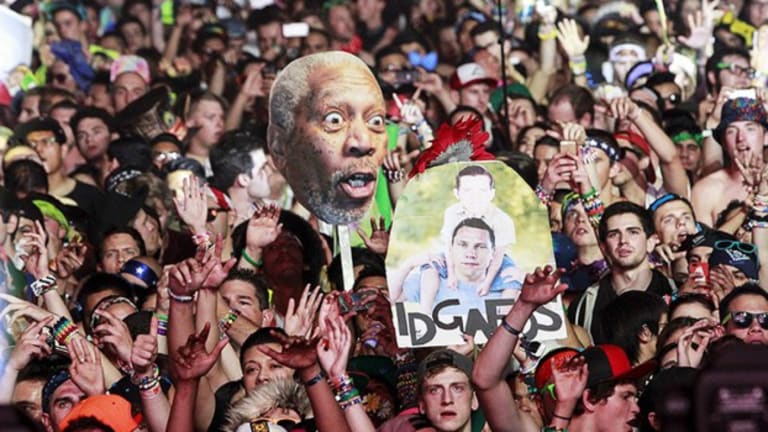 5 Times Crazy Fans Crossed The Line At An EDM Show [VIDEOS]
Watch These Videos of Crazy EDM Fans Crossing The Line Shows
We've all been there before - you're having the time of your life at a show, the DJ is absolutely killing it on stage, and then someone decides it's time to take it a step too far and totally ruins the mood. Being a live performer has its obstacles, but none of them are truly able to avoid crazy fans when they strike.

From being tackled on stage to attacking the DJ with a soda can, here are five instances when crazy fans crossed the line at a show.
1. Fan throws can at Dillon Francis
At a Mad Decent Block Party event last year, Dillon Francis was hit in the forehead by fan that decided to throw their near-full RC Cola can at the DJ mid-set. It cut Dillon pretty deep on his forehead, and prohibited the DJ from finishing the rest of his set. Smart move crazy fan, you lost a full soda and missed the set that you paid to see.
2. Fan brings Confederate Flag to Electric Forest
Considering how PLUR is such a mantra for EDM fans, it's beyond striking to think that someone found humor in bringing a racially-charged flag to one of the most family-oriented festivals in the nation. Well, it's safe to say that his foresight didn't go beyond purchasing the flag, as he was welcomed by one festival-goer with a punch to the face.
3. Fan dives head first into Zoogma's stage equipment
Just to be clear here, "stage-diving" is the act of jumping off of the stage and onto a crowd. As demonstrated by this shockingly mistaken fan, it is not the act of jumping on stage and diving headfirst into the equipment of the band performing, which in this case was the electronically-influenced band Zoogma. Go to 6:10 for the action.
4. Fan tries climbing Mysteryland stage and falls
Despite all of the evidence that points to the fact that we are not monkeys anymore, one girl decided to put evolution to the test and try to climb down one of the scaling Mysteryland stage props from the VIP viewing area. As was expected, the tutu-donning Evil Knievel failed miserably and fell off the platform, injuring her self quite severely.
5. Naked fan attacks Keys n Krates mid-set
Freedom of expression is one thing, but freedom of being but naked and running around on stage is something entirely different. When the scantily-clad fan got up on stage, she ran around the equipment a few times before attempting to piggy-back one of the members of the group. Even though this was clearly one of those "YOLO" moments, it's one that she (and the internet) will never forget.