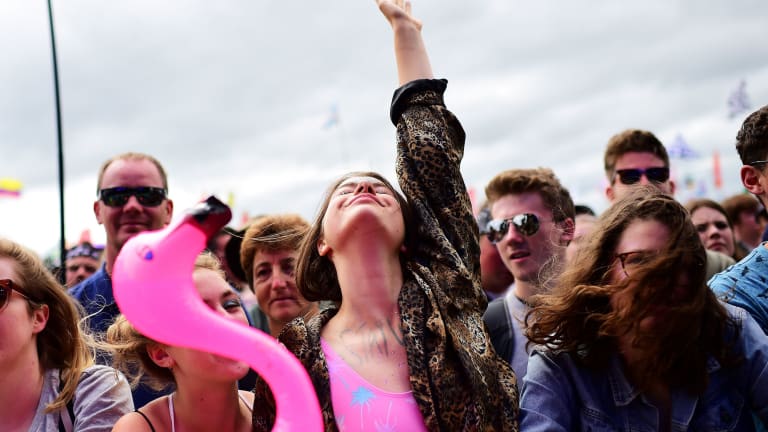 6 Festival Fantasies We Want to Come True This Season
We're here for you.
Hey daydreamers, Coachella and many other festivals are just around the corner. If this is your first or 7th rodeo, we all have unfulfilled festival fantasies that we wish to happen. You're in luck because we got some helpful advice for you to make these dreams reality!
Will I get backstage?
There's an art to getting backstage. It's either knowing people, or.... just pretending like you do. If you haven't grown your social music network just yet, acting as if you know a certain DJ will get you far. Study the artist prior to going to will-call. Once you get there, act as if you're on the list while proceeding to drop names, such as managers, tour managers and publicists. Stay calm and persistent because they will probably grant you that beautiful artist pass to avoid conflict. 
Will I vibe with someone and marry them?
Okay we can't guarantee the marry part, but it's very easy to meet someone if you do it right. First, step away from your group. You are a lot more approachable when you are alone. Go to one of your favorite sets because you will most likely meet someone with similar commonalities. Find someone you're attracted to, ask to go on their shoulders or if you're a guy, ask them to go on your shoulders. The perfect icebreaker. Be fearless!
Will I peak at my favorite set?
We all want to feel like a million bucks at our favorite sets. Don't take a tequila shot and chase with a shotgun of beer before the big show. Timing is everything. Make sure everything is in moderation and you will be high off life. 
Will I sneak in and not get tackled? 
The most liberating feeling is getting into a festival when you aren't supposed to. Although we don't condone it, there are ways to make this happen. You can swindle your way in by wearing a bunch of old festival wristbands or ones you made. Also dressing as security could be your ticket in too. Whatever you do, own it. Oh, and run! 
Will my glitter stay on all day?
It feels like a festival miracle when you look at yourself in the mirror at the end of the day still looking like a unicorn. It sounds like a near-impossible feat to reach, but with the proper glue, you can make this your reality. Prior to attending the festival, make sure buy clear eyelash glue from your local drugstore. This magic glue will be invisible and keep you pretty all day long!
Will I leave the festival happy and not hungover?
This fairytale can come true with vitamins, water, and food. Sounds easy, but when it comes to festivals, we tend to become children who can't take care of ourselves. Make these 3 essentials a habit for the weekend and you'll be feeling rejuvenated after.